Interviews & Profiles
How the MTA is holding out for congestion pricing
Chairman Janno Lieber discusses how the agency is trying to avoid a $2.5 billion funding gap and counting on the new toll plan to fund capital improvements.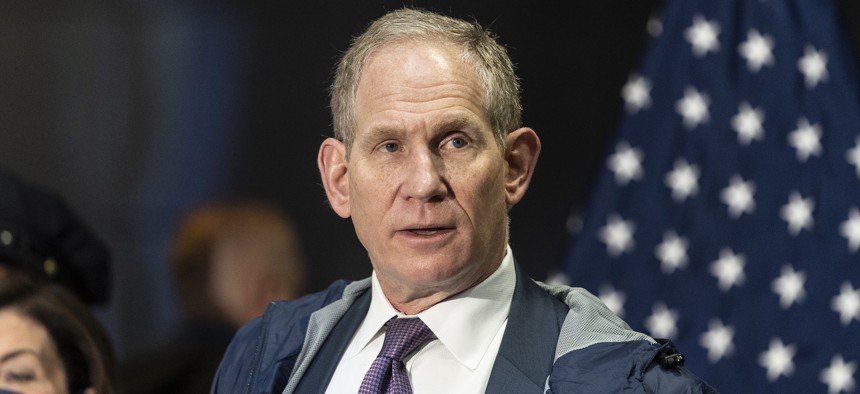 As news broke in late July about the Metropolitan Transportation Authority approaching a $2.5 billion funding gap with the possibility of service cuts to make up for fewer riders, brainstorming began on how to save the MTA from falling off a fiscal cliff. At the center of these deep discussions is MTA Chairman Janno Lieber, who took the job in January after serving as acting chair and before that president of MTA Construction & Development.
In a press conference after a board meeting with the MTA last month, Lieber sounded optimistic and even enthusiastic about preventing the transit agency and its straphangers from a dire future. Lieber is now preparing stakeholders both at the city level and in Albany to come up with a massive plan to salvage the MTA. He spoke to City & State about the funding shortfall that's ahead and what he said he believes can be done to avoid it.
The interview has been edited for length and clarity.
You've spoke of "permanent changes" regarding how New Yorkers use public transit after COVID-19 during a press conference last month. Could you please be explain what you meant? 
I'm not alarmed by the change in work patterns brought on by the pandemic. Some degree of hybrid work is not going away and we all have to adapt to that new normal. But as I always say, never bet against New York. People want to be in New York – for the best jobs with the best companies, and enjoy all this city has to offer, whether that's Broadway, sports, or nightlife. And they will use the mass transit system to get to their destination.
You said you were "seeding-decision makers" going into this process of addressing the shortfall. Can you explain what you meant by seeding? 
So what we did at that board meeting was to raise everybody's awareness of a few things: One, an updated explanation of what the size of the MTA fiscal cliff was, the structural budget deficit on the operating budget. Two, to make sure everybody understood that this was now going to hit the MTA, the full fiscal cliff was going to hit in 2025 rather than 2026 based on our updated projections. And third, we did identify one major strategy. We'd be addressing the fiscal cliff in a significant way if the Legislature and other stakeholders put together a strategy and path that will reduce the deficit by a comprehensive passage in 2023 (in the coming legislative session) that would permanently reduce the size of the budget deficit by $800 million. So, when I said "seed," I said that what we're trying to do is to "seed" the discussion of what actions we can all take that would help the MTA financial problem. And we're already moving forward with that. I am meeting with leaders in the Legislature and obviously policymakers in the governor's office, to make sure that the discussion about what those strategies should be taking place as we move towards the end of the year.
Which policymakers were you directing your comments to?
I think we're talking about all of the leaders of the Legislature. First and foremost, Gov. Kathy Hochul and her team; the team at the state division of the budget; the legislative leaders of both houses; state Sen. Andrea Stewart-Cousins; Majority Leader Carl Heastie in the Assembly and key committee chairs in the state Senate – finance chair Liz Krueger and authorities and commissions chair Leroy Comrie. Also, state transportation committee chair Kim Kennedy in the Assembly … as well as Assembly member Amy Paulin. Those are some of the people who are going to lead this discussion. Obviously, there are a lot of other factors. The city of New York is a big contributor to the MTA budget. There are advocacy groups, including the Regional Planning Association, Riders Alliance, the Tri-state Transportation Campaign, and many others. And there are think tanks, including the one that City & State Publisher Tom Allon runs, as well as other think tanks and advocacy groups. So when I say feeding decision makers and thought leaders, that includes everybody who has a voice and a role in major decisions of the state government.
The funding gap is pertaining to operations, but will it also impact capital improvements? Will this funding gap slow down improvements?
It doesn't have to, it shouldn't. And we just very much hope and expect that it won't. The MTA capital program that was adopted in 2020, and it's a five-year capital program, is moving very well. It does include really important initiatives, first and foremost, the state of good repair, or maintenance of this 100-year-old physical infrastructure. That is 80% of the capital program. Because of this, we've got a system which if you don't maintain it and invest in its upgrade, things fall apart. The operating budget includes a lot of maintenance and preventative maintenance and the capital budget obviously includes things that maintain the state of good repair, upgrades, and key elements. When you try to cut operations and cut capital investment, you can end up with a very bad outcome and we cannot let that happen. 
How will the congestion pricing pertain to capital improvements?
There was a five-year, $50-plus-billion-dollar capital program that was adopted just before the congestion crisis. Fifteen billion of that is meant to be funded by the proceeds of congestion pricing. So, if congestion pricing doesn't happen, a lot of bad things will result. One is, we will continue to have congestion in New York that's crushing our economy. That means that buses, police, emergency vehicles, E-commerce, delivery trucks and accessorized vehicles for people with disabilities can't get around. And our air quality will continue to suffer. If we don't have congestion pricing, it will also mean that we don't get that $15 billion for our capital program and that will cut into the maintenance and state of good repair investments in the capital program. It'll limit our ability to create ADA accessibility in the subway system, to buy electric buses so that we have cleaner air and to do many, many other things that are essential to New York's mass transit into the city's future.
Editor's note: This interview makes reference to City & State Publisher Tom Allon and his involvement as co-chair of 5BORO. The nonprofit, nonpartisan clearinghouse for urban policy ideas is not affiliated with City & State or its staff.
Powered By
NEXT STORY: This week's biggest Winners & Losers