Editor's Note
Editor's note: Could mask-only subway cars make everyone happy?
Gov. Kathy Hochul's decision to repeal New York's public transit mask mandate left some vulnerable people stressed about COVID-19 risks. What if they had a special spot on the train?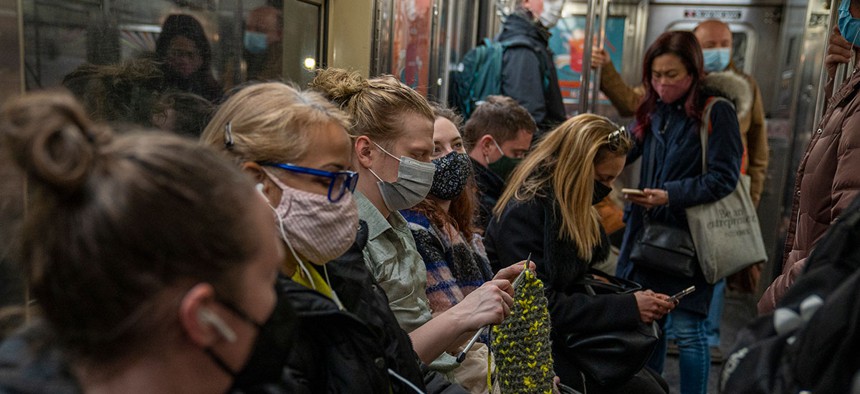 Gov. Kathy Hochul prompted a mixed response when she announced the end of the public transit mask mandate earlier this month. The decision was backed by the state's health commissioner, Dr. Mary Bassett, and many subway and bus riders in New York City had already stopped wearing masks anyway. But for people who are still being extra cautious about COVID-19, including those with compromised immune systems, the announcement was understandably unwelcome. (WNYC had a great story on this last week.) Mask use is most effective when everyone is buying in, and this is a city where public transit is often the only option for getting around.
Here's my humble suggestion: Why not designate specific subway cars for people who want and need to wear masks? It's not a new idea. Amtrak has quiet cars, and in many places including Mexico, Japan, India, Egypt and Germany, there are train cars designated for women in an effort to combat sexual assault. Am I naive to hope that clear signs, mutual respect and sideways glances would be motivation enough to make sure everyone has a way to ride the train and feel comfortable? Columbia University epidemiologist Dr. Wafaa El-Sadr thinks so. Asked about the idea, she told our Annie McDonough: "It's going to be very hard, when you consider the number of subway cars … If you can't enforce it, it just makes it very frustrating for everybody involved." But assistant professor of population health at New York University Anna Bershteyn was more optimistic: "You'd have to be careful, of course, because sometimes on the subway you're just packed like sardines, and you get in where you can get in. But it's a really appealing concept. … For people to have that little bit of safety when they need it, and a choice when they don't need it, that's a really appealing idea."