Personality
Julie Menin on expanding Wi-Fi to NYCHA residents
The New York City Council member also discusses the detection of arsenic in the water at the Jacob Riis Houses and cuts to the Department of Education budget in an interview with City & State.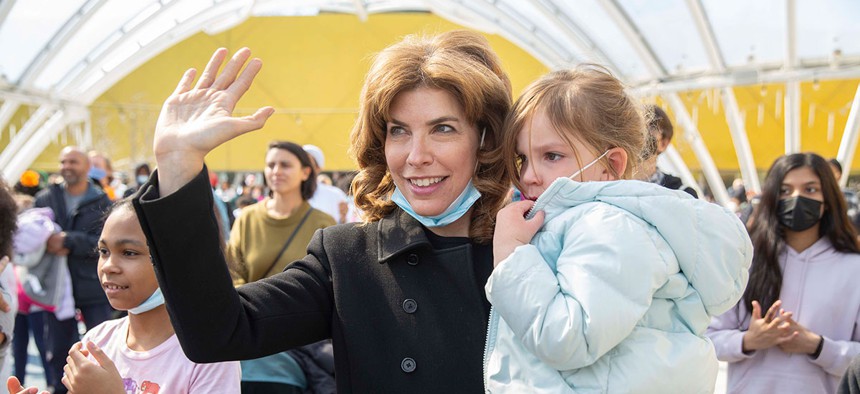 New York City Council member Julie Menin earlier this year helped roll out a program that provides Wi-Fi access to the residents of two public housing developments in her district at essentially no cost to them. A federal subsidy and favorable pricing from two broadband providers made it possible and now Menin now wants to expand the effort to other NYCHA buildings. 
City & State caught up with Menin to learn how she's moving forward with the plan, and got her take on the detection of arsenic in the water at the Jacob Riis Houses, as well as the controversial Department of Education budget cuts made leading into the start of a new public school year in New York City.  
How is the rollout of the Wi-Fi access program you spearheaded at two New York City Housing Authority apartment complexes in City Council District 5 coming along?
We launched the program earlier this year. We've signed up a tremendous amount of NYCHA residents in my district for the program. Basically, the program helps reduce the cost of broadband so it's essentially free. We negotiated with Spectrum and Verizon a high connectivity, low cost plan and paired it with the federal Affordable Connectivity Program, which provides a subsidy to cover the cost. Together that brings the cost to zero for residents. We've had incredible enthusiasm in my district among our NYCHA residents about this, so it's very exciting. We've done numerous events to sign people up.
Are you looking to expand the program to other NYCHA buildings?
We did a briefing along with the (Communications Workers of America) for other council members and elected officials. As a result of that, a number of council members reached out to me who wanted to replicate what we did in our district. So, I went back to Education Superhighway, a not-for-profit that we worked with on the program, and they're going to work with 10 council members. And we also are sending a letter to (Federal Communications Commission) Chair Jessica Rosenworcel because we feel we need to do a lot more about raising awareness about the Affordable Connectivity Program. That's what the letter is for, and we're sending the same to the commissioners.
Do you see broadband access empowering NYCHA residents to better deal with the problems that have plagued public housing, like the discovery of arsenic in the Jacob Riis Houses' drinking water?
What happened at Riis is unconscionable. We still don't have answers from the city about what happened. When did it happen? When did they do the testing? When were people notified? The fact that residents are largely being kept in the dark is incredibly anxiety-provoking. Arsenic is really dangerous and it's incredibly anxiety-provoking to not know and have this information disseminated. Having essentially free Wi-Fi to access the internet and social media would have helped. To me, having Wi-Fi is something that every New Yorker should have. It shouldn't even be like a question of people not having access to it.
We're having this discussion about empowering NYCHA residents, which includes children, as New York City kids just returned to public schools. Where do you stand on starting a new school year with the budget cuts made by the Adams administration not yet restored?
Obviously, I think the cuts should be restored. I wish this had been addressed months ago, because a new school year has started and this issue is still unresolved, which is unfortunate. And it absolutely should be resolved. I made a point to say at the education hearing that because New York City finished No. 1 of all major cities in the last census, that means we receive more money proportionally for education dollars than other cities. We really should be looking at that allocation of funding.