Personality
Who do New York pols follow on Twitter?
Based on the data, here are the most influential political accounts in New York.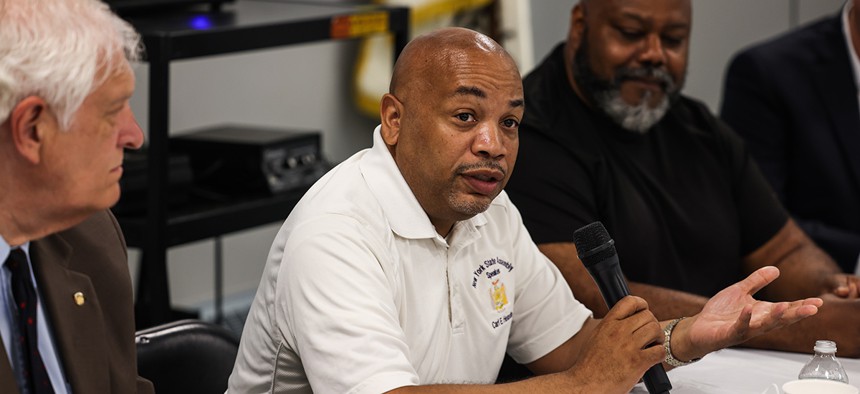 Members of the state Legislature and the New York City Council get on New York political Twitter for some of the same reasons as the rest of us: to stay informed, spar with other users and get the latest hot goss. 
So it is insightful to look at who these powerful decision-makers are following and where they're getting their information. For some, they may be following influential members to track what they're saying about key issues, or because a fellow legislator has an engaging account.
For instance, it's no surprise that more Assembly members follow Speaker Carl Heastie than any other legislator in the chamber. And City Council Member Justin Brannan's Twitter account is always fire. Plus, the journalists that are being followed by lawmakers also gain some amount of influence in their own right.
Legislata, a political productivity and information platform, scraped 204 official and personal accounts for members of the state Legislature and 90 accounts for New York City Council members to analyze hundreds of thousands of follows.
Here are the top lawmakers and journalists who legislators in each chamber of city and state government are reading on Twitter.
STATE LEGISLATURE
Top legislative follows
Assembly members
1. Carl Heastie (81%)
2. Nily Rozic (59%)
3. Crystal Peoples-Stokes (58%)
4. Latoya Joyner (57%)
5. Richard Gottfried (56%)
State senators
1. Andrea Stewart-Cousins (74%)
2. Gustavo Rivera (71%)
3. Liz Krueger (69%)
T-4. Brian Kavanagh (68%)
T-4. Brad Hoylman (68%)
Influential journalists
1. Zack Fink, NY1 State House reporter (81%)
2. Nick Reisman, Spectrum News state politics reporter (77%)
3. Jimmy Vielkind, Wall Street Journal reporter (70%)
4. Susan Arbetter, Spectrum News political anchor (68%)
5. Jon Campbell, WNYC/Gothamist reporter (63%)
CITY COUNCIL
Top council follows
1. Justin Brannan (84%)
2. Adrienne Adams (83%)
3. Keith Powers (82%)
4. Gale Brewer (81%)
5. Carlina Rivera (79%)
Influential journalists
1. Sally Goldenberg, Politico New York City Hall bureau chief (76%)
2. Ben Max, Gotham Gazette executive editor (74%)
3. Errol Louis, NY1 political anchor (71%)
4. Jeff Coltin, City & State New York City Hall bureau chief (70%)
5. Katie Honan, The City reporter (58%)