Personality
New York City's forgotten labor stronghold
Staten Island is the city's most unionized borough – and the home of many labor leaders.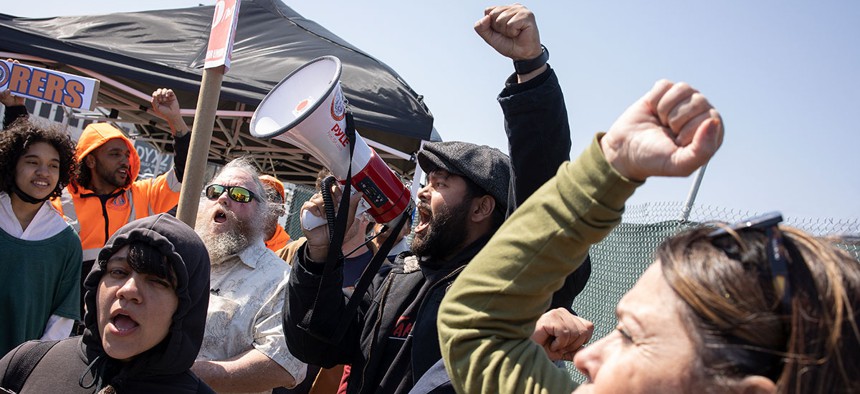 For many liberals in New York City, Staten Island is worlds apart – an enclave represented by the city's sole Republican member of Congress, where local lawmakers regularly threaten secession, where protests erupted in favor of an owner who deemed his bar to be "autonomous zone" exempt from COVID-19 protocols and got arrested for flouting the state's lockdown regulations.
But for Democrats, these characteristics obstruct another uncomfortable truth about the "forgotten borough," as it's often called.
It has the highest number of union members per capita out of all five boroughs, according to research conducted in 2021 by the CUNY School of Labor and Urban Studies.
"It's always just been a truism that we've known on the island. That's just part of the fabric," said Laura LoBianco Sword, a union member and president of the Democratic Organization of Richmond County, a labor-oriented political club.
Nearly a third of Staten Island residents are in a union – and eight out of 10 of these workers are in the public sector.
And it's not just union members who live or grew up there. Given the high unionization rate, it's no surprise that many of New York's most influential labor leaders hail from the borough.
In education, both United Federation of Teachers President Michael Mulgrew and Council of School Supervisors & Administrators President Mark Cannizzaro are from the borough. In health care, the New York State Nurses Association's Nancy Hagans and Pat Kane live there. Former Staten Islander Vincent Alvarez leads the New York City Central Labor Council, the city's umbrella group for public and private sector unions, while Staten Island native Denis Hughes once led the state AFL-CIO and continues to have a hand in key labor matters as a member of the state's Farm Laborers Wage Board. And it was another Staten Island union leader, the controversial New York State Court Officers Association President Dennis Quirk, whose feud with former state Chief Judge Janet DiFiore seemed to play a role in her downfall.
Staten Islanders said their borough's working-class demography and union density came largely as a result of its housing supply, which typically provided opportunities for working-class families to afford property with a yard within the confines of New York City for the latter half of the 20th century. But given its conservative leanings, politically this means that labor endorsements are nonpartisan. Most Staten Island Republicans vie for labor support – and often receive it.
Though the Bureau of Labor and Statistics doesn't break down New York's union statistics by borough, CUNY's annual labor report does, dating back to 2018. The reports show Staten Island hasn't always had the highest level of unionization per capita of all five boroughs. As recently as 2018, the Bronx held that mantle, which shows that the island's union density has increased as it has remained roughly constant in the rest of the city for the past four years – and this is all without factoring in Amazon Labor Union's high-profile unionization victory in April.
Cannizzaro, who's reportedly stepping down as CSA leader by the end of the year, suggested that it was the wrong framing to ask why so many labor leaders live on Staten Island. He didn't move there because he got involved in the union movement, he said. He ended up in the labor movement because he grew up in a blue-collar Irish and Italian neighborhood called Prince's Bay.
"I think the union movement was in me because I saw it where I grew up everywhere," Cannizzaro said. Parents in his neighborhood instilled their children with the idea that union jobs meant security, he added.
That's a common thread in the family history of many union members: They or their parents moved there to buy a house sometime in the past 50 years – often relocating from Brooklyn or Queens.
"That's probably driven more than any other reason by the affordability of housing, or at least what used to be the affordability of housing on Staten Island," said Vincent Pitta, a labor lawyer and lobbyist who moved to the island from Brooklyn in 1984 to buy a house and settle down with his wife.
Though Democrats outnumber Republicans by about 30,000 active voters in Staten Island, according to figures released by the state Board of Elections in February, that doesn't stop many of them from voting across the aisle. Staten Island is the only borough to be represented by a Republican in Congress, Rep. Nicole Malliotakis. Other key Republican elected officials run the gambit from the City Council to the state Legislature and borough president.
LoBianco Sword said that although she views the Democrats as the party of labor, it's common for residents to think of worker issues as nonpartisan.
Though it's more in tune with the national Democratic Party to support the higher spending on social services that sustains public sector union workers, that logic doesn't extend to the median Staten Island voter, whom labor leaders characterized as fiscal conservatives.
"Speaking broadly … they sort of view the finances of government as they would their own finances. Don't spend above your means," Cannizzaro said.
Labor endorsements for Republicans on the island often go beyond the police union support that is commonplace in citywide elections.
Kevin Elkins, the political action director of the New York City District Council of Carpenters, said in recent cycles the union has endorsed New York City Council Members David Carr and Joseph Borelli as well as former Borough President Jimmy Oddo.
"We are not a wholly owned city of any political party. The only thing we care about is (our members') quality of life," said Elkins, who added that the union has a process that takes rank-and-file recommendations into consideration.
In the coming congressional election, however, the union endorsed Democrat Max Rose, whose campaigns Elkins formerly worked on.
CSA, on the other hand, has endorsed Malliotakis. It also supported Republican Staten Island Borough President Vito Fossella in his general election victory last year.
"They have been quite supportive of our schools and our children and our educators over the years," Cannizzaro said of the two politicians.
Elkins went so far as to describe Staten Island as the "canary in the coal mine" of national political trends, citing its double-digit margins of support for Donald Trump in 2016. By the same token, he connected the Amazon Labor Union victory as being both a sign of national trends to come as well as a reflection of labor's strength in the borough.
"It wasn't inevitable. They had to work hard, but it wasn't surprising," Elkins said.
Whatever the future of the labor movement on Staten Island, it will have to contend with one major difference from the past half century: a dearth of affordable housing.
With the borough's property values going up, it is increasingly becoming too costly for middle-income workers, Pitta said. 
"There's nobody on the civilian municipal workforce that I know," he said, "that could pay for a million-dollar house."