Personality
Joe Pinion on why he won't be counted out in the race against Schumer
The odds are against the conservative TV host as he vies for a seat in the U.S. Senate – but Pinion, the first Black, major party candidate for Senate in New York, remains steadfast in his campaign efforts to unseat Chuck Schumer.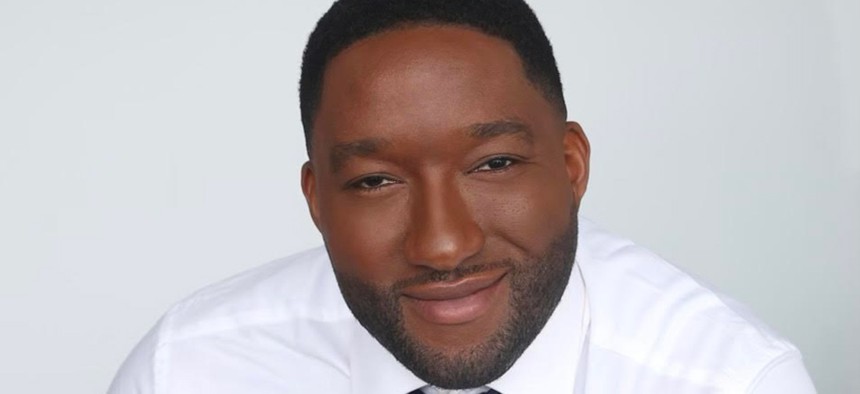 As a former anchor on the conservative cable news channel Newsmax, Joe Pinion has focused on what he describes as the shortcomings of U.S. Senate Majority Leader Chuck Schumer and has prioritized change throughout his campaign to unseat him. If elected, Pinion would become New York's first Black U.S. senator. 
Pinion faces an uphill battle against Schumer's $15 million war chest, name recognition and overall favorability amongst constituents. Recent polls suggest Schumer is highly favored to win with a double-digit lead. During the recent Spectrum News debate, Pinion sparred with Schumer over inflation, abortion and the incumbent's record in Congress. In an interview with City & State, Pinion spoke about his performance, political background, underdog position and strategy heading into the final days of the election. This interview has been edited for length and clarity.
How did you think you performed in your one debate against Chuck Schumer?
The important part of that process was to be able to tell the untold story of New York, much of which we didn't get to discuss – which was disappointing. But we did discuss enough of the issues that are impacting people all across the state: the porous southern border that has now careened into our life here in New York City in real-time, talking about the educational crisis that is gripping our state and our nation, the civil rights issue of our time where children are receiving less than they deserve, the issues on a foreign policy standpoint and the Ukrainian debacle that in many ways was invited by Sen. Schumer. So I believe that we got to touch on all those issues. I believe people got a true side-by-side comparison. From my perspective, Sen. Schumer continued to lean on pieces of legislation that didn't solve the problems that he in many ways helped to create.
A recent Quinnipiac poll found nearly 60% of those polled didn't exactly know enough about you or your campaign to form an opinion. Do you think that you were successful and getting your points across and introducing yourself to voters heading into the final days of the election?
I'm not gonna sit here and say I was perfect. But I do think that people should have a flavor of the type of stewardship that would bring to D.C. and the type of approach holistically that I would bring to issues. From my perspective, we've never had a problem getting our point across. We've had a problem with the fourth estate engaging in the business of not covering this race in good faith. I think the numbers actually should highlight just what people truly think about Schumer's job performance. In a world where 60% of people don't know enough about me to formulate an opinion, 42% of those same people still are willing to vote for me. I think that that should indicate that the little that they do know about me leads them to believe that I can bring the type of stewardship that can improve their lives and their families' lives. After that debate, if we have the ability on equal footing to be able to get that message out to let people see our answers on the issues, I believe on Nov. 8, we're going to be victorious in this race.
Before running for the Senate, you worked as an anchor for the conservative cable news channel Newsmax for some time. How do you think that that experience has shaped your political career and your politics?
It was the opportunity of a lifetime. Every single week I sat down with no less than four active members of Congress and most likely one senator. I've had the opportunity week by week to analyze the issues that are facing our country and talk to policymakers and get their feedback on why they're doing things and why they think things haven't been occurring in a timely manner. I think that certainly informs my politics and my race against Chuck Schumer. But my politics were not born out of a desire to seek public office. Running for the U.S. Senate in 2022 was the last thing on my bucket list of things to do. I think it's very easy to get caught up in the politics of left versus right; we are so polarized now and so divided in our politics that we almost can't find the forest in the trees. But there are deeper issues and there is a common thread of neglect that rips across this country and has seeped into the foundation of this state.
You're the first Black man to be nominated by either party for the Senate in New York. How has that shaped your campaign?
We launched this campaign on MLK Day intentionally, as we said in our announcement video, to continue or to finish the unfinished business of Dr. King's last endeavor on this earth, a poor people's campaign, to ensure that people of all colors and all creed were given the dignity, – starting with economic dignity – that they deserve. I simply think that we've done the people a great disservice here with the one-party rule. It's simply about saying the people who call the state home are receiving less than they deserve. We can't even get people to actually pay attention. But I think the truth is enough voters are now paying attention and they realize that this was not a political movement. This was a moral quest to change the trajectory not just of our politics, but the centering of the country as it pertains to the people that we send to that most deliberative body called the United States Senate.
From your perspective, how do you fit within the Republican Party? 
My political philosophy is quite simple. It is the founding mission statement of the Black Congressional Caucus and is one of the first things my father had me memorize when I was young: Black people have no permanent friends and no permanent enemies, only permanent interests. I believe we have made a permanent enemy of the Republican Party, I believe we've made a permanent trend toward the Democratic Party. As a result, both parties have decided to push our permanent interests to the backburner. I think my perspective as it pertains to my choice to run as Republican and to be Republican is clear that political parties are not homes. They are rental cars – they take you where you need to go and they can drive on certain terrain better than other cars. I believe the places that we need to go to as a country and for our communities, those ideas have more oxygen on the right side of the aisle. If we're talking holistically within the Republican Party, I'm here to talk about what the Republican Party needs to become and what I think the next generation of Republicans truly believes in. I hope to be a standard bearer for that evolution of what it means to be Republican when I get to D.C., and after we win this election.
Your opponent is highly favored to defeat you in this race, and many people view this election as a long shot for you. Why was it important for you to run against the majority leader this year?
This is not some type of honorarium. No one put me up to it, I quit my job to do this. It's not because I wanted to drain my bank account. It's because I truly believe that New York was receiving less than they deserve. Black communities have been used as cannon fodder for one political party to win the election and the needs of our communities have not been addressed by those parties that have won the elections. It is important for me to win this fight. I'm disinterested in what the pollsters will say. Every single poll in 1994 had George Pataki losing the election by double digits, and he won by three points. We are now looking at an election, where Lee Zeldin is favored now to win the election. I fail to see a scenario where Lee Zeldin is about to become the next governor of this state, or it's going to be quite close, and somehow Chuck Schumer is going to be winning this thing, going away. The information that we have at our disposal, the data suggests that Chuck Schumer does not believe he is going to win this, going away, either.
With just a week until Election Day, what is your strategy heading into the final days of the election to secure a win?
Our point is clear – to tell all those who have not watched this race and who have not been engaged in this race to engage. If you do nothing else, watch the debate and be honest about it. Maybe I'm not a perfect debater, but I think we certainly were able to impart some pretty nuanced policy positions on a multitude of issues. If (voters) have follow-up questions, then great. That's what politics is about. That's what public discourse is about, (voters) should call us and ask them. It is a grassroots campaign, and if you're not paying attention it may look like it's not actually occurring, but it is happening. I think the environment helps us. What's happening in the governor's race helps us, what's happening in the attorney general's race helps us. I know this. Chuck Schumer knows this and he knows that he's in trouble. We're going to win this election on Nov. 8. We're going to shock the world and then we're going to do something really crazy. We're going to start talking about non-partisan, trans-partisan policy-driven positions that are going to actually help improve the lives of all Americans