Personality
A look at Cathy Nolan's trailblazing legacy
As one of the youngest women to serve in the Legislature when she started in 1984, the Assembly Member talks about the coalition building and leadership roles she took on before her upcoming retirement.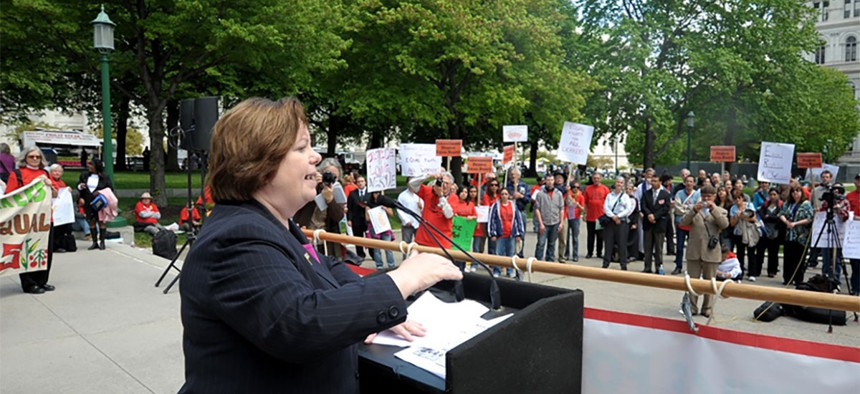 After nearly 40 years in the Legislature, Assembly Member Cathy Nolan has watched the number of women holding public office in New York bloom. First elected in 1984 in her mid-20s, Nolan was one of the youngest women to serve in the chamber. She's taken her role as a trailblazer very seriously, prioritizing forming coalitions and listening to constituents while holding leadership positions like deputy speaker and chair of the education and labor committees. Now at the end of her time leading her Queens district before she retires for health reasons, Nolan said she's heartened by how far things have come. This interview has been edited for length and clarity.
What's it been like for you since you made the decision to step away from the state Legislature? After so many years leading the district, what's given you comfort as you prepare for this next chapter?
I've had a wonderful, wonderful career and it was a great privilege all these years to represent the 37th Assembly District and the people in Ridgewood and Sunnyside and Long Island City. My family is from the community – my father grew up at Queensbridge Houses and my parents lived in Sunnyside when they first got married. I myself grew up in Ridgewood.
I was very young when I got elected and there were very few women, but I think I showed that women could do the job. I became a mother in the middle of my tenure, and I think I showed that women could juggle. I feel proud to have widened who served in the Legislature – for a long time I was the only mom.
You were one of a few women when you were first elected and over the years you played a big role in breaking up Albany's male-dominated establishment. Now we have our first woman as governor, a majority-female New York City Council and many others on the state level. What does this mean to you?
I was the first woman to chair the Labor Committee in the history of our state. Our family has always been really active in the labor movement, so it was a thrill for the whole family. I was the second woman to chair education, which is great because it shows we are making progress.
I'm really grateful that I was able to play a role. I had good mentors like Geraldine Ferraro and many, many other women, which I can't stress enough how important it is to have that. 
We still aren't at 50% representation in the Legislature. When I first got elected 38 years ago – I think there were only 23 women at the time out of the 213 members – I knew it was going to take some time, but I didn't think that almost 40 years later we'd still not be at 50% in the Legislature.
We've made some great strides, but it's taken a very long time and we still haven't elected a woman mayor, though we have had a woman senator and now a woman governor. Andrea Stewart-Cousins, Crystal Peoples(-Stokes) and Liz Krueger and Helene Weinstein also need to be acknowledged because they lead the key committees, which is very important.
What are you most proud of? 
I think it's always hard especially when you are a woman to sometimes toot your own horn, but I do feel very proud that I was able to promote the paid family leave bill, which took decades of work to change hearts and minds. There are also still many more things to do. I have one last bill that I'm hoping the governor will sign to have a commission look at improving it. I'm also very proud of the work I did for collective bargaining and other rights for farmworkers.
When I first got into the Legislature, I stood with the growing civil rights movement for LGBTQ constituents and LGBTQ New Yorkers. I feel very proud that I was part of that literally from Day One. As chair of education, one of the things I worked on was supporting and helping Danny (O'Donnell) pass The Dignity for All Students Act. It's not just only about your legislation, it's about being part of movements and being part of groups of people. I think that is a legacy that I can leave, that you can be supportive of women, you can be supportive of the LGBTQ community, you can be supportive of the Black and Latino community. Building coalitions and scoping out the issues together and moving them forward is an important part of being in the Legislature.
What's next for you?
I'd always been blessed with very good health, but unfortunately one of the reasons I'm leaving the Legislature now is because I was diagnosed with cancer last year. I have a case of COVID-19 right now as well. Still, if my health permits, I intend to stay involved in Ridgewood, Sunnyside and Long Island City and continue to work on neighborhood issues. We've always combined a certain amount of activism at the local level with what we are doing in Albany, and I hope to continue to do that if I'm healthy.
What advice do you have for others? 
Albany is a complex place and it's easy to be frustrated and stop, but you can't because you have an obligation to your district to keep going. The way you do that is you find mentors and recognize that it takes time to understand how a place like the state government works. You also need to build coalitions with people both in and out of the Legislature. You have to be willing to listen. Having a grassroots Democratic club, not everybody always agrees, so you have to be willing to find mentors, be a mentor yourself, build coalitions and listen to the voices of the people in the community.
It's been a great experience and I'm very happy. Serena Williams said this thing, that she's evolving away from tennis. I kind of feel ready to evolve in new directions. I look forward to doing that but I always hope to continue making a grateful contribution to my community.