Personality
State Senator-elect Jack Martins on why Long Island went red
The Republican who unseated state Sen. Anna Kaplan said his perspective on many things has shifted since he last worked in Albany.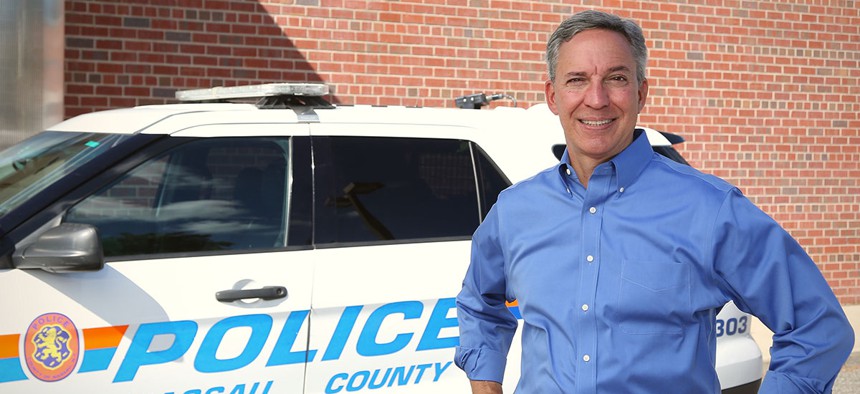 Pressing forward in the red wave that coursed through Long Island during the 2022 midterm election, Jack Martins, a former state senator and mayor of the village of Mineola, is returning to the state Senate after six years.
He'll be doing so alongside two other Long Island Republicans who flipped seats hoping to give the GOP more of a say by dismantling Democrats' supermajority in Albany's upper legislative chamber. That success comes in addition to the party's clean sweep of the area's four hotly contested congressional seats. As it stands, seven of Long Island's nine state Senate seats will now be held by Republicans – four more than won in the last midterm cycle in 2018. 
While Long Island has historically been a largely Republican voting bloc dubbed the "Long Island Nine," Democrats uprooted the political precedent in 2018 when they flipped a number of the seats. The party's unprecedented success in Long Island was a big part of why Democrats won back control of the Senate – and expanded it in 2020. 
Martins, having beat Democratic state Sen. Anna Kaplan in a marquee race for New York's 7th Senate District, will be returning to a very different Albany then the one he left in 2016. Democrats still control every legislative chamber, though Republicans' success on Long Island and in other suburban, more moderate areas suggest that the balance of power may be shifting. Martins had run and lost his previous bids for Congress and Nassau County Executive in 2008 and 2017 respectively.
City & State spoke with Martins about why he feels GOP candidates seemed to have resonated so strongly with Long Island voters, his strategy, how he has evolved as an elected official since he last served in the state Senate, and where he sees his place as a member of the minority party in Albany. This interview has been edited for length and clarity. 
Between sweeping the Congressional seats and taking back several in the state Senate, Republicans had a lot of success on Long Island during the midterm election. How do you feel this happened?
Long Island is influenced by everything that happens in New York state and given its relationship with New York City there are a lot of synergies there. A lot of the issues that resonated on Long Island like cashless bail reform and criminal justice reforms did so because people got to see their effects first hand whether it was in their own communities or in the city or on the news. (These issues) became part of the dialogue that led up to the election, and I think you saw that as part of the results. People often forget how intertwined New York City and Long Island are. There are hundreds of thousands of people who go into the city every day to work. What they see in the city and those impacts do affect their lives and obviously their electoral decisions.
How do you foresee the results of this election shifting Long Island's political power in the Legislature?
I think it's reflective of the electorate and frankly, their sentiment that the Legislature went a bit too far. When it comes to criminal justice reforms, for the first time in my life I saw crime become a central issue on Long Island. We have always lived in an area that is safe, where we have wonderful law enforcement, and we have a priority on law and order. When voters saw that under attack – home invasions, people breaking into homes and stealing cars and catalytic converters, and worse in news reports – I think it touched home. The first job of government is to keep people safe. When that was put to the test, people decided that was a priority for them.
I think you see the results of returning to a more common sense approach to government – safety, economic issues, inflation, the cost of groceries, the price of gas. People see it when they go to the supermarket, they see it when they go fill up their cars. They're concerned about the future.
What was your strategy? What motivated you to run again?
I had the sense that we were heading in the wrong direction, that one party governance in Albany had really missed the mark. In my opinion, they had gone to the extreme and had passed legislation that I think left us in a rather difficult spot. I felt that there was a need for change. That's why I decided to go back. I'm returning to an Albany very different from the one I left. When I left in 2016, we had a state spending cap that we imposed on ourselves of 2%, but they've since blown through that. Six years ago, we had a way of working on policy without necessarily shutting the other side out of any discussion and considerations.
People often forget how intertwined New York City and Long Island are.
– State Senator-elect Jack Martins
How have you evolved as an elected official since your last time as a state senator?
My children are older for one. I think having adult children and children who are still in high school allowed me to have different perspectives as did returning to the private sector and focusing on building a business. Also understanding there's a life outside of politics which is great, but at the same time we all have to remain politically and intellectually engaged. 
Seeing my girls grow up has been very impactful. I can say that after Dobbs, having adult daughters was very interesting. I have had the opportunity to have those conversations not only with friends and strangers, but with my children who have very strong feelings. I really do believe that I've benefited from having this context. Talking to them was very helpful in terms of understanding their perspective.
The Legislature and political climate has obviously changed a lot since you were in Albany. Where do you see yourself fitting into the Legislature today?
I've always represented a district that was on paper more Democratic than Republican by enrollment. There's an opportunity to work with elected officials and constituents who don't necessarily share all of our political views but all share the same goal of improving things. We all want the same things, we probably just have a different way of getting there. There's no one really who wakes up in the morning saying they want to make the world less safe or more expensive for everyone. I just think that sometimes people adopt policies and don't think through the ramifications in a way that allows them to appreciate just how dangerous those policies are. I want to continue working across the aisle for those common goals we have.
My Senate district also happens to have over 40 villages which is remarkable for one district. Having served as the mayor of Mineola, I understand the importance of local communities. As we tackle things like affordability and environmental issues, it is so important that we do so in the context of those local communities and not try to push down decisions from above.
What comes next? What does moving forward look like?
We are going back to a new Albany. It's a different Albany than was there in 2015, certainly from 2018 and it's a different Albany than what was there just last month. I expect that the Democratic supermajority in the Senate will not be there come January. We have a new governor who is unlikely to have a supermajority to block her from decisions. I'm looking forward to working with Gov. Kathy Hochul in terms of issues that are important to our suburban communities on Long Island and the Hudson Valley. 
I think there is a bipartisan group of senators from Long Island and Hudson Valley and maybe even from certain areas of the five boroughs who can work together with the governor in setting policy, prioritizing safety and fiscal stability and tackling those issues that are most important to voters. If there's anything we've heard this year, it's going to come down to the economy, affordability and public safety as the primary issues going forward.
Powered By
NEXT STORY: This week's biggest Winners & Losers