News & Politics
George Santos admits to lying about his resume in a series of interviews
There are still a handful of unanswered questions about the GOP Congress Member-Elect.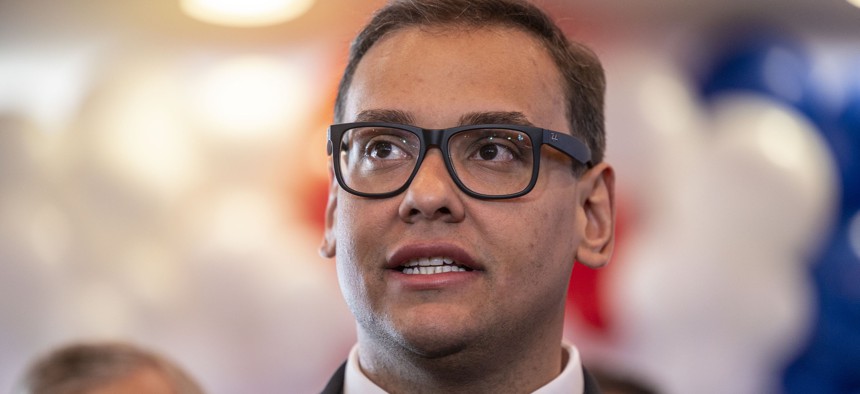 Congress Member-Elect George Santos admitted to lying about key parts of his resume in a series of media interviews published Monday evening, but left a handful of important questions unanswered, as his explanations conflicted with reports over the past week.
"Did I embellish my resume? Yes, I did. And I'm sorry. And it shouldn't be done," Santos told City & State's Political Personalities with Skye Monday night, in the first on-camera interview since a number of stories were published revealing that Santos habitually lied and misled voters about who he was and what he did. Santos confirmed some of that reporting, saying that he never actually worked for Citigroup or Goldman Sachs, but rather claims to have worked with those companies while employed at LinkBridge Investors. Santos also told the New York Post that he "didn't graduate from any institution of higher learning," despite online campaign biographies saying he had degrees from Baruch and NYU. 
Santos, a Republican, was elected to the 3rd Congressional District covering parts of Queens and Nassau County, in November. 
Santos also, for the first time, responded to questions about the massive increase in reported assets over just two years. Santos filed a financial disclosure report with the House of Representatives in May 2020, during his first, unsuccessful run for Congress. He reported no assets, and just $55,000 in salary, commission and bonus from his employment at LinkBridge. In his second run for Congress, Santos' 2022 financial disclosure report showed a $750,000 salary from the Devolder Organization, Santos' financial consulting firm, where he listed his title as managing principal. He reported getting more than $1 million each of the previous two years in dividends from that company, having more than $100,000 in a checking account, having more than $1 million in a savings account and owning an apartment in Rio de Janeiro, Brazil – the country where he has said his parents were born – valued between $500,000 and $1 million.
Santos claimed, simply, that business was booming. He told Political Personalities with Skye that he left Harbor City Capital – a firm that was effectively disbanded in 2021 after the SEC accused ownership of financial crimes – to open his own firm. "And it just worked, because I had the relationships and I started making a lot of money. And I fundamentally started building wealth. And I decided I'd invest in my race for Congress," Santos said, referencing how he personally loaned his own campaign $705,000 this year. "There's nothing wrong with that, no criminal conduct, no anything of the sort."
It was not immediately clear if Santos properly and accurately filled out the disclosure report. As the New York Times initially included in its bombshell report, Santos would be expected to provide the names of any clients that paid him more than $5,000. 
The report, however, also conflicted with Santos' own defenses, on Monday night. Santos denied owning any real estate – "I do not own property. I've never purchased property under my name. Ever," he said, adding that his "family has property," however – but his personal financial disclosure included the apartment in Brazil. Santos was not asked to clarify. Santos has not publicly released his tax returns.
There is also little to no information about the Devolder Organization publicly available. Named for the politicians' full name – George Anthony Devolder Santos – the company has no website or online presence. It was registered as an LLC in Florida in May 2021, and the filing actually lapsed before Santos, or somebody acting on his behalf, formally reinstated the company last Tuesday.
In the interview, Santos also pushed back against the theories that he was personally being paid by firms aligned with Russian President Vladimir Putin's government. As the Daily Beast reported in November, Santos' campaign and aligned political action committees got more than $56,000 from Americans tied to an influential Putin ally. Santos had made statements critical of the Ukrainian government and seemed to question U.S. involvement in Ukraine, following the Russian invasion. But "I'm not a fraud. I'm not a cartoon character. I'm not some mythical creature that was invented," Santos said to City & State's Skye Ostreicher. "I'm no Russian puppet. I mean, for crying out loud, Putin could really go pound sand right now or be dug under. I don't care. Like I said, I am not all these horrific things that are being said about me."
Santos, who is openly gay, also responded to the the Daily Beast's report that he was married to a woman from 2012 to 2019 – despite telling USA Today in October that he had "never had an issue with my sexual identity in the past decade." That bit, too, was apparently an embellishment. He was married to a woman, and was "pretty much" in love, before he came out as gay. "I set myself free, and I set her free," he explained. Santos now says he is married to a man, though the Daily Beast reported it could not find any record of Santos' second marriage. 
On his charity, Friends of Pets United, The Times couldn't find any evidence it was ever actually filed as a nonprofit organization, and reporters spoke to an individual who was supposed to benefit from a fundraiser, but never received the money. Santos on Monday, downplayed any role or financial responsibilities, saying he did the "grunt work" including "picking up poop." 
Santos also seemed to admit to embellishing a story he told WNYC, that the company where he worked lost four employees in the 2016 anti-gay mass shooting at the Pulse nightclub in Orlando. He told WABC radio Monday that four people killed "were being hired to work for the company" he was at and "were going to be coming to work for the company."
Santos outright denied other pieces of reporting about his personal history. The Times cited Brazilian court records in Rio de Janeiro that show Santos confessed to making fraudulent purchases with a stolen checkbook in 2008 when he was 19 years old. The case reportedly remains unresolved. But Santos seemed to wipe the whole thing away. "I am not a criminal. Not here, not abroad, in any jurisdiction in the world, have I ever committed any crimes," he told WABC. "And I'm more than happy to corroborate that with anybody willing to see copies of a picture of my renewed passport and my continued visits to and from Brazil." Santos did not give any detail or explain the records that the Times reportedly reviewed. 
The questions raised in the past week extended beyond Santos' work history into his personal heritage. He claims to have Jewish ancestry, and grandparents who moved to Brazil to flee the Holocaust. But the Forward citied genealogy records suggesting his maternal grandparents were born in Brazil and never lived in Europe. A distant family member said he had no Jewish roots at all. That report, "to the best of my knowledge" was wrong, Santos told WABC. The story he was told his whole life was of his grandfather going from Ukraine to Belgium, meeting his grandmother, and going to Brazil. 
Of course, the stories that families tell among themselves do not always line up with fact. But now that he has admitted to lying about parts of his resume, even the explanations where Santos did not admit anything wrong can be called into question. 
Broadly, Santos defended himself as a poor kid, born in Jackson Heights, Queens, and raised in poverty, who felt pressured to embellish his resume to appeal to the elitists – like the New York Times, which he seems to harbor a special distaste for, after the paper kicked off the recent trend of scrutinizing his record. 
Some of Santos' fabrications revealed may be relatively innocuous – like Santos apparently lying about his home being vandalized, after it was reported he attended a party at former President Donald Trump's Florida home Mar-a-Lago. But some of it may have serious consequences. State Attorney General Letitia James' office has told NY1 it's reviewing the reporting about Santos. A watchdog group has filed a complaint with the Office of Congressional Ethics. And Congress Member-Elect Dan Goldman, a former federal prosecutor, said the U.S. Attorney should investigate him for giving possible false statements to the Federal Elections Commission. 
After a week of near silence, and declining to respond to the allegations in the news, Santos was defiant, and said he fully intends to stay in Congress. Santos won the seat held by retiring Rep. Tom Suozzi, and is expected to take office with the new Congress in January.
"I will have to work now double as hard to earn people's trust back," Santos told Ostreicher. "But I am confident. And I'm sure that I'll be able to do that just by outworking everybody, which is something that nobody can beat me at." 
For any of his critics in Congress? Santos said none of them would want to face the level of scrutiny that he has over the past week. "It's complicated. We're flawed human beings. That's what it boils down."