Interviews & Profiles
Looking back at Giuliani's rise and fall
Ken Frydman, the former New York City mayor's 1993 campaign press secretary and consultant on a new CNN documentary series about Giuliani, discusses what happened to "America's Mayor."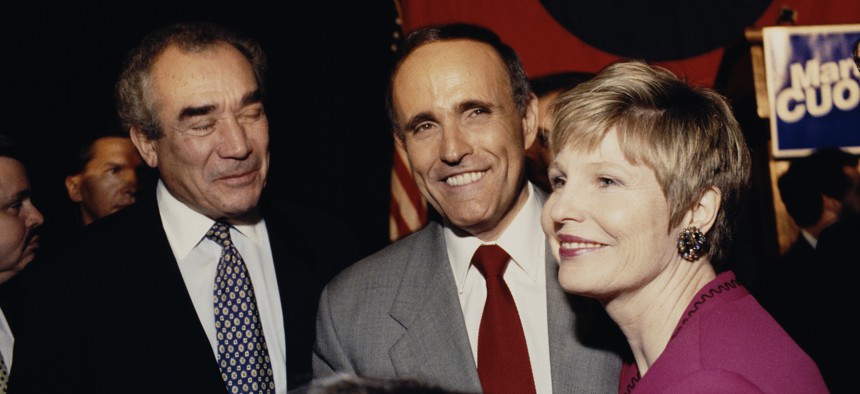 Ken Frydman, former campaign press secretary for Rudy Giuliani's first successful mayoral run in 1993, hasn't been shy to speak publicly about his one-time boss after Giuliani went to work for former President Donald Trump. Frydman, a Giuliani loyalist for years, couldn't hold back after the former mayor became Trump's lawyer and began running into controversies.
Frydman has now returned as a consultant producer on a new CNN four-part documentary series titled, "Giuliani: What Happened to America's Mayor." The series began last weekend, starting off by noting similarities between two Giuliani speeches, the first on Jan. 6, 2021 when he urged Trump supporters to have "trial by combat" before they stormed the Capitol. The second was then candidate Guiliani's speech on Sept. 16, 1992, where his remarks criticizing then Mayor David Dinkins were followed by a run on City Hall by a mob of off-duty police officers.
"Trump took a page from Rudy's playbook," Frydman told City & State during an interview about the new series, which concludes this Sunday from 9 to 11 p.m. Frydman also dished about how he came to support Giuliani, his character and strengths, and what he's now come to think of him after Trump.
This interview has been edited for length and clarity.
How did you meet Rudy Giuliani?
I was living in Hell's Kitchen in Manhattan. I was a 30-year-old guy. I had a foreboding sense in the neighborhood because there was a lot of crime. I got tired of being solicited by the same pimps, hookers and drug addicts every day on my way to work. I used to walk to 55th and Park every day and back. And so I found my way to Giuliani. I met him through a mutual friend, a guy named Herb Rickman, who's deceased now. He was Ed Koch's liaison to the gay community and to the Jewish community.
Who is the Rudy Giuliani we know today?
He's the sad clown, like in the Italian opera. I've said publicly that his goal should be to die a free man. A lot of people think that's harsh, but it's true. He and Trump are going to be tied up in court the rest of their lives. Their goal should be staying out of jail. Not making more money. It should be freedom. Freedom should be their only objective I think at this point. 
Please explain the documentary's claim that Giuliani lost his guardrails when he went to work for Trump.
He lost his guard rails when Peter Powers died. He was his best friend, chief confidant. He no longer had his wise counsel. Like many politicians, he listens to the last person who whispers in his ear. During his mayoral years, he would often listen to the wrong people and then Peter would straighten him out. But he lost that influence in his life. When Peter died, that steadying hand was gone.
Guardrails never kept him from being reckless. Why is that?
He is operatic, and that leads to reckless behavior. When you lead such a dramatic public life, you often do reckless things like divorcing your wife in public, or walking your new girlfriend home from dinner publicly and tipping off the media. He wanted people to know.
Were you ever privy to his demons?
I didn't see his so-called demons when I worked with him. I've said many times he was a pizza slice and Diet Coke guy. I didn't see him drink. I didn't see him corrousing. I was told by someone that he always had to have three women in his life: his wife, a serious girlfriend and a fun girlfriend. 
How was it that Giuliani was such an effective leader, especially after 9/11?
He was always a leader. How do you think he became mayor? I don't mean that facetiously. He always had leadership qualities. Going back to Brooklyn, to his origins, he was the smartest kid in the class, always top of the class. He always showed leadership. So that wasn't surprising that he stepped up that day. Maybe he was born for that moment. It appeared he was, because he certainly calmed us. Pataki was a secondary character. Everybody was. Bush was a secondary character. Think about that. He was more commanding and decisive, and gave us all more assurance than the president did. And that's why he became man of the year. That's why he was knighted. That's why he went on to give $100,000 speeches
That's what we were searching for in the documentary. We were after the man in full. Going back to his Brooklyn roots, he was the only son of a late-in-life, devoutly Catholic couple who believed the sun rose and set with him, and that's the way he was treated. He was treated that way his whole life. Think about it. Until he met up with Trump.
Powered By
NEXT STORY: This week's biggest Winners & Losers