Personality
'Black women, Brooklynites, daughters of immigrants' – Shirley Chisholm's enduring impact on NY lawmakers
She was a pioneer: unapologetic and unwilling to ask for permission. It's a legacy many sitting lawmakers aim to carry forward.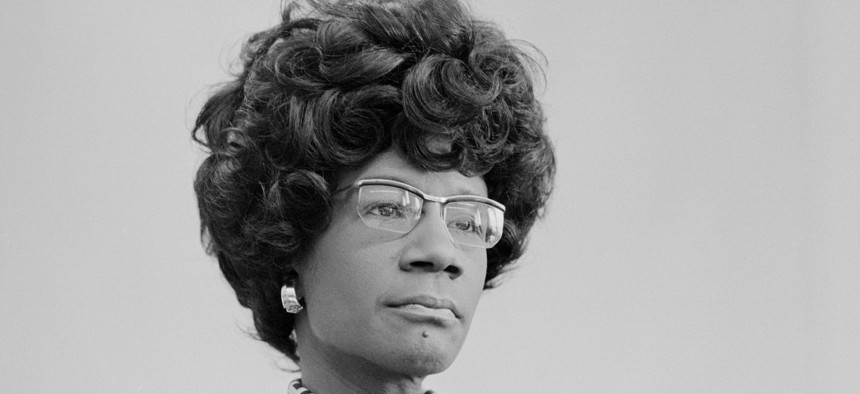 Central Brooklyn Rep. Yvette Clarke remembers accompanying her mom, Una Clarke, to organize in Albany as a child. At the time, Una Clarke was striving for increased access to day care for people who couldn't afford it. The Congress member said her mom's passion for organizing and serving the community resembled the spirit and leadership of the late political trailblazer Shirley Chisholm.
Years later, Chisholm would endorse Una Clarke in her run for New York City Council in 1991. Una made history as the first Caribbean-born woman elected to the City Council, and Yvette served as her campaign manager. "I remember standing with pride to see Shirley Chisholm endorse her candidacy. That was way before I even had an inkling that I would run for office," Clarke said.
Clarke went on to start her own political career, succeeding her mother in City Council and then was elected to represent New York's 9th Congressional District in the House of Representatives years later. The Congress member credits her mom for inspiring her passion to serve and has also dedicated her career to continuing the legacy of Chisholm. "Chisholm did not wait for a signal or permission," Clarke told City & State. "She stepped out on her own, got people behind her to organize and was triumphant. It created a space for Black women in New York and across the country."
Today, Chisholm is widely known as a political trailblazer who broke several barriers. In 1968, Chisholm made history for being the first Black woman to be elected to Congress and went on to spend seven terms representing Bedford-Stuyvesant, much of the same areas now represented by Clarke. While on Capitol Hill, Chisholm worked to expand the federal food stamp program across the country as chair of the House Agriculture Committee, helped to create the Special Supplemental Nutrition Program for Women, Infants and Children known as the WIC program and was a founding member of the Congressional Black Caucus. In 1972, Chisholm launched her historic run for president– with her famous "Unbought and Unbossed" campaign slogan – making her the first Black woman to campaign for the presidential nomination of a major party.
While it's been more than 50 years since Chisholm's presidential run, her legacy is still admired and celebrated. Several New York elected officials – from New York City Mayor Eric Adams to state Attorney General Letitia James and members of the New York City Council as well as the state Legislature – have all championed Chisholm's bold political legacy and openly credit the political trailblazer for breaking barriers for the Black community.
"We look at her as the first Black woman who did what some people didn't even think about doing, what some people were afraid of doing and what no one else dared to do," said Bedford-Stuyvesant Assembly Member Stefani Zinerman.
The New York City Black Women's Political Club honors Chisholm every year on the anniversary of her historic presidential run. Jamila Pringle-Fynes, president of the political club, said Chisholm's ability to pioneer a space for Black women paved the way for minority leaders today, especially in New York.
"It's important for New Yorkers to tap into her legacy because she put down the footprint for a lot of things that still impact and affect us today. She's the reason why we even think about Black women in leadership," Pringle-Fynes said.
"We claim her in the Assembly"
Before making her mark in Washington, D.C, Chisholm served in the Assembly from 1965 to 1968 where she was influential in several monumental laws and initiatives.
While in the Assembly, Chisholm prioritized education by co-sponsoring legislation that provided educational aid for disadvantaged students to go to college, through the Search for Education, Elevation and Knowledge (SEEK) program. Chisholm also sponsored legislation that extended unemployment benefits to domestic workers.
Several Assembly lawmakers take pride in the fact that Chisholm spent time serving in the state's lower chamber, including Assembly Members Chantel Jackson, Phara Souffrant Forrest and Brian Cunningham. "We claim her in the Assembly. People start their career here and go on to further take care of people at higher levels," Jackson said.
After winning a special election for Assembly District 43 in Crown Heights last year, Cunningham said he felt a level of comfort knowing he was legislating in the same chamber that Chisholm once served in. With that in mind, the newly elected Assembly member said he immediately signed up for the Assembly Agriculture Committee pointing to Chisholm's time serving as chair of the House Agriculture committee. "It's not lost on me that I am in the same chamber that she was advocating for Brooklyn in," Cunningham said. "We all saw what she did creating the modern food assistance program. So her legacy is not lost on me as I sit on the Agriculture Committee and try to figure out how we create food-secure cities for New Yorkers."
Zinerman said Chisholm's accomplishments in the Assembly have been a shining star in helping her to navigate legislatively for her Bedford-Stuyvesant and Crown Heights Assembly District. "She's been that constant 'she-ro' and beacon. We look to her legislative record and her service to her community as practices we can still emulate," Zinerman said.
An important part of Chisholm's identity was also in her Caribbean roots, her father was from British Guiana and her mother was from Barbados. Several lawmakers highlighted Chisholm's Caribbean identity as an area in which she broke barriers that they later connected with. Among them is Assembly Member and Brooklyn Democratic Party Leader Rodneyse Bichotte Hermelyn.
Bichotte Hermelyn was the first Haitian American woman to be elected to the state Legislature from New York City in 2015. Then in 2020, the Assembly member also made history as the first Black woman to chair a major county party in the state when she was elected to chair the Brooklyn Democratic Party – the largest Democratic political county party in the country.
"We're both Black women, Brooklynites and daughters of immigrants. I look at all the adversities that Chisholm had to overcome as a role model and a catalyst for change," Bichotte Hermelyn said. "I am not unique to being a trailblazer because she really led the path that paved the pavement for all of us by being the first."
Passing it on
For years, New York elected officials have consistently been honoring the life and legacy of Chisholm with initiatives – from community centers, organizations and legislation – in her honor.
In the Assembly, Cunningham pointed to his newly signed Urban Heat Island bill that creates a study for more green spaces throughout Brooklyn. The Crown Heights Assembly member said he is planning to work with the governor this legislative session to transform state properties into green spaces that would grow produce, in what he attributes as a way to honor Chisholm's commitment to agriculture.
Jackson also has a bill with state Sen. Zellnor Myrie named after Chisholm dedicated to making a maternal health hub to address maternal health issues in the Bronx and Brooklyn. The bill was introduced in both chambers in the last two legislative sessions, and the Assembly member is hoping to garner more support for its passage this year.
Elected leaders are considering ways to pass on Chisholm's legacy to the next generation of leaders. Clarke said the passing down of Chisholm's legacy can already be seen with the number of Black women holding elected office and pointed to the historic milestones of the first Black woman Vice President Kamala Harris and the first Black woman judge appointed to serve on the U.S. Supreme Court Ketanji Brown Jackson. "I can attribute a lot of that to the courage in which Shirley Chisholm was emblematic of what had been overlooked in terms of talent," Clarke said.
Other leaders say passing on Chisholm's legacy starts with making sure more women are elected to serve as elected officials. "There are thousands of women across the country and here in New York State who stand on the shoulders of Shirley Chisholm. We are seeds. Our daughters will know about her legacy and from that pool the next leaders will rise," Assembly Member Latrice Walker wrote in a statement to City & State.
Zinerman agreed with that sentiment while emphasizing the confidence that young girls who aspire to be in the political sphere have because of political trailblazers like Chisholm, referencing Chisholm's famous remark: "If they don't give you a seat at the table, bring a folding chair."
"Young girls today now know they have a seat at the table," she said. 
"They know that they can sit at the head of the table, they can make the table, and they can send out the invitations for the people who sit at the table."
Powered By
NEXT STORY: This week's biggest Winners & Losers