Interviews & Profiles
Supporting the movie industry in New York City after COVID-19
Anne del Castillo, commissioner of the Mayor's Office of Media and Entertainment, talked about Gov. Kathy Hochul's increased film tax credit, the industry's future and the upcoming Oscars.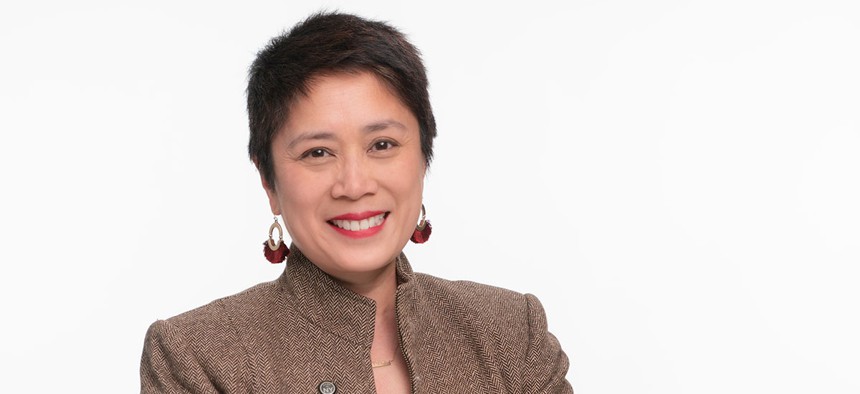 Anne del Castillo has over 25 years of experience in media and the arts under her belt. She's now using it to bolster the city's film industry which, like many sectors in entertainment, suffered because of COVID-19. Del Castillo worked as general counsel and COO of the Mayor's Office of Media and Entertainment before being promoted to commissioner in 2019. Her efforts have focused on creating artistic opportunities for marginalized individuals, safely resuming theater performances, and supporting local musicians as well as front-line workers. Del Castillo spoke with City & State about the benefits of Gov. Kathy Hochul's increased film tax credit, how movie theaters provide a space for communal experiences and the agency's plans for the future. This interview has been edited for length and clarity.
With the Oscars coming up, are there any nominees you're rooting for? Do you think there's a chance the Oscars could return to New York City?
We would always welcome the opportunity to host the Oscars again. This year, I have to say, while it's not a Made in New York film, "Everything Everywhere All At Once" is hands down one of my favorite films because I think it does accurately portray inside the mind of a 50-something-year-old mom. And, the studio that did that film is a New York-based studio. It's A24 and they're amazing. To see the growth of that company over the last 10 years has been pretty phenomenal.
The entertainment industry and nightlife have changed a lot since you started at the office in 2014. How have you had to adjust to those changes?
For the better part of over 50 years, we were strictly the film office that permitted film production here and quite successfully. But in the last six years, our office has expanded to now include five divisions. So in addition to the Film Office, we also operate NYC Media and the Municipal Radio and Television Network. We have the Office of Nightlife and the Press Credentials Office and then creative sector programs. In addition to film and television, we are the primary agency responsible for investing in the creative sectors of theater, music, live performance, advertising, publishing, digital content and video games.
Gov. Kathy Hochul's budget proposal suggested increasing the film tax credit to $700 million, which is an almost $300 million increase. Some people have criticized this as a giveaway, so why do you think New York City is in need of these incentives?
We're competing with jurisdictions in Canada, Atlanta. New Jersey has introduced a new credit and that does have the potential to take jobs and projects away from New York City. I actually applaud the governor's effort to keep New York state competitive in this space and ensure that we continue to grow jobs here. I think what sometimes gets lost in translation is New York City's film industry alone is an $82 billion economic driver in New York City. That's 185,000 jobs. And it's not just the production jobs that the tax credit supports. It supports the small businesses that provide lumber, catering, flowers, props, costumes. Beyond that, it also ensures that New York continues to remain a production hub. Beyond the jobs and the businesses, it's also one of the best advertisements for New York. I can't tell you how many people have said that their first engagement in New York City was on the silver screen, right, or I guess we don't say that anymore, was on a screen, whether it was an iPhone, or in a movie theater, and that's what made them want to come here. The benefits of the tax credit go beyond just the immediate discussions of production and have far reaching effects that, in many cases, can't be quantified.
With supporting artists and creatives in New York City, your agency has various programs, such as the NYC Women's Fund for Media, Music and Theatre as well as the Made in NY Writers Room, that aim to provide individuals, often of marginalized backgrounds, with industry experience. How does your office ensure information about these programs reaches those people and the material effects of these initiatives and how they set people up for success?
That is one of the things that my agency has been committed to for the last several years, ensuring that we're creating talent pipelines and building access and opening up access to New Yorkers to gain entry into our creative sectors. The Women's Fund is focused on helping female-identified creatives who are sort of at that juncture of their career where they've accumulated a certain (amount) of work and they're ready to move up into the next level. They just need a little boost to finish their project that will get them into the festival, that will get them recognized, and get them more work and put them in decision-making. We've seen market success with that program. We are a partner with the New York Foundation for the Arts and they do a ton of outreach to ensure that New York City artists are aware of the program. The first year of the program, Isabel Sandoval was one of the grantees and she went on to win almost every major film festival with her film "Lingua Franca." I think she was one of the first transgender film directors to win some of these awards too. At the same time, we're focused on creating opportunities for entry-level positions, such as the Made in New York Production Assistant Training Program, which just celebrated its 15th year last year. It has set a model for how you build talent for on location production assistants that then go on to move up in the industry. And we've graduated over 1,000 New Yorkers from that program who have then gone on to hire New Yorkers that are graduating from that program now.
Speaking of recovering the film industry, Regal Cinemas' parent company Cineworld recently filed for bankruptcy and is closing its Union Square theater. AMC also announced it will try tiered seating with some seats more expensive than others. Are these changes that you're keeping an eye on?
Some of this has to do with the changes in viewing patterns as a result of streaming and some of it has to do with pandemic, so it's a classic convergence that is forcing the theater and movie theater industry to rethink strategy and approach to how they do business. At the end of the day, though, there are just certain films that you have to see in the theater. You don't get the same experience. Watching movies is meant to be a communal experience. We're at this juncture right now where people are trying to test out new ways of doing business and see what's landing.
Looking into the future, what does your office hope to accomplish this year? Is there a particular industry you're planning to focus on?
We definitely want to ensure that the film industry has what it needs to continue to do business here and wants to do business here. The games industry is emerging but it's emerging quickly, and so we want to be at the top of that. For the first time this year, our office will be traveling to San Francisco for the Game Developers Conference. We will be announcing a number of programs to support the games industry here in New York. At the same time we need to focus on recovering and strengthening our live performance and theater community. They're all interrelated. Film is here because theater is here, and theater is here because music started here and games want to be here because all of it's here. That's the approach that we're trying to take is to make sure that we're strengthening our homegrown industries while also capitalizing on opportunities to grow these other emerging industries, like the games space.