Interviews & Profiles
Karines Reyes: Jenny Rivera was 'overlooked' for chief judge
The newly elected chair of the Assembly Puerto Rican and Hispanic Task Force hopes this year's Albany Somos conference will place issues impacting Latinos front and center.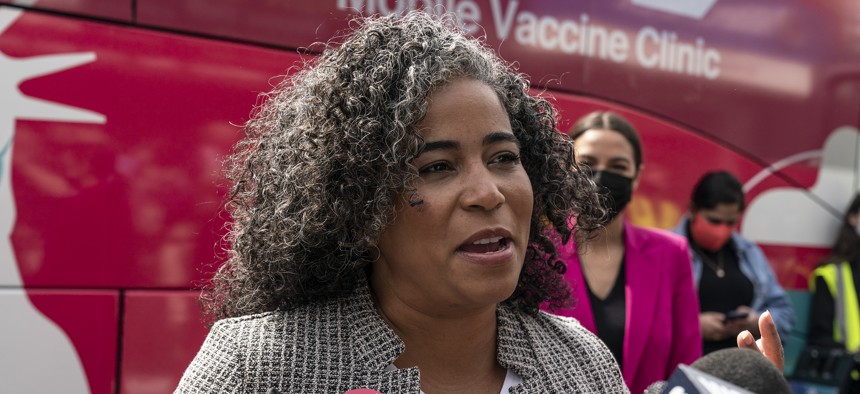 While the New York Somos conference may not be as popular or have the fanfare of the annual Somos conference in Puerto Rico, this year's conference in Albany is still expected to be a valuable time for lawmakers and politicos to network, further their political agendas and have some fun.
The newly elected chair of the Puerto Rican/Hispanic Task Force, Assembly Member Karines Reyes, said there's a long list of priorities – from health care to housing to securing funding for CUNY – that have shaped her mindset this legislative session. Ahead of the April 1 budget deadline, the Bronx Assembly member told City & State that part of the reason for the timing of the conference was to potentially impact the final budget and address not only the issues impacting the Latino community but also those impacting New York state.
City & State caught up with Reyes to discuss her personal goals for the conference, the governor's tuition hikes proposal for SUNY and CUNY, the chief judge vacancy and more. The interview has been edited for length and clarity.
As the newly elected chair of the Puerto Rican/Hispanic Task Force, what personal goals do you have for the conference?
Well, I think that the work of the task force is to not just uplift the issues of the Latino community, but (also) develop a legislative and budgetary agenda that speaks to the needs of the Latino community. This weekend is part of us bringing stakeholders to have these conversations to help us prepare for developing a set agenda moving forward for the task force.
What are some of the issues of the Latino community that you're hoping to address?
I think that our priorities are many – and touch on a lot of topics around everyday life – but absolutely dealing with issues pertaining to health, housing, access to social services, issues around immigration, language access and the ability to participate in the economy – whether that be the Latino participation in MWBEs, in government contracts, or small businesses or new industries like cannabis. Those are all priorities that are intersectional, not just for the Latino community, but – for many of us – issues that pertain to the constituents in our district.
How do you plan to lead the Puerto Rican/Hispanic Task Force differently from your predecessors?
We have an opportunity to make the task force more active than it's been. We have a much larger task force membership, not just in the executive members, but all the other members. The executive members of the task force are those individuals that identify as Latino or Latina; and then the task force members, generally are those who represent districts with 50% Latino populations or greater. And because of that, our task force is a much larger body than it (has) ever been. I think really capitalizing on that people power, being able to coalesce around issues and making the task force active by meeting regularly (and) organizing around policy issues is how I see myself differing from some of my predecessors.
What are some of your priorities that you want to see in the final budget deal? What do you think are going to be the main sticking points with the governor this year?
I have budgetary priorities and initiatives that I've been very passionate about, like the New Deal for CUNY, fair pay for home care and making sure that our safety net hospitals are fully funded and able to serve the needs of our community. Those are all issues that are very important to me, but also very important to the Latino community. When we talk about fair pay for home care, that workforce is predominantly women of color and many of whom are Latina. Making sure that they have fair pay is a way that we can impact the lives of their families and ultimately give the ability to better provide and thrive in our communities.
You mentioned that the New Deal for CUNY was one of your priorities. As you know, Gov. Kathy Hochul proposed tuition hikes for SUNY and CUNY campuses as part of her 2024 executive budget proposal. What is your perspective on what the governor has proposed?
The governor's rationale for proposing a tuition increase on CUNY and SUNY schools is, of course, an increase in need and a decrease in enrollment. But we argue that that decrease in enrollment trend has a lot to do with the systemic divestment that has happened to our public higher education institutions where students are choosing to go to other schools because they have smaller class sizes, or they have more resources in terms of staff that's able to support them during their journey. We firmly believe that we should be investing in public education because also during the pandemic, we've seen a trend where people are choosing not necessarily to pursue higher education classes. But moving forward, we have to make the investments in order to have the capacity to prepare the workforce of the future. SUNY, and particularly CUNY, historically has been preparing and serving lower-income New Yorkers to be able to participate in the workforce. We have also seen how CUNY used to be free before Black and brown students started to enroll. We want to reverse what we believe is a set of racist economic policies around higher education that has disenfranchised many Black and brown New Yorkers – and particularly Latino New Yorkers in New York City.
What is your strategy for getting your priorities or bills over the finish line?
Another priority that I have and we've been fighting really hard for is the Unemployment Bridge Program – which is creating this parallel program to unemployment insurance to really capture those individuals who don't qualify for unemployment insurance. We know that there are some things that are just not going to happen outside the context of the budget. So the goal is to really focus on those issues and part of the conference this weekend, and why it's being held before the April 1 deadline of the budget, is to try and have some kind of influence or impact in the final budget around these issues that are important to not just our community and just the Latino community, but New York state as a whole. I think the Unemployment Bridge Program is a perfect example of that. Outside of the context of the budget, it just won't happen. But it stands to really be a safety net for so many New Yorkers – not just those that are undocumented but also those misclassified workers, people in reentry and people who are freelancers and don't have a safety net. We have an opportunity to create that in this year's budget; and that's another one of the focuses of this conference and the work of the task force.
As a registered nurse, what was your perspective on the recent hospital strikes and labor issues?
People always ask me if I say that "I was a nurse," but I still am a nurse. I still practice, I still work, (and) I was actually working a few weekends ago. I was on strike too. The hospital where I work was on strike. I was on the picket line with my colleagues there. The fight that nurses brought to the strike was more than just wages. It's really about working conditions and creating the environment for us to be able to deliver safe and competent care. Nurse-to-patient ratio has been something that we've been fighting for a very long time. The reason why it's such an important piece of the advocacy work for nurses is because statistically the more patients a nurse takes care of, the worse outcomes of the patients. We believe that if we have more nurses at the bedside and a smaller nurse-to-patient ratio that the overall health of the communities that we serve in is impacted and the outcomes (will) improve. That was something that we were able to win during the strike. It is a historic win because we have been working on this through a legislative angle for so long. And the nurses have to strike in order to really make some strides in the nurse-to-patient ratio fight.
After the recent nomination fight over Hector LaSalle, do you have a perspective on the qualities that you'd want to see in the next chief judge nominee? Is there a judicial philosophy that you think a nominee should have in order to earn confirmation by the state Senate?
I disagree with the argument that this was an attack on Latinos. I think this was, first and foremost, an ideological fight in the direction that some of us – even some Latinos – believe the direction of the state and the judiciary should be going in. This is not about politicizing the court. This is really about having the ideals of New Yorkers represented. It's unfortunate that Justice LaSalle had to go through all of that, but I think moving forward we have an opportunity to really look at some candidates that would check all those boxes that would be Latino or Latina – because I would love to see a woman there – but also embodies the progressive values of New York.
Are there any names that come to mind that you think would be a good choice as the next chief judge nominee?
I think Jenny Rivera was somebody who potentially should have been the acting chief judge and was overlooked over an administrative issue regarding her vaccination status. We've seen that reversed in other public sectors and private sectors. This is an opportunity for us to reevaluate our choices and really look at her as somebody who can fill the role of a chief judge.
Do you have any final thoughts or anything else you wanted to mention about the Somos conferences this weekend or about your legislative priorities this year?
I'm excited about this weekend. Our theme this year is "Harnessing the Power of Our Diversity." We wanted to really have a conference that was reflective of the diversity of the Latino community. So we're going to have cultural performances from different Latin American countries. We're going to be honoring a diverse group of people of Latino descent who have really exemplified what we'd like to see in Latinos in New York, and it's going to be a good weekend.
Powered By
NEXT STORY: This week's biggest Winners & Losers