Personality
Who is Alvin Bragg, the prosecutor who might charge Donald Trump?
Here's what you need to know about the man vying to take a legal shot at former President Donald Trump.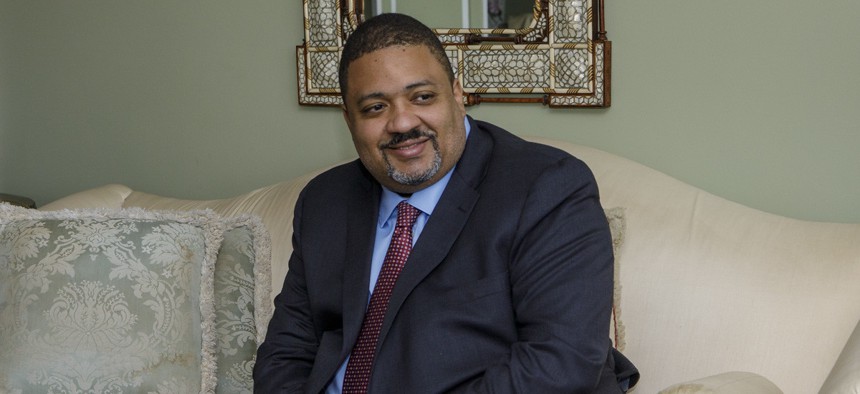 A little over a year ago, Alvin Bragg made history as the first African American to be elected as New York County District Attorney. While the 49-year-old district attorney's political career has been full of ups and downs, his office's possible indictment against former President Donald Trump may define the rest of Bragg's career.
Here's what you should know about the prosecutor who could be the first to bring criminal charges against a former president: 
He's focused on white-collar crime
Before taking the helm of the Manhattan district attorney's office, Bragg spent much of his career focusing on white-collar crime and civil rights issues. After graduating from Harvard Law School, Bragg clerked for federal judge Robert P. Patterson Jr. and then worked in the state attorney general's office. As Chief Deputy Attorney General, he worked on investigations of Harvey Weinstein and the New York City Police Department's controversial stop-and-frisk policies. He was also influential in the attorney general office's successful lawsuit against the Donald J. Trump Foundation – which ended with the disgraced charity paying more than $2 million in damages. After becoming district attorney, he led the prosecution of former Trump adviser Stephen Bannon for an alleged fraudulent fundraising scheme.
He believes in criminal justice reform
Bragg ran for district attorney as a criminal justice reformer and has tried to move the Manhattan DA office in a more progressive direction – which has sparked outrage from both Republicans and moderate Democrats concerned about crime. Shortly after assuming office, Bragg released a memo instructing prosecutors to only seek jail time for the most serious felonies – such as murder, sexual assault and crimes involving large amounts of money. After weeks of criticism, Bragg rescinded the memo and clarified his position on crime. But many of his critics – especially Republican elected officials – have not forgotten his attempts to put fewer people in jail for lower-level offenses. When then-Rep. Lee Zeldin unsuccessfully ran for governor last year, he promised that he would remove Bragg as district attorney on his first day in office.
He abandoned an earlier Trump investigation 
The investigation into Trump by the Manhattan district attorney's office predates Bragg and started with Bragg's predecessor, Cyrus Vance Jr. The former district attorney fought tooth and nail to obtain Trump's tax records and the court case even made it to the Supreme Court – which ultimately sided with Vance – and charges were brought against the Trump Organization and its chief financial officer. After winning the 2021 election, all eyes were on newly-elected Bragg to see if he would follow up on Vance's investigation into the Trump Organization and finally bring criminal charges against Trump himself. But the newly-elected DA demurred. After Bragg nixed the investigation into Trump's alleged tax shenanigans, two veteran prosecutors who had been involved in the investigation resigned from the district attorney's office and publicly criticized Bragg's decision.
He's finally ready to charge Trump
Throughout the past year, there's been speculation about whether or not Bragg will actually bring criminal charges against Trump. The Manhattan district attorney's office has convened a grand jury to look into allegations that the former president broke the law by concealing alleged hush money payments that Trump and his associates made to adult film star Stormy Daniels ahead of the 2016 election. In recent weeks, several associates of Trump – including his former lawyer Michael Cohen – have been asked to testify in front of the grand jury. Even Trump has been invited to testify – a strong sign that prosecutors really do plan to arrest him. Observers – and even Trump – now suspect Bragg will move forward with formally charging the former President as early as Monday evening. The move would make Trump the first president to ever be charged with a crime.