Personality
4 things to know about Ana Almanzar, NYC's new deputy mayor for strategic initiatives
The nonprofit executive is a Cuomo alum.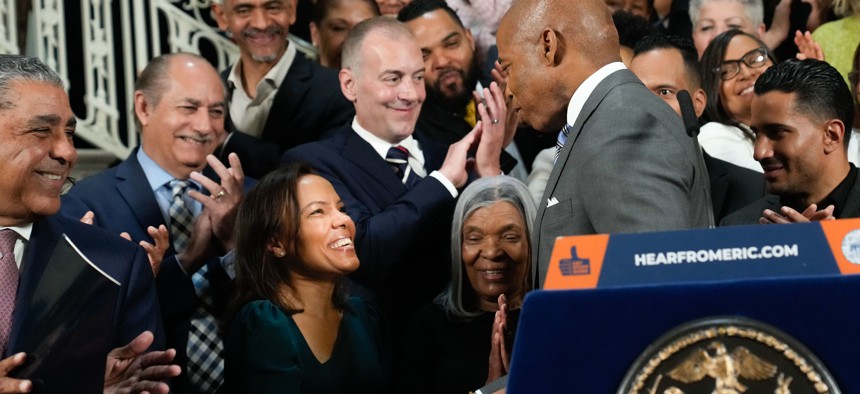 Ana Almanzar, a former official in ex-Gov. Andrew Cuomo's administration and longtime nonprofit leader, will be New York City Mayor Eric Adams new deputy mayor for strategic initiatives. The announcement came from City Hall Friday morning as Almanzar, flanked by her mother and daughter, took to the podium following Adams' announcement.
"This work is personal to me. I want New Yorkers to know that you have an immigrant Latina who came to this city with a dream, whose first degree was from Hostos Community College, a proud CUNY school, and understands firsthand the role government can and must play to work for hardworking people," she said. 
The announcement follows some Adams administration musical chairs. Adams' former First Deputy Mayor Lorraine Grillo stepped down at the end of last year. Former Deputy Mayor for Strategic Initiatives Sheena Wright took over for Grillo in January, leaving the vacancy that Almanzar is filling in early June.  According to City Hall, she will oversee the same portfolio as her predecessor, which includes managing the Department of Youth and Community Development, working closely with The City University of New York and a raft of offices like the Office of Child Care and Early Education and the Office of Nonprofit Engagement. Here are four things to know about the city's new deputy mayor for strategic initiatives.
"The American Dream"
Almanzar and her family immigrated to Bushwick, Brooklyn, from the Dominican Republic when she was 17 years old, "seeking not just the American dream, but the New York City dream." Times were often hard, according to Almanzar. She didn't speak any English at the time and found work at a factory to help support her family. Her parents worked hard, pushing Almanzar and her siblings to "strive for excellence." She went on to enroll in an adult learning class thanks to a local nonprofit where she learned English and eventually "became a proud CUNY graduate." 
"I know firsthand the value of a CUNY degree, the local nonprofits … and the fundamental role government can play in providing opportunities," Almanzar said. "It was a service I received both from the public and nonprofit sectors that turned my American New York City dream into a reality."
A bridge between nonprofits and government  
Almanzar will enter the Adams' administration with over two decades of experience in the public, private and nonprofit sectors. Most recently, she served as director of community relations at Mother Cabrini Health Foundation – a nonprofit aimed at improving health outcomes of New Yorkers in diverse communities. From 2014 to 2020, Almanzar was chief of staff under the Cuomo administration's nonprofit division where she spearheaded media campaigns across the state, provided oversight and helped roll out a $25 million poverty reduction initiative.
Engaging the Latino community
Before joining the Cuomo administration, Almanzar worked at the National Association of Latino Elected and Appointed Officials where she worked to help Latinos become civically engaged in American politics.
"Being in service of others where I can influence policies and programs has been my core belief since getting my very first job," Almanzar, then with the Mother Cabrini Health Foundation, said in an interview highlighting her work as a Latino leader. "I only hope to be a positive influence to other young Latinos by replicating the story of many immigrants who came before me and demonstrated that in spite of coming from nothing, one can accomplish marvelous goals through hard work and a supportive network of family and friends."
Not a huge political player
Almanzar doesn't seem to be a big political player. Campaign finance records suggest she has directly donated to just one candidate, Angela Fernández, a Democrat who ran unsuccessfully for City Council in upper Manhattan in 2021. Almanzar has never run for office herself.
Powered By
NEXT STORY: This week's biggest Winners & Losers