Interviews & Profiles
Affordable housing in NY isn't completely up in flames
RuthAnne Visnauskas, commissioner of state Homes and Community Renewal, discusses current state efforts to make housing affordable in the state.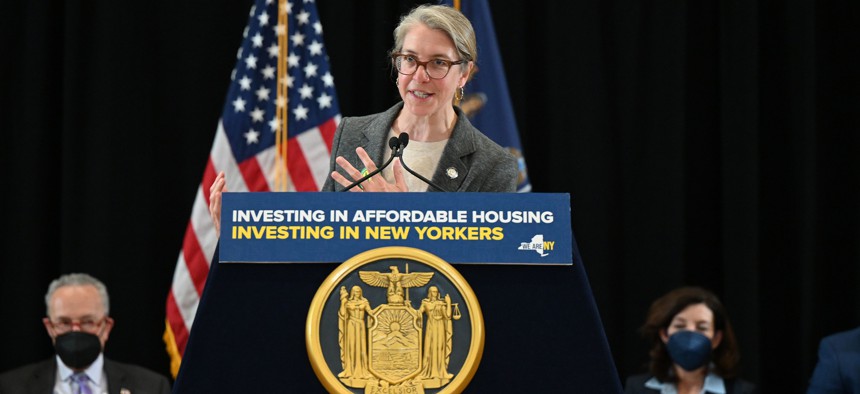 Just because the state Legislature and the governor failed to come to an agreement on creating hundreds of thousands of new homes in the next ten years doesn't mean there's no one in state government working on affordable housing. Since 2017, RuthAnne Visnauskas has been in charge of maintaining and protecting the state's affordable housing stock as commissioner of the Division of Homes and Community Renewal. The Cuomo appointee talked with City & State about using federal dollars, working toward consensus on what is needed and the role of public housing. Responses have been edited for length and clarity.
In the absence of the ambitious policy changes sought by the governor or a drastic increase in funding, how can the state Office of Homes and Community Renewal work to fight back against the housing crisis?
We use our funding in the most creative ways we can to stretch and leverage funds from the federal government. I think one of the things that maybe not everybody always understands is that the city of New York and the state of New York use every single penny that we get from the federal government to create affordable housing. Both the city and the state have very large commitments of capital, and that capital helps take those federal resources and make them go further and allows us to produce even more units than perhaps other states who don't have those resources can do. We are, at city and the state level, producing as much affordable housing as we can with the resources we get from the feds, which is the backbone of the production of affordable housing, volume cap and the 9%, low income housing tax credits.
There seems to be a lot of agreement among stakeholders on both the scale of the 
affordable housing crisis and potential solutions. What role do education campaigns play in building consensus with lawmakers, tenants and developers?
We spent an enormous amount of time from the State of the State to mid-March. We probably had 75 meetings, which were in-person roundtable discussions with stakeholders, meetings with community boards, meeting with local council members, meeting with Assembly members and senators, meeting with the advocacy organizations, to explain everything that we were doing and to answer questions and to clarify. We also wanted to get feedback so that when we got into the process say, "OK, you know, what we went with wasn't perfect," and we think that we can make changes to make it better and make it something that people can, more people can more broadly support.
Homes and Community Renewal has for a long time worked with housing authorities to rehabilitate or replace public housing stock. We are now seeing some housing authorities across the state plan to add housing stock across market levels as part of new projects. What role do you see housing authorities playing in the efforts to create more affordable housing options?
I actually think, not unlike New York City, that in lots of upstate localities, public housing is what people think of when they think of affordable housing, right? Because it's been there for a very long time, because it's for the most part, you know, easy to identify, because there are buildings, and they're all together, and they look the same, and they tend to be a little, austere looking by virtue of the time and the temperament when they were constructed. Certainly, public housing authorities are really anchor institutions all across the state, in terms of providing safety net housing for the lowest income New Yorkers. They are what allow lots of people to work their way up the economic ladder to be able to be successful.
One criticism that was leveled against the governor's plan was that it focused too broadly on creating housing stock in the hopes that it would temper rents, but did not do enough to guarantee affordability. How do you think the governor's plan would work to provide housing for those most in need?
People are getting priced out of the city. There is not enough housing and not enough housing that is affordable. You've heard the governor talk about this, and she often talks about housing that's affordable. It's not necessarily affordable housing as we think about it in terms of NYCHA or regulated tax abatement, but just this lack of availability of housing that is affordable to everybody really, across low and moderate and working families, across the income spectrum. The key for that is to change the system that we have now. Producing as we have been doing so for the last decade and what we've been able to produce given the laws and the zoning policies of the state, is not producing enough housing. She certainly proposed what I think was the boldest housing plan in a generation.
Powered By
NEXT STORY: Linda Rosenthal: 421-a doesn't create enough affordable housing