Personality
George Santos' lies, ranked
Would you put stealing from a dog's GoFundMe higher or lower than saying your employees were killed in a mass shooting?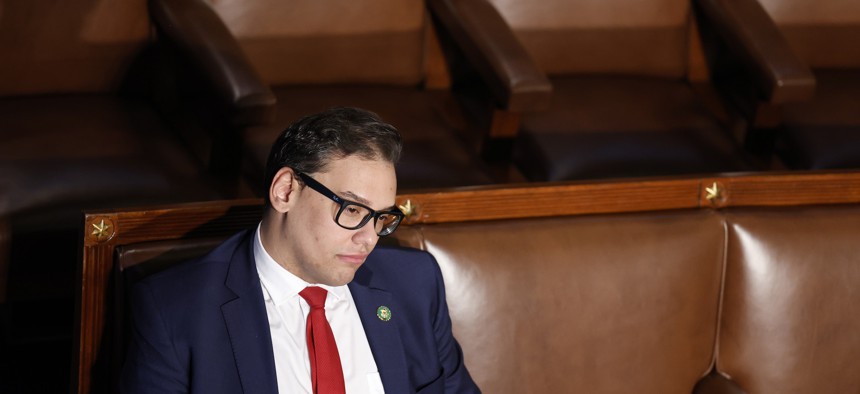 In his twisted web of lies, what stands out as Rep. George Santos' worst? Perhaps it's one of the falsehoods that could wind up landing him in prison. 
On Wednesday, the office of the U.S. Attorney for the Eastern District of New York unsealed a 13-count indictment against the Long Island Republican, who previously admitted to lying about his background and resume, and is accused of lying about his finances, his use of campaign funds and more. The charges against Santos, all of which he has pleaded not guilty to, also accuse him of collecting unemployment while making a six-figure salary and using political donations to pay for personal expenses. The top charges carry a maximum of 20 years in prison.
The charges came a few weeks after Santos announced his reelection bid, albeit with little fundraising momentum. Still new to Congress, Santos had already managed to get two-thirds of New York rooting against him amid his myriad lies and deceptions. A Siena poll in February showed that 66% of registered New York voters polled thought that he should resign.
We previously took a stab at ranking some of the Long Island Republican's most egregious fabrications. (We are City & State after all. We were legally obligated to make this a list.) Here they are: The biggest whoppers ranked from 16 down to 1.
This story was updated May 10. It was originally published Feb. 28.
16. Was not a drag queen
When a Brazilian drag performer posted a photo of Santos dressed in drag at a festival – allegedly from over a decade ago – Santos vehemently denied that he had ever performed drag or was a drag queen. But a few days later, Santos seemed to acknowledge that he had at least dressed in drag, telling reporters, "No, I was not a drag queen in Brazil, guys. I was young and I had fun at a festival. Sue me for having a life." Nothing wrong with dressing in drag – even if you're a member of the Republican party – but note the ease with which Santos lied, despite mounds of evidence. 
15. Produced the biggest Broadway flop of the modern era
If there is a single Broadway production of the past twenty years that a seasoned financier and investor would want to stay miles away from, it might just be Spider-Man: Turn Off the Dark. But Santos, inexplicably, allegedly told potential donors that he was a producer of the 2011 flop that quickly became infamous for bleeding money, delayed openings and injured Spidermen. The musical's actual producer denied Santos was ever involved. 
14. Volleyball star
Every fabrication in Santos' sketchy history seems to contain multitudes of smaller, weirder lies. But boasting a career as a star volleyball player while at Baruch College – claiming to attend on a volleyball scholarship – is certainly one of the stranger and apparently purposeless. Even the Baruch Bearcats' middle blocker is perplexed.
13. Struggling landlord
Woe is him, "I have tenants," Santos claimed on Twitter, but he and his family weren't getting paid rent on 13 properties during the pandemic. Santos later admitted he doesn't personally own property, and never has, and there's no evidence anyone in his family does – his sister just settled an eviction case after allegedly not paying rent for three years.  
12. Baruch and NYU grad
Leaving the "funny but meaningless" lies and getting into the "significant parts of the resume" lies – Santos never graduated with a bachelor's degree from Baruch, or from New York University, where he claimed he got an MBA. In an interview with the New York Post, Santos called this one embellishing his resume. Others call it deception. Even Santos' secondary education eludes truth. He claimed to have attended the exclusive Horace Mann prep school in the Bronx until the 2008 financial crisis forced his family to pull him out. There's no record of that either.
11. Worked on Wall Street
Wall Street is full of liars and thieves, but it does not appear that Santos was one of them. During his campaign, the Long Island representative boasted a career as a "seasoned Wall Street financier and investor," but two of the major firms he said he worked for – Citigroup and Goldman Sachs – told The New York Times that they had no record of ever employing him. Santos later referred to this lie as a "poor choice of words."
10. Ancestors were Jewish refugees of the Holocaust
"Clearly Catholic" or "Jew-ish"? Sure, who among us hasn't been spiritually confused from time to time? But Santos' claims that his Jewish maternal grandparents fled persecution in Europe during World War II go far beyond religious searching. Forward found evidence that Santos' maternal grandparents were born in Brazil before the Nazis came to power. He now claims they falsified documents, and said he's taking a DNA test to prove it – but it's clear that he has, at the very least, severely exaggerated a Jewish identity, if not made it up outright. 
9. Had employees who died at Pulse nightclub
Santos' fictitious attempts to connect himself to a massive tragedy didn't stop with the Holocaust. He told WYNC's Brian Lehrer that four employees at his unspecified company died in the mass shooting at Pulse, a gay nightclub in Orlando, Florida. The New York Times, however, found that none of the 49 victims of the 2016 shooting appeared to have worked at the companies in his resume. He later claimed he was building a business they were going to work at. There was no proof of that, either. 
8. Mother was at 9/11
Santos has said that the terrorist attacks on 9/11 claimed his mother's life, and that she was working in her office in the World Trade Center on the morning of Sept. 11, 2001. The politician also said that his mother survived the attack and died from cancer a few years later, but immigration documents indicate that Fatima Devolder – who died in 2016 – wasn't in the United States in 2001.
7. His 7-year marriage
Now we're getting into some lies where Santos needs to be seriously concerned about the legal ramifications. Santos, who has been out gay for at least a decade, was legally married to a woman from 2012 to 2019 in what has the hallmarks of a scheme to get her U.S. citizenship. A man who dated him in 2013 said Santos promised him a green card if he married him. Santos also planned an engagement party with another man in 2014, but the party, and the engagement, never happened. 
6. Committing check fraud in Brazil
Santos was charged with stealing a checkbook from a man his mother was taking care of in Brazil and using it to write fraudulent checks back in 2008, the Times reported. In 2023, Santos denies having anything to do with it, but Brazilian authorities say he confessed more than a decade ago, and planned to revive the charges against him. 
Santos was also wrapped up in a case of someone accused of ATM skimming in Seattle in 2017. Santos lied to a judge at a bail hearing about how he knew the man, Politico reported, and falsely claimed he worked at Goldman Sachs. 
5. Being a multimillionaire
He told the House he took a $750,000 salary in 2021 and 2022, earned between $2 to 10 million in dividends from his company, had more than $1 million in a savings account and a place in Brazil worth at least half a million dollars. Those in the "capital introduction" business said there's no way. 
4. A "friend of pets"
For someone who claimed to run a charity called Friends of Pets United, Santos did a lot of dogs dirty. Though Friends of Pets United had a social media presence, the Times found no record of that group holding tax-exempt status or being registered as a charity in New York or New Jersey. And the beneficiary of a fundraiser the group held in 2017 said she never received proceeds from the $50 per person event.
Santos was separately accused of setting up a GoFundMe page for the service dog of a disabled Navy veteran and then disappearing after the page raised $3,000 for a life-saving surgery for the dog. The veteran told Patch that Santos insisted on taking the dog to another veterinarian who said the dog wasn't a candidate for the surgery, and Santos made off with the money.
Politico reported that Santos was also charged with theft by deception in Pennsylvania in 2017 for allegedly writing more than $15,000 in bad checks to dog breeders in the state for "puppies." Soon after, he held an adoption event where people thought they were adopting rescue dogs. Santos claimed his checkbook was stolen and a friend helped him get the charges dropped. But that friend told Politico she no longer believes Santos' story.
3. The Big Lie
Santos himself might be the ultimate election fraud. But in early 2021, he was focused on perpetuating one of the more insidious political lies in recent memory – that the 2020 presidential election included mass fraud to benefit President Joe Biden. When he showed up for a Stop the Steal rally in Washington D.C. on Jan. 5, 2021, Santos said that not only was the presidential election stolen from Trump, but that his own congressional election was stolen from him. Though Santos was ahead on election night, then-Rep. Tom Suozzi won handily once absentee ballots were counted. "They did to me what they did to Donald J. Trump. They stole my election," Santos said. In fact, the only thing that might have been stolen that day was Santos' Burberry scarf.
2. Fake donations to his campaign
Who is Victoria Regor? Stephen Berger? More than 12 big dollar donors to Santos' first campaign in 2020 don't actually seem to exist, according to Mother Jones. Or at the very least a whole bunch of them gave fake addresses. And maybe fake names, too. 
1. Santos staffer pretends to be a staffer for Speaker Kevin McCarthy
A staffer for Santos, Sam Miele, claimed over phone calls and emails with potential donors to be Dan Meyer, chief of staff to now-House Speaker Kevin McCarthy. The apparent aim was to pull in more donations by giving him a sense of legitimacy. Instead, it got Santos a formal complaint with the FEC. While other Republicans have disowned Santos, McCarthy has treated him pretty normally. Maybe he didn't mind?