Interviews & Profiles
Linda Rosenthal: 421-a doesn't create enough affordable housing
The Assembly Housing Committee chair is calling for more than just tax incentives.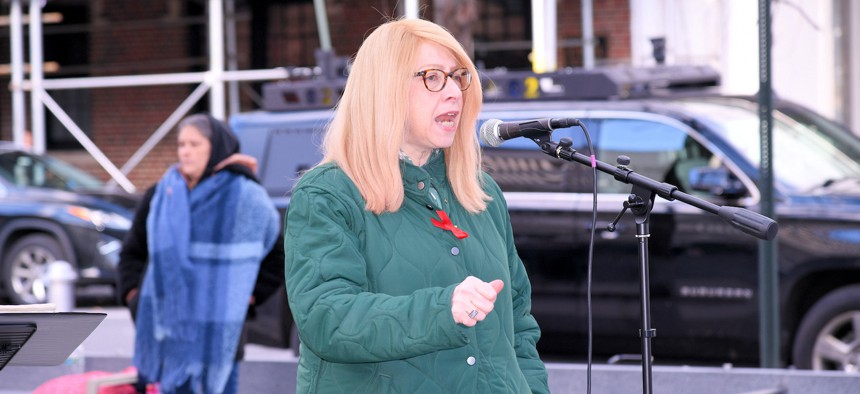 Assembly Housing Committee Chair Linda Rosenthal, who began leading the committee at the start of the year, proposed a housing voucher bill that would help people who are struggling to pay rent. While it wasn't included in Gov. Kathy Hochul's housing plan, the bill highlighted Rosenthal's focus on affordability in New York's housing debate. City & State spoke with Rosenthal about wanting more affordable housing requirements in Hochul's plan and whether the state's now-expired affordable housing tax incentives were actually the best approach. This interview has been edited for length and clarity.
You have raised concerns about the lack of emphasis on affordable housing in the governor's housing proposal. Where do you see those shortcomings and how could they be addressed?
The governor proposed 800,000 new units within 10 years. However, the word affordable was not attached to that proposal. And I think that was a major deficit. It was startling, actually. The reports have come out within the last few weeks. But this is something that lawmakers have known for years, and the crisis is just building to the point where people are leaving this state. People of color are leaving, people of color who don't earn in the millions of dollars, people who are struggling to feed their family, afford medical care and pay their rent, say, "I give up, I can't do it." So rather than worrying about all the billionaires and taxing them, we need to worry about the people who are exiting because it's too expensive to rent here. Buying is beyond the capability of so many people, even as we want to encourage homeownership. So we have a big crisis here, and it's not just all about that real estate wants what it wants. It's about recognizing the reality and addressing it by putting in protections for tenants against burdensome, extreme rent increases, ensuring that they don't have to fear eviction when they're complying with all their responsibilities, such as paying rent (and) all the other things that go along with being a good tenant.
Do you think the minimum wage should be raised further to try to combat the housing crisis? What other measures could be taken that are not traditionally thought of as affordable housing solutions?
These minimum wage jobs do not lead to wealth, they lead to better existence. So if someone's paid properly, they will have the money to shop in their local supermarket or their local small-business owner's store. They won't have to rely on food pantries, which we see people working full time at minimum wage jobs still have to rely on food pantries or other assistance to survive here. So while I'm glad we did increase the minimum wage in the future, it's still not high enough. And that is a factor in keeping people in their homes: making sure that they earn enough. So while New Yorkers who think they're safe and secure receive eviction notices, sometimes it's also because the city didn't process the vouchers, so that's another complication. The lack of staff in crucial housing agencies within the city means that people who should live without worry about their rent being paid, now have that additional concern, and their landlords around them saying, "Hey, I didn't get any rent, I can't survive," which I also understand, because they are relying on the money that the voucher will provide from the city. So that really needs to be remedied ASAP. And not reducing the amount of staff in these housing agencies has been proposed in the mayor's budget.
You have been critical of the way 421-a and other tax incentives have been used in the past. What do you want to see out of tax incentive programs going forward?
We need to build affordable housing. And 421-a has been put out there as the solution to building more affordable housing. But we've seen, and there have been reports that back this up, that it doesn't create enough affordable housing in return for forgoing taxes. The equation doesn't balance. You know, if anybody wants a new 421-a-type program, we have to ensure that there's more affordability. It's not just about profits, from a policy point of view. The government has to encourage and help build apartments that are affordable to its residents, and future residents, because this also will affect future residents who will say, "I can't afford to live in New York." And that's how the city and state will be drained of the future generations in the creative intellectual (space). The workers, anybody who sees what's going on will say, "I love New York, but I really can't afford to live there." So you know, we're biting off our future by not dealing with the present.
Click here to read all of our special report coverage on affordable housing.
Powered By
NEXT STORY: Brian Kavanagh on the interlocking crises of housing affordability