New York City
Eric Adams' friends and family with plush city jobs
The mayor has appointed a number of friends and family members to positions within his administration or city agencies.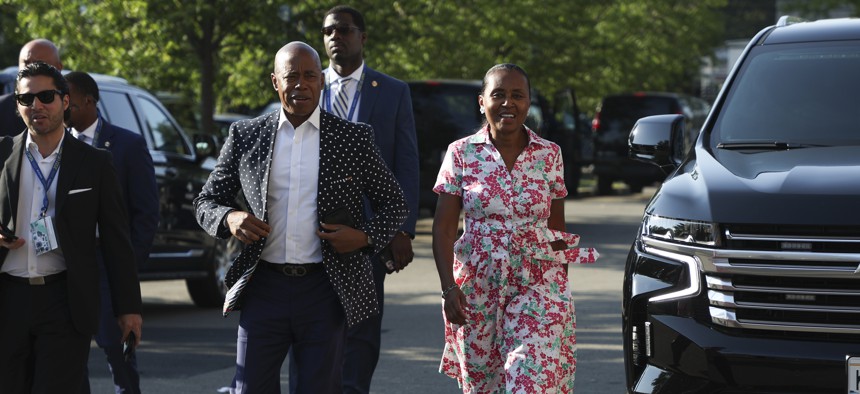 New York City Mayor Eric Adams, the "nightlife mayor," has many friends. And several of these friends – and some of his relatives – have received high-level appointments from Adams to work in his administration. While some are surely well-qualified for their City Hall positions, the mayor has been called out on multiple occasions for nepotism, most recently for giving his sister-in-law, Sharon Adams, a job in the Department of Education that more than doubled her annual salary. "Sharon is an educator, well qualified, many years," Adams said Thursday when asked about her appointment. "I know she applied and she was going to come to the DOE years ago, long before I became mayor." Here's a list of Adams friends and family members who are now working in his administration.
Sharon Adams
Sharon Adams is a strategic initiative specialist at the DOE, as well as the mayor's sister-in-law, married to his brother Bernard. These specialists help develop and support agency programs and policies. Previously, Adams was a teacher in Virginia, where she was being paid less than $73,000 annually. In her new role, she makes $150,000 a year.
Bernard Adams
The mayor appointed his younger brother, Bernard Adams, to be his senior adviser of mayoral security in 2021. Bernard was first given the role of executive director of mayoral security with an annual salary of more than $200,000, but that was soon shot down by the city's Conflicts of Interest Board. Afterward, he was given the advisory position for a salary of $1 a year, per the board's ruling. Had he been allowed to remain as the director, he would have had oversight of the mayor's security team and command authority at the police department. Bernard resigned from his $1 position in February.
David Banks
Adams chose his long-time friend and adviser David Banks to be his schools chancellor shortly after taking office in January of 2022. The chancellor is at the helm of the DOE, overseeing the day-to-day operations and taking the responsibility for successes and issues within the department. While the two are known to be good friends, Banks also has years of education experience to back up his appointment. He founded the Eagle Academy Foundation, a network of all-boys public schools, and was the founding principal of the Bronx School for Law, Government and Justice.
Tracey Collins
Banks named Collins, Adams' partner, the senior adviser to the deputy chancellor of school leadership within the DOE. While Adams is not her direct supervisor, this position does categorize her as working for his friend and appointee. Collins, who has 30 years of education experience, including as a principal, had already been working in DOE administration, though with a different title and lesser salary. The New York Post suggested that Banks hired Collins as a thank you to Adams for hiring Banks' longtime partner, Sheena Wright, but the mayor's office denied this, calling it "vile and sexist." "Tracey's been a principal. She's been an administrator, and she's an excellent educator. She turned around schools. Should she leave the DOE because her boo became mayor? I don't think so!" Adams said at an unrelated press conference on Thursday.
Lisa White
One-time landlord and friend to Adams, White has been the New York City Police Department's deputy commissioner for employee relations since May 2022. Her role oversees the Employee Relations Bureau, which is responsible for improving morale and well-being of officers, supporting the families of fallen officers and serving as a liaison among the NYPD's 40 fraternal, religious and ethnic organizations.  A former 911 dispatcher, she spent 30 years working in NYPD's Communications Division, and was also Adams' landlord when he rented a room in her apartment for four years. NYPD emails about White's hiring didn't do much to suggest the process was a thorough one.
Timothy Pearson
Pearson is a retired police inspector and a friend of the mayor's. He's now Adams' senior adviser for public safety and COVID-19 recovery, earning both a salary for his position and his NYPD pension. As adviser, Pearson works with law enforcement to improve public safety. Originally, he also was vice president of security at the Resorts World New York City casino, but he stepped down from that role soon after reporting publicized the dual positions.
Powered By
NEXT STORY: A son of the Bronx is now its historian