Personality
At his funeral, Dick Ravitch was lovingly remembered by political leaders and family
Gov. Kathy Hochul called him a "visionary" and the "consummate public servant."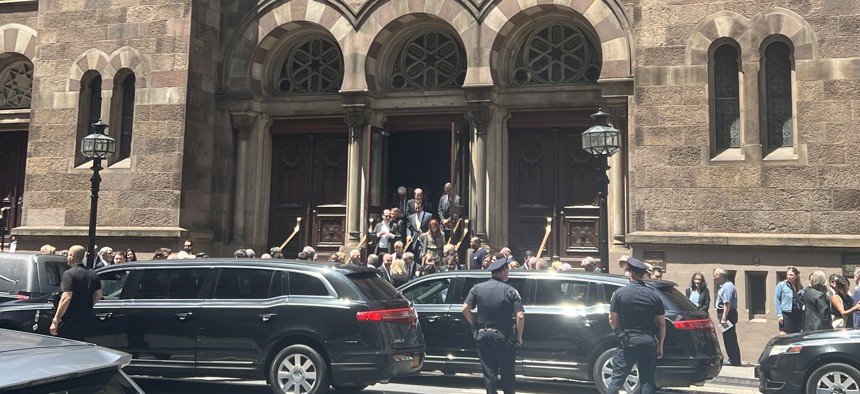 Friends, family and admirers of the late Dick Ravitch celebrated his life and legacy on Wednesday morning at Central Synagogue in midtown Manhattan. Gov. Kathy Hochul, New Jersey Gov. Phil Murphy, former New York City Public Advocate Betsy Gotbaum, as well as Ravitch's loved ones, were in attendance.
"How do you select the words to describe Dick Ravitch?" Hochul pondered while delivering her remarks. "Visionary. Lover of New York. Consummate Public Servant."
Ravitch died Sunday at the age of 89. Each speech at his funeral underscored his impact on fixing the Metropolitan Transportation Authority as its chair in the 1980s, joining civil rights actions and having an influential role in shaping state policies as lieutenant governor under then-Gov. David Paterson. The governor said she and Ravitch shared a bond because they both served as the state's No. 2. "He never hesitated to tell me his view of that particular role," Hochul said, which was met with laughter from the crowd. "To quote Dick Ravitch: 'It was a useless job'. But I say it's useless … until it's not."
As each person spoke, one common theme was that Ravitch was far from shy about sharing his opinion. "Dick would have so appreciated this gathering – all of us here together – it would have made it so much easier for him to tell us together how to do our jobs," longtime New York City journalist Michael Oreskes said as the crowd erupted in laughter.
According to Murphy, Ravitch's life was the quintessential New York story. "So you might rightfully ask what's the Jersey angle?" Murphy said during his remarks before going on to explain that when he was first elected governor, he prioritized fixing many of the fiscal concerns of the state with Ravitch's help. "The fact that Jersey is now starting to punch near its weight is, in no small measure, due to Dick Ravitch and his personal friendship and advice," Murphy said, while asserting several elements of the state's budget are the "spiritual outcropping of lessons" Ravitch gave him over the years.
While Ravitch was a heavy-hitter in the world of New York politics with a lifetime of public service, he was also a doting family man, husband, father and grandfather. Each family member who spoke underscored and gave personal anecdotes of their time with him. As the funeral came to a close, everyone in the room sang "Oh, What a Beautiful Mornin" from the musical "Oklahoma." Ravitch's coffin, draped in an American flag, led the way out of the synagogue as his loved ones and political admirers followed behind.