New York State
Anna Kaplan talks about protecting abortion rights and electing more women to Congress
If victorious, she would be only the second Iranian American in the House.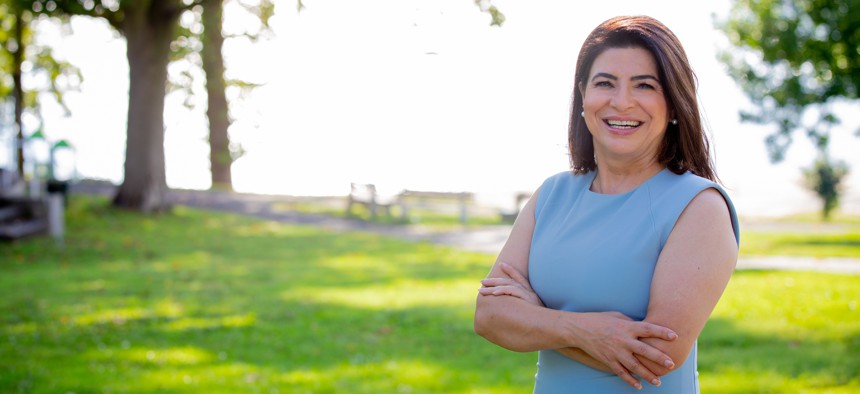 Former Democratic state Sen. Anna Kaplan made history in 2018 when she became the first Iranian American to win a seat in the state Legislature. After coming to the United States as a refugee as a teenager to escape persecution for being Jewish, Kaplan served in a handful of local positions before running for state Senate, unseating a first-term Republican. But after two terms, she fell victim to a mini "red wave" in 2022 that hit New York's suburbs, losing her seat to a Republican.
Now, Kaplan is looking to take on another Republican who gained power in that red wave – Rep. George Santos. The scandal-ridden and indicted Republican is attracting scores of challengers from both sides of the aisle, and Kaplan believes her background and experience makes her the right choice to replace him. If elected, she would be only the second Iranian American in Congress – following Republican Rep. Stephanie Bice of Oklahoma – and one of only a handful of refugees to serve in the body. Kaplan spoke with City & State about her time in the state Senate, her background and her run for Congress. This interview has been edited for length and clarity.
What made you want to jump into the race specifically? I'm sure a lot of people have thought about it.
I've ran for a lot of offices, whether it was library board, whether it was town council or the (state) Senate. For me, this congressional district is very, very personal. I left a country where I saw the right-wing extremists taking over and stripped women of their rights. And I came to this country (at a) very early age, I was 15 years old. And often people ask me, were you scared? And my answer was, I was a lot more excited than scared. Because I knew I was coming to a country where I could work hard and dream big and make my dreams turn into reality. Right now, I am really disheartened to see that my mother's generation had more rights than my daughter's generation. Yes, we did codify Roe (in) the state of New York. But as we've seen, it still does not mean that we're all safe. And I have my own reproductive rights story. I was pregnant, I was very excited. My husband and I were thrilled. And right up to the third month when I went they told me there was no heartbeat, and I needed the medication. And I needed to have a (dilation and curettage procedure). It was hard enough to deal with the fact that it was not a viable pregnancy. But to be told that I can't even do what I need to do to move would be devastating. So I'm running because I believe we need more woman voices in Congress. We need more women (who are) pro-choice.
You were the first Iranian American elected to the state Legislature, and you are coming in with unique experiences. How has that influenced your political career so far?
I really am grateful for this country. It opened its arms to me and my family and gave us a place to call home. And I'll be honest with you, nothing has been handed to me. I've worked very hard for everything I have – every progress that I've made, every experience that I've gone through. But I'm proud to say there were those opportunities for me, in this country, to make the best of my life. And I'm grateful for those opportunities. It has been an amazing journey for me. I think my experience throughout my journey locally running for a library board, town council and the Senate has been really enriching my life as an individual, but as an elected as well. I think my experience does really set me apart from anyone in this race. I think not only my political refugee journey, my journey with my reproductive rights, but also my journey in (the) New York state Senate, and as a representative for this district, sets me apart from everyone who's in this race.
During your time in the state Senate, what would you consider one of your biggest accomplishments?
It was a proud day for us to pass the Reproductive Health Act in New York and codify Roe. It was an amazing day to pass sensible gun laws. My first bill was a sensible gun bill. It was the proudest moment for me to have had my legislation banning ghost guns pass in (the) Senate (and the) Assembly and get it signed by the governor and for it to become a model for the White House to adopt. And it was a very proud moment for me to pass the Holocaust bill, a bill that was around for more than a decade. To have been able to pass it in the Senate (and) Assembly and get it to the governor for her signature.
Mentioning the Holocaust education bill, I remember when that passed and the amount of time it took. We are at a point in time when we are seeing a rise in white nationalism, when cable news commentators posit that the Holocaust had "benefits" for Jews. Why is it important to have someone with your experiences – a Jewish Iranian refugee woman – in Congress particularly now?
I think that's one of the huge pluses in my race, and in who I am, and in my journey. I am that immigrant who came to this country. I am a woman. I am Jewish. And I think I have a very unique voice that I will bring to Congress, and talk about our diversity and how our diversity really could be an asset for all of us. And that this country has been a country that is made up of immigrants, whether they're first generation or sixth generation. The tapestry of this country is so multifaceted, and so multicolor. I think I do bring a very unique voice, and it's a voice that I think (is) very much needed in this time in this country, in (the) House of Representatives.
Last year was a tough year for Democrats across the state, including for you as you lost your state Senate seat. Why do you think you'll have more success in your congressional race?
It was my race, I take responsibility for my race. But there were a lot of factors that went into that race. About 40% to 45% of my district was new, and it was very hard to go out and introduce myself to the new part of the district. I believe, also, a lot of women in New York felt very safe. After all, we did our job in 2019, we codified Roe in the state of (the) New York. And that's why it's important for us to go and have those conversations and make sure we reach out to every person that we need. Not only codify it in the state of New York, but we need to codify it federally. We need to go and make sure that we have the message that we want sensible gun law. Those are, I believe, the wants and the needs of (the) majority of Americans throughout this country.
It's definitely a different environment with a Republican House, where a national ban on abortion is a conversation happening among some members, which seemed impossible under Democratic control.
I remember having this conversation when I was running for (the state) Senate and they asked me why I was running. And I said, I want to make sure we codify Roe (in the) state of New York. And they told me, "Anna, don't be silly. That's the law of the land. That's never going to change." Three years later, look at where we are. I also am a big believer that we need to also learn from our history. We need to teach history to our children. I believe when we don't learn from our history, we tend to repeat it. I'm a big believer in education. Obviously, it has to be age appropriate. But it is really important to teach our history to our children.
Which is certainly becoming an issue in certain states in this country. For how hard your Holocaust education bill was to pass in New York, I'd imagine it would be nearly impossible in Florida with the curricula that officials there are approving.
Yes, they're banning some of those books that do teach you about the Holocaust. And if we don't teach our children, we are doing them a disservice.
Powered By
NEXT STORY: Sherif Soliman discusses the mayor's Albany wish list