Interviews & Profiles
How federal funds are driving state investments in broadband
A Q&A with the National Telecommunications and Information Administration's Jodia Vanel.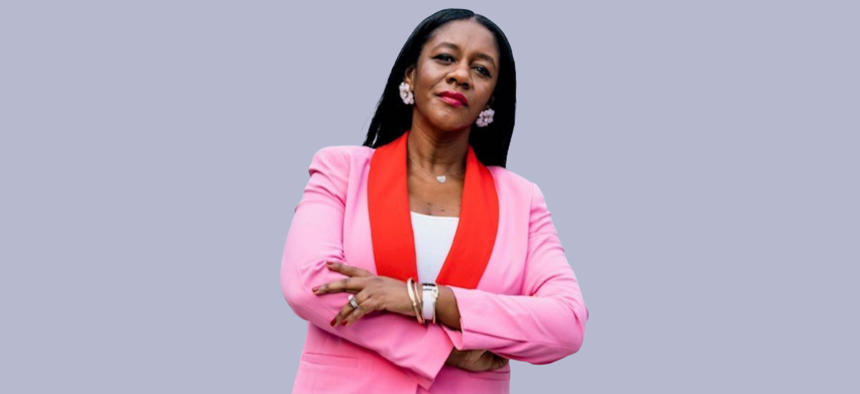 In January 2022, Gov. Kathy Hochul unveiled the $1 billion ConnectALL initiative, which is aligned with President Joe Biden's Internet for All initiative. In December 2022, the Hochul administration announced that it had secured over $7 million from two federal programs run by the U.S. Department of Commerce's National Telecommunications and Information Administration. City & State spoke to Jodia Vanel, a federal program officer with the National Telecommunications and Information Administration, to learn more about joint state-federal efforts to increase connectivity.
How well is New York doing and closing the digital divide? What's working and what could be better?
I think New York is on a great path to helping and being one of the leaders in attempting to close the digital divide. I'd like to focus specifically on what I am doing in New York and what we're doing with the Empire State Development group, under Gov. (Kathy) Hochul, specifically the ConnectALL office. So under our initiative under President (Joe) Biden, the Internet for All initiative, New York is one of those great states that is partnering on this to drive connectivity throughout the entirety of New York, not just New York City, but all the way upstate, all the way to the Canadian border. And so we have great partners in New York with the ConnectALL office driving these initiatives. And us being that federal partner, that funding partner to help them through our recently announced allocation of $664 million that will eventually be placed in New York, after we address all of the planning that's needed to eventually execute that.
What programs fall under the ConnectALL office and the Internet for All initiative? 
So ConnectALL will be able to dive a little bit deeper into their programs, but they have multiple initiatives taking place. Specifically, what we're doing at NTIA, under the U.S. Department of Commerce, we have something called The BEAD program (Broadband, Equity, Access and Deployment). But it all falls under the umbrella of Internet for All. So we are the funding partner to help New York drive connectivity and to serve the underserved and uncovered populations and areas throughout New York that need connectivity. So this funding will provide the opportunity for New York to plan, execute, meaning actually doing the drilling, doing all of the critical infrastructure needed to deploy the internet. In addition to that, wrapping around certain things like important, right on digital equity, to ensure that not only are we providing internet connection, but we're also ensuring that the folks that have the internet are able to thrive, whether that is through going to school, having telehealth, creating their own businesses using the internet effectively, we want to make sure that they're fully connected. 
To what degree is affordability a challenge, as opposed to infrastructure, in making the internet accessible for those who need it most?
Essentially, the infrastructure (bill) allocated $42 billion for all states and U.S. territories. So when I speak, I speak specifically about New York, and as I mentioned recently, as of June 30, we announced that New York will have the allocation of $664 million. And so those funds will be used to create that infrastructure, the plan, meaning working with stakeholders, whether it is an internet service provider, whether it is an anchored institution, such as libraries, hospitals, things of that nature, whether it is community-based organizations, we're going to work together to figure out what are the needs for internet and how we're going to go about doing that. What is the deployment, meaning, how we're actually physically going to get that internet to those folks and actually service them. So yes, that is a challenge, a great challenge, but it's also the greatest opportunity for us in New York to be able to do this. This is the first time on this national level that we're able to make those sorts of commitments and eventually execute on them within the next few years.
In deploying connectivity, what are some of the biggest challenges that you've noticed that stand in the way of digital equity?
So we are still looking into this right now. And so in New York, what we've done is that we've gone around, I, along with the ConnectALL office, have gone around 10 regions throughout the state. So we've attacked literally every part, whether that's rural all the way upstate, whether that's in the mountains in the Adirondacks, whether it's down in New York City – we've partnered up with folks that are part of the digital equity experiences, people that are well known in that area, organizations that are truly trusted – what New York has done is built upon all of the great work that these organizations have done. We've partnered up with digital coalitions throughout every region and have them bring us together in a room with stakeholders, with residents, with a ton of different folks to talk about the challenges of the internet, and then the opportunity. So we've been on a listening tour since March to now. That is needed before we can develop an actual plan. You can't plan if you don't know what the challenges are. And so the first part and some of our requirements from the federal government is to be able to listen to the people and get their feedback so that we can actually put our plan together. So we've done 10 regions, and now we're highly focused in New York City, going from borough to borough. In fact, today, we kick it off in Staten Island to talk to residents. And so under our initiative, Internet for All, we're really looking to address many populations that are not necessarily populations (included) in technology and Indigenous equity. So whether you're part of a minority community, part of the disability community, whether you're a veteran, whether you're in a rural area, we are strategically focused with these digital equity coalitions to be able to bring all of those stakeholders together so that we can hear from them. And we're just really happy to get into the boroughs because we know New York City is pretty diverse, and it requires so many different stakeholder engagement plans. And we'll be wrapping that up very soon and then we'll get into the first-ever state digital equity plan for New York.
When reviewing the data you've collected, are there any similarities among the challenges that communities face in accessing connectivity?
 This is really my personal opinion because we're still collecting all of the data and analyzing it. But I can tell you from being out on the road with the New York ConnectALL office, of course, and you're absolutely right, everyone's needs are different. And it's different depending on literally the physical location in New York. There are overall trends. The trend is making sure you have safe internet so that people feel confident that they're getting onto the right sites, to cybersecurity. But in certain communities, there are extra needs, it may be in a rural community, it may really truly be actually getting connection in that area. It may also be an affordability issue, because it's hard to get internet to a remote area versus coming to New York City. We have lots of internet connection, but it may be an accessibility issue in terms of affordability and having the options to have many carriers or having the option to have subsidized opportunities to cover the internet. So everywhere we go, there are different challenges that those folks are experiencing. And so we have the pleasure of putting this all together, it's not going to be a one plan fits all. It has to be catered through all of the different areas. But we know that the main theme of this is connectivity. How do we do it? And in New York and with NTIA in the U.S. Department of Commerce, it's all about accessibility, affordability. And so New York has those pillars in mind, and they figure out how they're going to do the plan with those missions in mind.
How did the pandemic shift our view on connectivity?
Again, this will really be my perspective. But I think it's pretty evident: folks, everyone understood during the pandemic, that there is an issue. I've been preparing for this since about 2008, but unfortunately, we got to the pandemic where the rest of the world understood that, people may have to work remotely, people may have to use telehealth because these options were not readily available, physically. During the pandemic I think that was a great debate about digital inequities, where (not everyone) could access things. The internet became that great equalizer for all to be able to do things and get on platforms to be able to connect with each other. I think I want to focus on the fact that, unfortunately, the pandemic took us to this point for all to realize the importance of connectivity and why it is a vital need for so many for Americans to be able to continue to do their daily activities to be able to thrive for students and all to be productive.
As a federal program officer of NTIA, what are some key points in your role that you've utilized toward increasing high-speed internet access across New York? 
So it's the relationship, it's the partnership with New York. We meet weekly. We actually have a touch base every Thursday with the entire team to plan effectively. As I mentioned, we've been traveling together since March to talk to all of the residents and the stakeholders throughout New York, to ensure that everyone knows about this mission, this Internet for All initiative, and so that they're comfortable with it. And they see that the government is here as a trusted partner, ensuring that we eradicate as much as possible the digital divide through access to the internet. I think if you talk to the ConnectALL office, and you talk to me, and we will always share and use the same words, we're partners, we are here to serve the residents of New York. And whether it's through my funding, or it's through some of the initiatives that the ConnectALL offices do through their own funding, our ultimate goal is to connect all to ensure that everyone gets to thrive. And so we are true partners on the federal and state side.
Powered By
NEXT STORY: This week's biggest Winners & Losers