Interviews & Profiles
Rep. Marc Molinaro just wants the government to run
The first-term Republican talked about why he voted to oust George Santos and why he cast a speaker vote for Jim Jordan.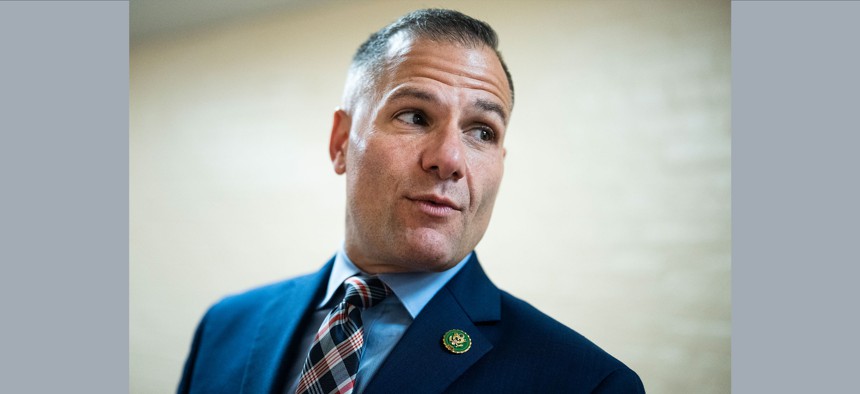 While Republican Rep. Marc Molinaro is a freshman lawmaker in the House of Representatives, he is not a newcomer to elected office. Molinaro was 18 when he was elected mayor of Tivoli in 1994, becoming the youngest mayor in America. In the nearly three decades since, Molinaro also served in the state Assembly, as Dutchess County executive, and he mounted a run for governor before being elected to represent the 19th Congressional District in 2022. 
Molinaro said the key thing for him has always been governing, at least that was his rationale when he voted for controversial Rep. Jim Jordan in a recent speaker vote. Rather than spend time infighting or debating, Molinaro said he wanted to get back to working on legislation that would help his constituents. That vote was immediately seized on by Democrats as evidence of extremism.
Molinaro also takes issue with lawmakers who he thinks don't share his dedication to public service. He joined freshman GOP Reps. Nick LaLota, Mike Lawler, Anthony D'Esposito and Brandon Williams in introducing legislation to remove embattled Republican Rep. George Santos from Congress. He said that deceit and abuses of power had no place on either side of the aisle. 
Molinaro joined City & State for a phone interview Wednesday afternoon and discussed his district, Israel, Rep. George Santos (whose expulsion vote would follow later that evening), GOP politics and other recent news. Responses have been edited for length and clarity.
The vote on Rep. George Santos' expulsion is tonight. What does it say about the modern-day Republican party that people like George Santos have been able to get inside?
First, I sponsor the expulsion resolution so I'll be voting yes (tonight). I was among the first to say George Santos should not be a member of Congress, he should resign and frankly, he should be expelled. I'd argue that there are plenty of people in both political parties that abuse their office and abuse the rules. New Jersey, the U.S. senator with gold bars in his house. You know politicians in both political parties have used deceit too often to get away with too much. And if voting to expel George Santos sends an important message to Republicans and Democrats alike, that we ought to uphold at least the basic expectation that we're truthful with the people we serve, then I'm comfortable setting that precedent.
What rising stars have you identified while in elected office or otherwise? 
I point to Ryan McMahon, the Onondaga County executive within the New York Republican Party, one of my own chairs. In fact, I have two, Benji Fetterman and Dan Koerner, both young people. I think Dan, now he's the Otsego County chairman. He's the youngest in the state. Ben Fetterman was one of the youngest. He represents and serves Broome County. Fred Akshar, county sheriff in Broome County, is a tremendous public servant. Sue Serino is going to be the next county executive in Dutchess and there are plenty of quality capable people who serve. If you want to give it a partisan tint, I would say that there's just great Republican members of the state Legislature. Mark Walczyk in the state senate. Peter Oberacker. I mean it's important that all voices are represented and too often, particularly in New York because the government's been one political party, their ideas aren't challenged, the policies aren't questioned and frankly, corruption is allowed to exist. And it's because there aren't enough competitive districts and competitive races that allow for the kind of balance and checks and balances that you want.
It's probably like a chicken or the egg situation, but we've seen Democrats grow polarized along with Republicans. You're a rather moderate Republican, does it concern you to see some of the rightward shifts within your own party?
I think what you've seen is the struggles of the Republican Party embracing more of a populist feel, which is what we want to represent, the working families and the small businesses and the farmers. That's been a transition and frankly, those kinds of transitions at times are sometimes messy and ugly. But the extremes in both political parties, as my grandfather used to say most people live in the middle. You're just trying to pay your bills and get your kids to school and make sure that if you're running a business, it's successful or that you're leaving something better for your kids and grandkids. Most folks aren't wrapped up in the ideological fights. They're not wrapped up in the paralysis that exists in Washington or Albany. And so for me, I think if we're pragmatic and we focus on simply responding to the people we serve and trying to make government accountable to them, the ideological fights play out around us, what's important is that we're delivering and that we're responsive and respectful to the people we serve, and I think most people appreciate that and most want that. I've articulated this sometimes very clearly and sometimes not. I think people are just frustrated and upset with government that spends too much time arguing with itself, instead of fighting on behalf of them. 
Speaking to your Democratic opponent Josh Riley, he seemed to really hone in on the fact that you voted for Jim Jordan during the speaker elections. Do you think that's going to affect your next campaign?
You were talking to who? What's his name? I don't want to be catty about it, but the second Josh Riley hung up the phone and conceded to me last November he began his campaign for 2024.
You don't have any concerns about how your constituents on college campuses and in cities might feel about you being linked to Jim Jordan?
I respect the people I serve. I wanted to govern and the party and the conference selected a candidate for speaker and our job is to select the candidate, elect a speaker and get back to work. And remember, we would not have been in this situation if all of the Democrats in the House didn't side with eight Republicans to oust the duly elected speaker of the House and frankly, no matter who I selected, I would suggest that most of the most of the folks on college campuses and and my opponent wouldn't agree.
Do you plan on supporting an aid package for Israel?
Without question. Israel is likely America's greatest ally. I don't mean that just in the Middle East. It's a democracy in the Middle East that has been one of our longest-standing friends. It is our most significant partner and ally. I represent a good number of citizens who either have dual Israeli citizenship or some direct connection to Israel. Because of what was an act of war and a brutal, vile terrorist attack Israel not only has the right to defend itself, but it has the right to respond and America needs to stand with them. I'll continue our work not only to expand support to Israel, but to combat antisemitism, which, sadly, is surprisingly and horribly on the rise in lots of places. And frankly, we need to better educate, and we need to better respond to those incidents of hate.
Do you think Palestinian Americans are getting adequate support in your district?
Palestinian Americans, those American citizens ought to be protected and have and should have the full force and protection of American law. As it relates specifically to the act of war that was engaged upon Israel, Israel is now in a state of war and because of those terrorist strikes. Just as what occurred on 9/11, just as occurred in Pearl Harbor, the nation Israel has a right not only to defend itself but to respond in kind. Now, I hope we certainly don't want civilians or innocent individuals killed and hurt in any way. There obviously needs to be continued humanitarian support, but we support Israel and I support Israel's right not only to defend itself but to respond to an act of war. Just as many nations across the world stood with America when we were attacked.
Do you find it troubling that there seems to be a divide among some Democrats over whether or not to support Israel?
I certainly think the Democratic Party has to have a reckoning in that regard. I don't agree with those who think that Israel has been unjust. I mean, Israel is a democracy imperfect as democracies are imperfect, but it empowers individual rights and freedom and liberty. Something that quite frankly, isn't extended in other parts of the Middle East and certainly not under the thumb and terror of Hamas. There's not perfect, but there is right and wrong in the world and frankly, those who act out as they did in a terrorist way, in a vile way and slaughtering children, removing I mean, I won't get to the detail, but I believe you've seen them and I've seen even more horrific visuals. You know, I think America needs to stand firmly with democracies around the world and the protection of innocent people. Those who think that Israel is wrong to defend themselves, I just don't agree with them.
What does your district need most heading into 2024?
Relief and respect. The high cost of living thanks to inflation fueled by federal spending and energy costs, sadly, because of both policies out of Washington and Albany, continue to drive up the cost of living on average families, farmers and small businesses. They need meaningful relief. They need property tax relief because the state continues to shift its burden onto local property taxpayers. I'm hopeful that we will continue to fight for that kind of relief. They want their community safe. Cashless bail and the lack of border security have quite frankly made us as a nation and as communities less safe. There needs to be a commitment to providing for public safety and opportunity. That means supporting economic growth in upstate, from alternative energy and battery production to natural resources and agriculture and tourism and tourism-related business.
Powered By
NEXT STORY: This week's biggest Winners & Losers