CWA and Verizon clash amid ongoing labor standoff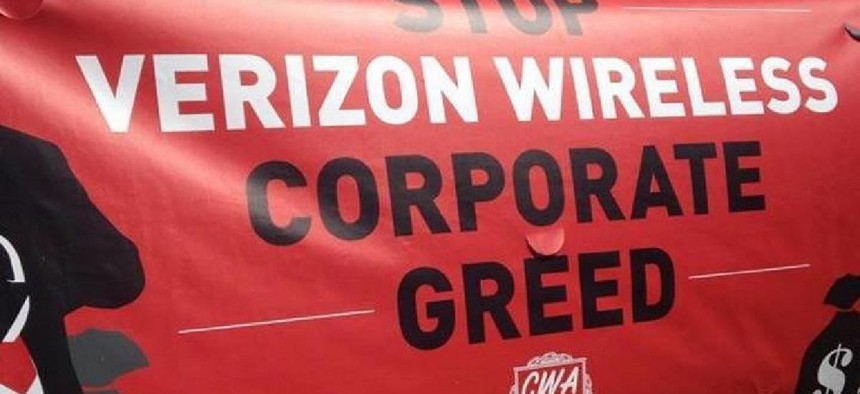 Outside Verizon's central office on Flatbush Avenue in Brooklyn, a high-energy crowd of several hundred striking phone company workers filled the sidewalks and enveloped an adjacent McDonalds. Their loud chanting and a steady stream of supportive truckers blasting their air horns produced a cacophony that reverberated several blocks away.  
With the strike between the Communications Workers of America and Verizon coming up on the one month mark, there appears to be little sign of a settlement anytime soon. On April 13 more than 36,000 union workers, whose contract had expired back in August, hit the picket lines in nine states. The territory involved extends from New England all the way south to Virginia and includes Washington, D.C.
"What's at stake is our livelihoods, our jobs," said Elaine Maddox the chief shop steward with CWA Local 1105. "The company is greedy. They are making $1.3 billion a year" and "the CEO Lowell McAdams is making $18 million a year. All we are asking for is that our jobs not be outsourced to the Philippines, Mexico or India."  
Verizon claims that the union has not taken steps to resolve the impasse.
"We move forward, they move backwards and that's no way to achieve a contract," said Rich Young, a spokesman for Verizon. Young said the company's "last, best, and final offer" on April 28 included a 7.5 percent wage hike and management backing off an earlier demand that the company be able to shift technicians for two months stints throughout Verizon's multi-state territory.
Young said that while the company does operate overseas call centers, what it is looking for in this contract is the flexibility to shift call flows to different places within the United States. "We are a 24-7 customer service and customers expect someone on the phone when they want," Young told City & State. "Currently, under the existing contract, if a call comes in from New York it has to be answered by a customer assistance call center in New York. These are antiquated contract provisions that no longer reflect the reality of the world we live in."
Bob Master, an assistant to the vice president for CWA District 1, said he did not expect the dispute to end soon.
"I am afraid this could go on for a while," Master said. "The energy you see on the streets from the general public and the strikers is all in support of our fight to stand up for the preservation of good paying jobs for a very profitable company. We just have to draw a line against the continued degrading of these good jobs."
William Pat Schuber, a professor of law and leadership at Fairleigh Dickinson University, called the standoff a "microcosm of the national issues surrounding the preservation of middle class jobs in the face of major technological innovation."
"Right now, public opinion is with the union," Schuber said, "but as this drags on popular opinion could dissipate and the company will find ways to further automate and make do with fewer employees."
The Verizon website notes that on average union workers benefit from an annual $130,000 wage and benefit package.
Master told City & State that in April, after Verizon's last offer, the company cut off employee health benefits. The union is picking up the COBRA continuation health coverage payments for members with chronic conditions or who are pregnant. "We advise members to put off elective procedures," Master said.
Over the last decade, sources say, telecommunications unions have lost 40 percent of their members due to attrition as the market share of conventional copper land line phones continues to shrink.  In the face of that market trend, CWA has alleged that Verizon has not properly maintained the land line copper wire system. Earlier this year, both Pennsylvania's Public Utility Commission and New York State's Public Service Commission announced plans to investigate Verizon's maintenance of its copper phone line network.    
"There has been investigation after investigation on this and it is just a bunch of malarkey," said Young, the Verizon spokesman. "We spend billions on maintaining all of our infrastructure including the copper."
The issue of Verizon's roll out of its Fios fiber optic network is equally contentious. The union maintains that Verizon's Fios roll out has bypassed poorer neighborhoods of color. "That holds no water either," Young said. "It is factually untrue."
The last time Verizon's union workers went on strike was in 2011, when they stayed out for two weeks. In 1989 workers were on strike for four months, and in 1971 the CWA was out for seven months.