Five things to know about mayoral control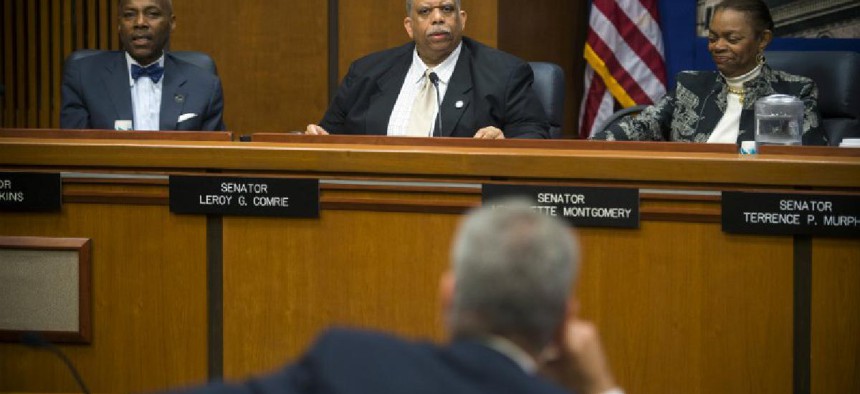 One of the biggest debates as end of the state legislative nears is the renewal of mayoral control of schools in New York City. Here's a quick rundown of the five things you need to know about mayoral control.
What is mayoral control?
In 2002, then-New York City Mayor Michael Bloomberg successfully lobbied the state Legislature for the ability to take control of the New York City school system. The system, known as mayoral control, gives the mayor greater authority over decisions directly affecting the city school system, such as the ability to install members of the New York City Board of Education, appoint or fire the New York City schools chancellor and to close schools. One of the first major decisions Bloomberg made after winning mayoral control was to close dozens of large failing high schools – an approach that's still being debated today.
What's the latest debate?
Mayor Bill de Blasio has faced a difficult battle getting the state Senate Republicans to support his continued power over New York City schools. The standoff comes after he actively campaigned unsuccessfully for state Senate Democrats to regain the majority – an effort that state Senate Republicans have not forgotten. De Blasio's ongoing feud with Gov. Andrew Cuomo over various issues also hasn't gained him many allies in the executive chamber, either.
Mayoral control was set to expire last June, when in the final days of the legislative session, the state Legislature agreed to extend it for only one year. De Blasio last year advocated for a permanent extension of mayoral control. Now it's set to expire once again this year on June 30, and de Blasio finds himself facing a similar battle to the one he faced last year.
Why mayoral control? 
Supporters of mayoral control point to the rise in graduation rates and sharp increase in test scores after Bloomberg won mayoral control. De Blasio has warned that a return to the old system of 32 community education councils would once again breed corruption and chaos.
However, critics – such as education historian Diane Ravitch – were skeptical of the test results and question whether mayoral control can deliver true accountability. Parents and teachers have argued that mayoral control gives the mayor too much power over the school system and it shuts out outside input. A return to the old system would give borough leaders more power.
What do Democrats want?
Instead of requesting a permanent extension of mayoral control, de Blasio this year asked the state Legislature to extend mayoral control for at least seven years – a push that is currently a non-starter at the Capitol.
The Assembly Democrats have been steadfast in their support of their own legislation, which would grant a three-year extension of mayoral control and does not include any changes to the city's governance structure. The Assembly passed the three-year extension bill in May.
Despite his high-profile feud with de Blasio, Cuomo has also publicly said he supports the Assembly's bill and said he does not support the state Senate Republicans' proposal.
What do Republicans want?
In early June, state Senate Majority Leader John Flanagan introduced a bill to extend mayoral control for one year and would require an "education investigator to serve as an ex-officio non-voting member of the New York City Board of Education." Additionally, it would require the city Department of Education to maintain and update certain information, data and statistics relating to city schools be made available to the state Legislature and the executive.
These changes, among others, are part of Flanagan's push to require more transparency and accountability. Flanagan and other state Senate Republicans have raised concerns about de Blasio's ability to oversee the New York City school system.
Additionally, Flanagan has the support of Independent Democratic Conference Leader Jeff Klein, who also supports more oversight for mayoral control.
De Blasio's already contentious relationship with state Senate Republicans was only exacerbated after the mayor decided to skip the second hearing on mayoral control in New York City this year. 
As of June 13, legislative leaders still had no deal on mayoral control, and despite being the only leader in negotiations against a three-year extension, Flanagan remained firm in his one-year extender.