Nonprofits
$750,000 embezzled, whistleblower attacked and bankruptcy: How the Healing Arts Initiative recovered from the unimaginable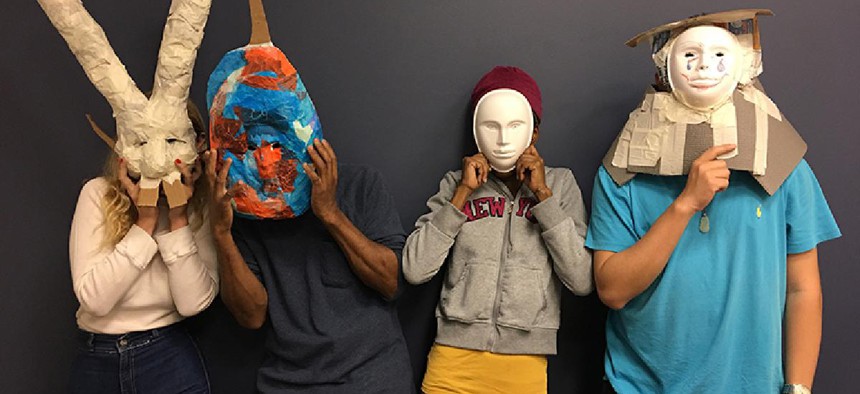 When Healing Arts Initiative, formerly Hospital Audiences Inc., declared bankruptcy a year ago, it was the last in a series of tragic events that was seemingly the death knell for the 47-year-old nonprofit. Then-Executive Director D. Alexandra Dyer had been attacked with drain cleaner, causing severe burns to her face. Dyer had exposed the embezzlement of $750,000 at the organization and was attacked to cover up the scam.
But the organization's story wasn't finished when it declared bankruptcy.
Soon after, SeaChange Capital Partners and others took over the organization because we thought its vital programs could be saved. That choice was vindicated on Friday, June 2, when another nonprofit, YAI, purchased Healing Arts' programmatic assets and committed to resume its programs. The revival of this nonprofit, after such difficult circumstances, shows what can be done to rescue an organization even after the most desperate measures have failed.
RELATED: Nonprofits reflect on President Donald Trump's first four months
Taking over Healing Arts meant assuming control of management. We introduced the organization to an experienced restructuring executive, John Keefe, who became its interim executive director. We took control of the board; there were four of us who agreed to join the board provided all the other existing members immediately resigned. We also took control of the cash – we bought out an existing loan that Healing Arts had from a bank, which had been using its position to block the organization's access to cash. We also promised to reinvest any associated profits from the loan purchase back into the nonprofit as grants.
Although corporate takeovers are sometimes hostile, ours was completely friendly.
Our first course of action was simple: collect the insurance money associated with the direct, documented losses from the fraud, repay the secured creditors, rehire core staff, restart programs, raise fresh money and exit bankruptcy.
By November 2016, Healing Arts had collected the insurance money, repaid the secured debt, rehired staff and resumed programming. We took 500 people with disabilities to the Macy's Thanksgiving Day Parade and ran a holiday party for 150 homeless children at Hard Rock Cafe.
Clients were so happy that it brought tears to our eyes. Funders were less easily impressed.
Declaring bankruptcy leaves a stain that's not easily removed. The Mayor's Office of Contract Services made it clear that the new HAI could not be declared a responsible vendor until at least six to 12 months after it had emerged from bankruptcy.
Declaring bankruptcy leaves a stain that's not easily removed.
To us, Healing Arts seemed to be an attractive prospect for a grant; everything was in place, we just needed money to turn it back on. There were none of the risks typically associated with recruiting staff, developing programs or finding clients. Yet private funders were unenthusiastic.
With funding unavailable, we moved to our plan B: conserve cash and find a partner. After initial conversations with several organizations, serendipity connected us with YAI, which proved to be an ideal partner given its scale, relevant infrastructure and pre-existing interest in expanding its arts and education programs.
YAI, one of the state's largest nonprofits in health and human services, is a 60-year-old organization that is expanding and diversifying beyond traditional Medicaid-funded supports and services. Its mission and culture aligned with ours, as did YAI's CEO George Contos. Contos' senior leadership team quickly developed a good rapport with Healing Arts' core program staff. Our passionate and hardworking staff members were our most important asset because they had stood by the organization despite having borne the brunt of a crisis that they played no part in creating.
As an incentive for YAI to explore the opportunity seriously, SeaChange provided a "highly confident" letter that we could raise money to help support an eventual deal. In the end, YAI decided to hire all four senior staff from the Healing Arts team, and on June 2, YAI purchased HAI's program-related assets in a transaction approved by the court. YAI will be incorporating Healing Arts' programs and initiatives under a newly formed department called HAI@YAI.
RELATED: Nonprofits confront fear in their own communities
Looking back over the past 12 months, what have we learned that could be of use to other nonprofits?
Try really hard to avoid becoming insolvent in the first place. While the fraud was quite sophisticated, there were plenty of signs that something was wrong: debt was increasing, debt was being used to pay off other debt, etc. The organization took a big risk by making a major investment in its headquarters without first raising grant money to cover the costs. And it probably didn't help that the second-to-last executive director left for a new job with little notice and before a successor was in place. While hindsight is always 20/20, I believe the bankruptcy could have been avoided with better practices.

Even if you are bankrupt try hard to avoid filing. The formal bankruptcy process works well for large organizations, but it unleashes a tsunami of process requirements and associated legal costs that will overwhelm smaller nonprofits. Declaring bankruptcy also creates a scarlet letter that scares off funders for longer than most organizations can survive. It was only because of the heroic efforts of Healing Arts attorney Fred Stevens and our interim executive director that the rescue attempt didn't collapse midstream. Both continued to do the right thing long after Healing Arts' ability to pay them had been exhausted.
Nonprofit boards must also remember their responsibility to ensure that organizational assets are used for charitable purposes. Squandering those assets on avoidable process costs is a dereliction of duty. There's no excuse to file bankruptcy as a way to throw in the towel because of fatigue. Of course there are times when bankruptcy is necessary to maximize the value of the charitable assets – YAI probably would not have bought the assets without the formal blessing of the court – but even then a prepackaged bankruptcy could be a better option.

The sector needs to build a cadre of people with the skills, experience and motivation to get involved in troubled situations as funders, board members, pro bono consultants or volunteers. For some people, involvement in troubled nonprofits may offer a better balance of risk and return than involvement in stable ones. Trouble allows particular skills and experience levels to be put to work. Trouble also offers opportunities – buying a loan at a discount and reinvesting the profits as a grant – that aren't normally available. Trouble leverages the assets of existing organizations without the risks associated with starting, or growing, new ones.
A vibrant ecosystem of venture philanthropists has emerged to play a small but important role by starting, building and capitalizing emerging nonprofits. Now is the time to develop a parallel ecosystem of restructuring philanthropists with the skills, experience and mindset to create social impact by restarting, rebuilding and recapitalizing nonprofit organizations.
John MacIntosh is a partner at SeaChange Capital Partners, which provides funding, advice and insight to help nonprofits complete transactions that increase their impact.