Bringing the resistance to the web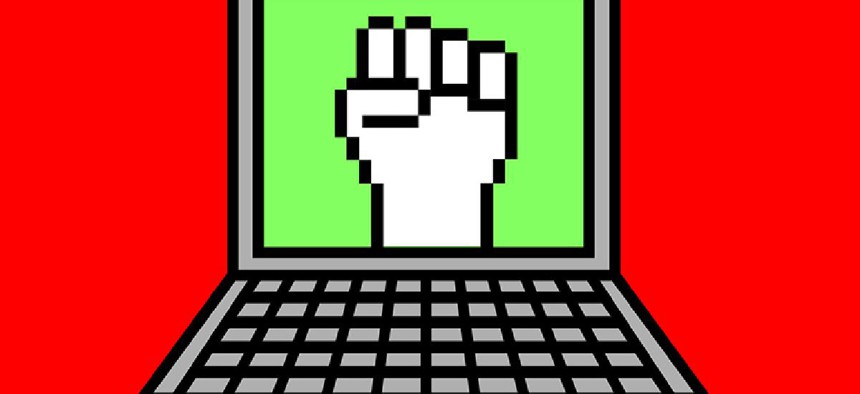 Even though several of President Donald Trump's major initiatives have been blocked by the courts or stalled in Congress, his administration has made progress in changing technology and internet regulations via the Federal Communications Commission.
New York officials have sought to block or stall that progress, as they have on immigration, health care and the environment – now adding technology and preserving an open internet to the so-called "resistance."
Both New York City and the state are trying to figure out how to respond to a recent relaxing of federal internet privacy regulations.
While these changes are welcomed by some, their impact may depend on differing interpretations of local and state legal oversight over broadband internet. It's also entangled in the larger national debate over whether the internet should be regulated by the FCC as a telecommunications service or by the Federal Trade Commission as an information service.
In April, Trump prevented FCC regulations from going into effect that would have required broadband providers to obtain a user's consent before sharing personal information with third parties.
RELATED: Why "states' rights" only matter to the party not in charge
Days later, New York City Chief Technology Officer Miguel Gamiño and Anne Roest, commissioner of the city Department of Information Technology and Telecommunications, announced the city would establish an interagency Internet Health and Human Rights working group, which it described as a first-of-its-kind municipal entity that would aim to limit any harm to "protected classes" from the collection of their personal information by internet providers.
In a following City Council hearing, Gamiño announced that he had asked the city's Law Department to explore what authority the city may have over internet service providers' privacy policies. In an interview, Gamiño said franchises weren't the city's sole focus. "The specific question posed to legal is more general ... what are all of the avenues that we might be able to take to create more privacy protections for New Yorkers as they use the internet?"
On a panel at the recent Personal Democracy Forum, Gamiño and DoITT highlighted how the city's LinkNYC free public Wi-Fi system allowed the city to negotiate a stricter privacy policy to address community concerns. He contrasted the choice consumers have to use or not use a particular social media website with their inability to consent to other uses of their personal data by ISPs. Additionally, the city is also aiming to train public library staff to offer internet privacy guidance and is partnering with Mozilla to provide digital security training for city-contracted community organizations.
Michael Santorelli, a director of the Advanced Communications Law and Policy Institute at New York Law School, called the city's efforts "heartening" in an email, but potentially "too narrow" given the large impact of online services such as Google and Facebook on consumer privacy.
He also argued that both the city and state "lack any real authority" to regulate broadband internet, which is viewed as an interstate service subject to federal regulation. "Cities are in the same boat, even when it comes to franchising, which is limited to cable video, not broadband," he wrote. "A city could try to extract 'voluntary' commitments as part of a franchising negotiation, but those negotiations only start when a franchise is about to expire."
"(The reversal of federal internet privacy regulations left) a lot of blank spaces and unknowns, so states are trying to fill the void." – Ernesto Falcon, legislative counsel at the Electronic Frontier Foundation
Also at the Personal Democracy Forum conference, Tim Wu, the former candidate for lieutenant governor and adviser to state Attorney General Eric Schneiderman, called on attendees to participate in a day of activism on July 12 to defend net neutrality, the now widely used term he coined in 2002 for the concept that providers should treat all internet traffic equally. Schneiderman and New York City Mayor Bill de Blasio both support stricter FCC regulations to enforce net neutrality.
But at another panel at the conference, sponsored by Spectrum, Adam Falk, senior vice president of state government affairs at Charter Communications, emphasized that Spectrum does not interfere with internet traffic. Charter acquired Time Warner Cable, and markets its services under the Spectrum brand name.
But Falk said Charter does not believe the common carrier approach, which would treat the internet like other utilities, is the right way to regulate the internet, arguing that private cable networks were fundamentally different from the telephone networks built by utilities with a guaranteed rate of return.
On the state level, bills prohibiting the disclosure of personally identifiable information by an ISP without customer approval were under consideration by the Senate Rules Committee and passed the Assembly Codes and Rules committees, but weren't taken up before the end of the legislative session. Both lead sponsors, state Sen. David Carlucci and Assemblywoman Monica Wallace, cited the recent federal legislation as the impetus for their bills.
According to the Electronic Frontier Foundation, a group that supports increased digital privacy rules, New York is one of 22 states that has recently seen legislative action on the subject.
RELATED: Why do you hate Trump so much?
"I think it's good because they have the power to do so because you're talking about your local cable company ... and the activities they're conducting in the house and in the streets," said Ernesto Falcon, legislative counsel at EFF, while also noting strong public opposition to the legislation. He pointed to the example of Seattle, which in May cited its existing authority to require ISPs to have customers opt in before sharing any web browsing information. The Congressional Review Act method used to reverse the federal internet privacy regulations created uncertainty with "a lot of blank spaces and unknowns (so) that states are trying to fill the void."
But Berin Szoka, president of TechFreedom, a group that opposed the privacy rules, wrote in an email that ISPs sharing browsing history without consent had already been illegal and would continue to be so if authority returns to the FTC. "(This bill) starts down a well-trodden road of states trying to regulate the internet – something that is generally problematic," he wrote. "(It's) generally better to leave things like this up to the federal government."
In statements, industry group USTelecom and conservative think tank Free State Foundation also expressed concern about a "patchwork" of local regulations that could disrupt broadband operations.
Falcon, of EFF, argued that such concerns are disingenuous, considering how the tech sector arrived at this point.
"As much as I'm sympathetic with the concern that the patchwork exists, then they should not have lobbied to repeal the federal law," Falcon said. "They had a uniform approach, now we'll have to go state by state."