NYC 2.0: Envisioning the future with the BigApps champions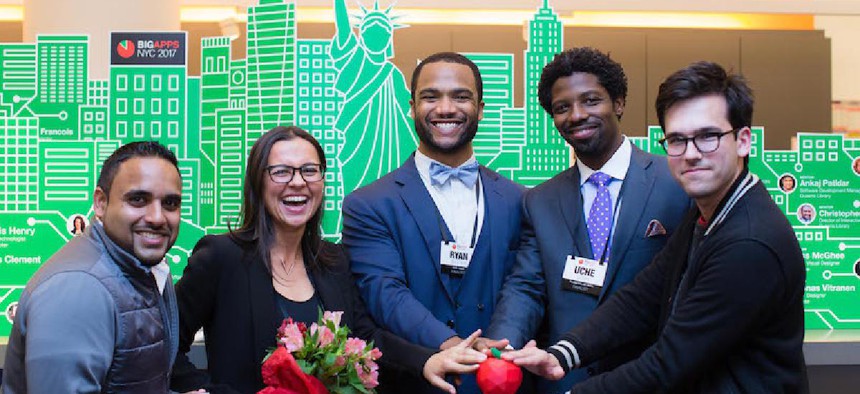 This year's four winners of the New York City civic technology competition BigApps demonstrated how the contest has continued to evolve with a focus not only on developing new ventures to address citywide challenges, but also aiming to maximize their potential for long-term viability.
The three grand prize winners were Nesterly, a tool to enable older homeowners with extra space in their homes to offer lower rent to young people in exchange for help around the house; PASSNYC Opportunity Explorer, which helps students find and apply for city-based after-school and extracurricular programs; and On Board, a passenger check-in system for New York City's paratransit network.
The Judges Award winner was Dollar Van NYC, which provides real-time information on the city's registered commuter vans and it gets the opportunity for a pilot on the city's LinkNYC kiosks.
New York City Mayor Bill de Blasio, Civic Hall Labs and the New York City Economic Development Corp. announced the winners in May and the grand prize winners will receive $30,000 worth of prizes, including $15,000 in cash and admission into Civic Hall Labs' accelerator program.
RELATED: New York fights the White House on online privacy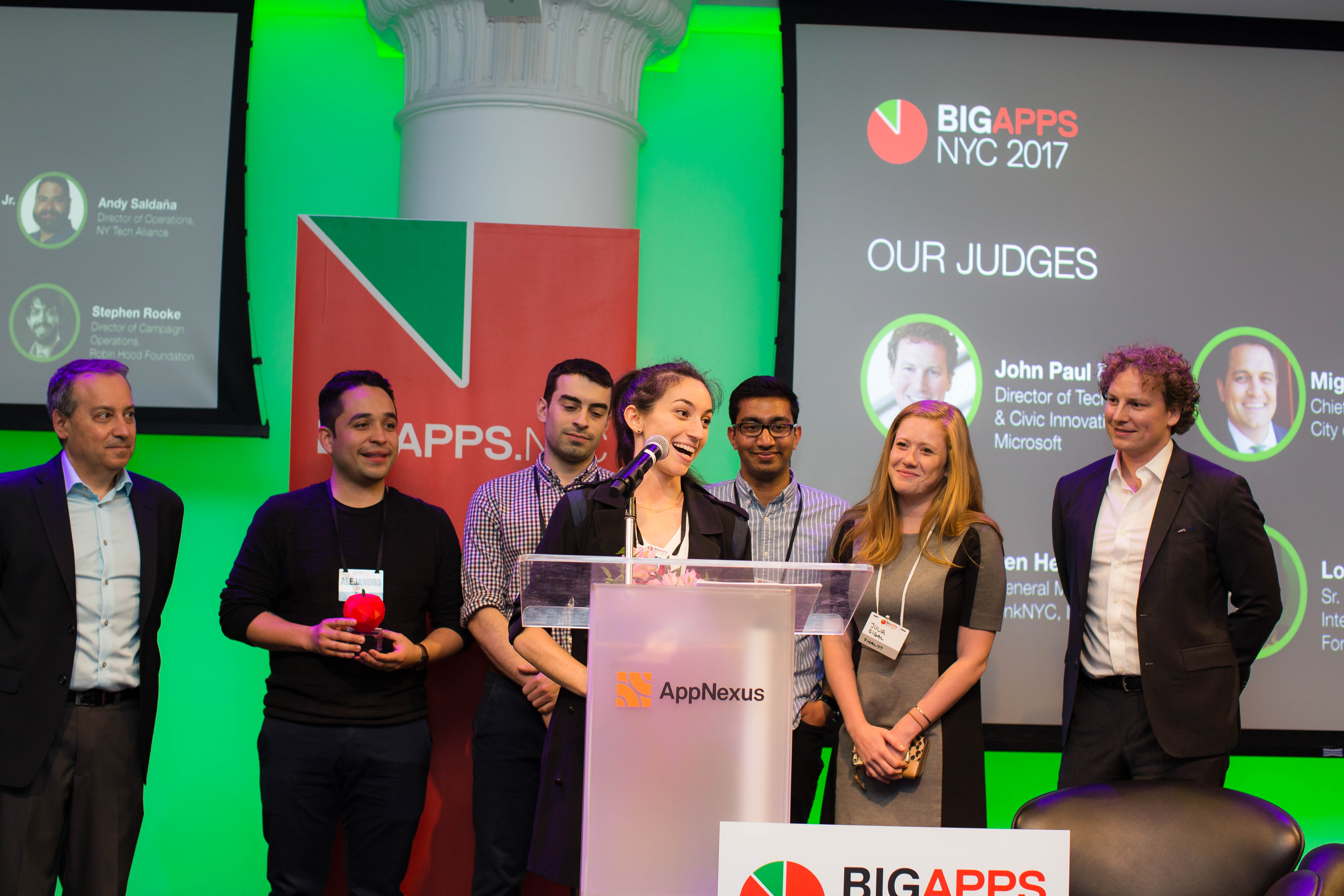 The creators of On Board, a check-in system for New York City's paratransit network, accept their BigApps award. (Bekka Palmer)
Launched in 2009 under then-Mayor Michael Bloomberg to encourage the creation of technology applications for civic challenges, the competition has in its various incarnations also engaged city agencies both as a source of expertise for participants and potential beneficiaries of the winning tools, and served as a launchpad for startups.
RELATED: Ensuring accessible housing with CCHR's Ted Finkelstein
After a one-year hiatus, this year's cycle sought to address the needs of youth, seniors and immigrants in the areas of transportation, access to information and community resiliency. Civic Hall Labs, a civic tech nonprofit, placed an emphasis on defining the target population's needs early on through listening sessions before the competition began.
"(At its start) the NYC BigApps competition was a vehicle for opening up (city) data, and (it) ignited a conversation between New York City's government, tech and nonprofit stakeholders about what was possible," Kate Daly, a senior vice president at the New York City Economic Development Corp., said in a statement. "Eight years later that conversation has grown into an entire industry. ... The competition now focuses on solving specific urban challenges and making commercialization more accessible for entrepreneurs."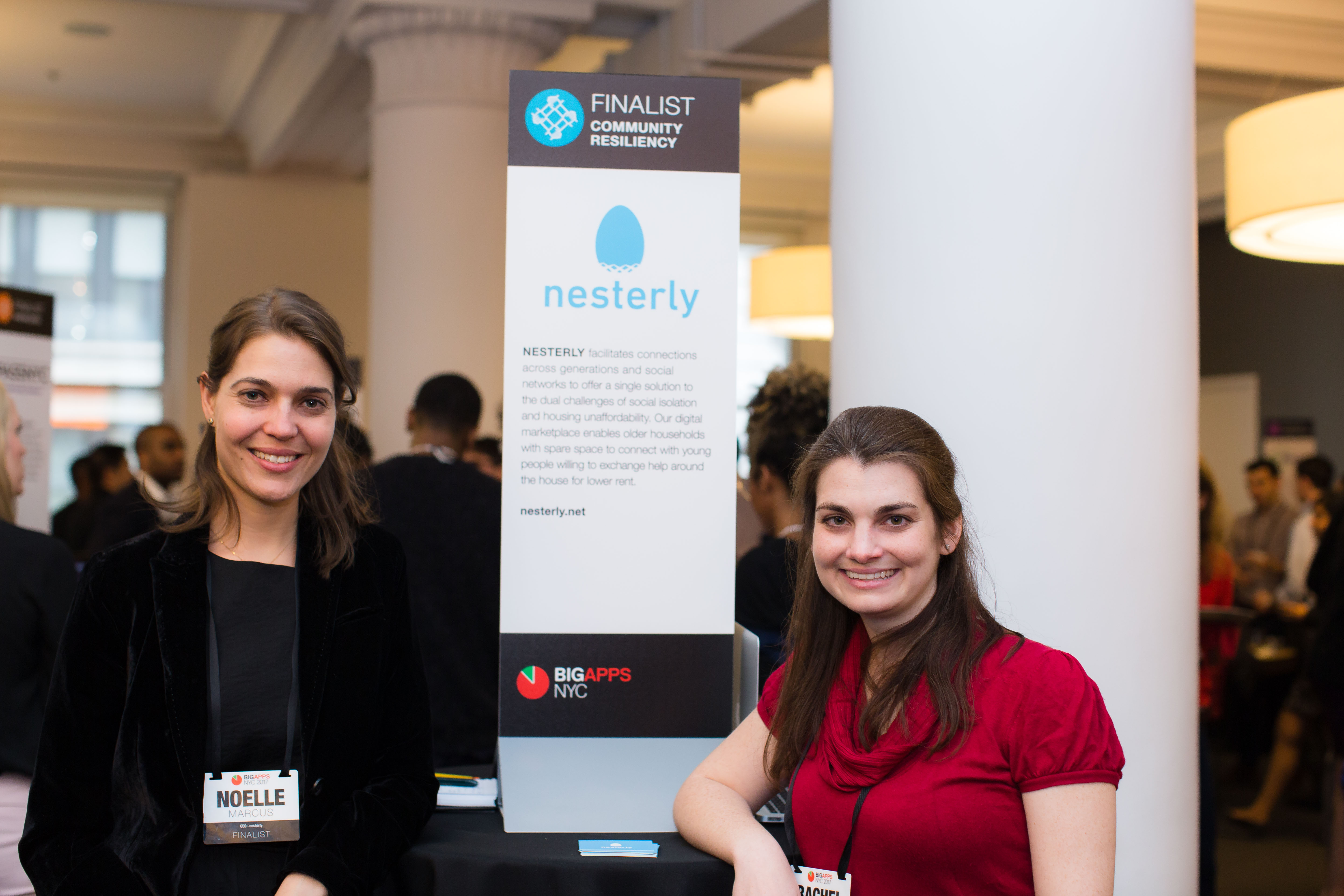 The creators of Nesterly, an app to help older homeowners space to young people in exchange for help around the house. (Bekka Palmer)
New York City Chief Technology Officer Miguel Gamiño was one of the six judges that had to select nine finalists from 150 submissions.
"The judges had a tough time even narrowing it down to the few that did win," he said. "I've judged these things in other places and you're hoping often to just find that one has enough potential to become something," he added, highlighting PASSNYC. "Helping students find their way through the process and achieve better outcomes, I could have used that personally." Gamiño also praised On Board, Nesterly and Dollar Van for adapting the models of modern services, such as Uber and Airbnb, to develop services for underserved city populations.
RELATED: How New York is navigating new tech and federal regulations
Ryan Baxter, the founder of PASSNYC, described the nonprofit's mission as increasing the diversity of students sitting for the admissions exam to specialized high schools, such as Stuyvesant, Bronx Science and Brooklyn Tech.
The team, which is currently in the design phase, plans to launch the "smart catalog" component of the service in September, before launching the universal application next year.
"(The workshops gave) the advice that we should emphasize that this is a stand-alone nonprofit organization creating a tech solution for a problem we are currently experiencing as opposed to, say, a for-profit company launching a new tech solution with the hopes of solving civic problems," Baxter said. "It's not something brand new that's being launched on its own ... and I think they also appreciated that the revenue model included things beyond just the solution itself." The organization intends to earn money through corporate sponsors and outreach contracts in addition to fundraising.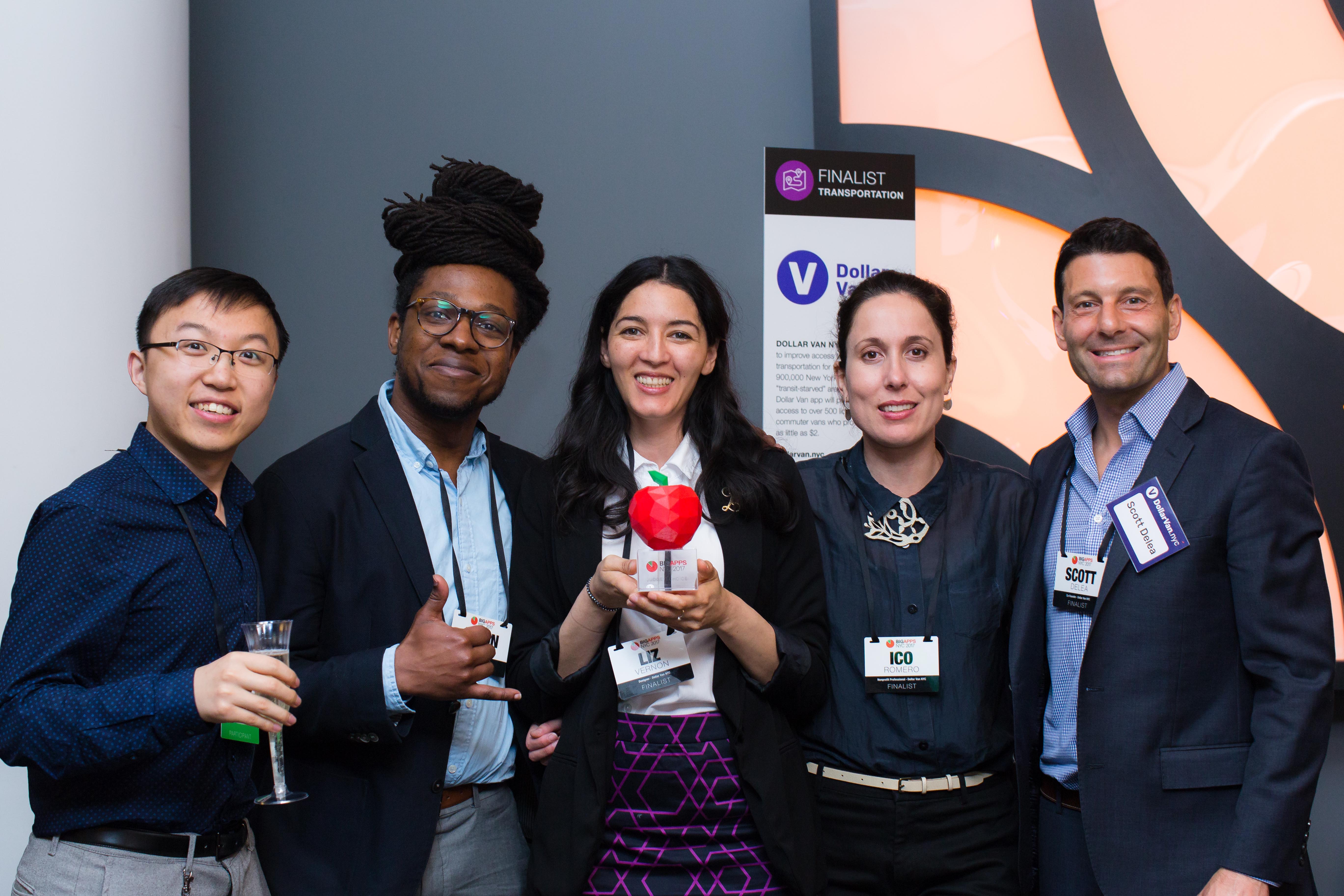 The creators of Dollar Van NYC, the Judges Award winning app. (Bekka Palmer)
Liz Vernon, one of the team members behind the Dollar Van NYC tool, said it was inspired by a team member living in Cambria Heights who relies on the vans every day to get to work. She said many of the registered operators were having difficulty competing against other transit options, especially unlicensed vans that haven't spent money on insurance.
"Our app is hoping to give the registered drivers an advantage in the form of being able to put out real-time information about the locations of the vans so that they can be better connected to potential riders and increase their ridership," she said. The team is also still in its research phase, investigating options for using GPS technology, and is meeting with drivers, surveying riders and meeting with the city Taxi and Limousine Commission and the Department of Transportation. "We learned that it's always best when a product is built with the community as opposed to just for them," she said of the competition workshops.
Vernon said that many people in areas the vans serve see them go by but don't know where they go or how to ride them. "I think it's really cool that more people will know about them and use them because of our app," she said. "I think the accelerator is going to put us in a really good place to apply for grants and to better refine our business plan."