De Blasio commissioners tout sustainability successes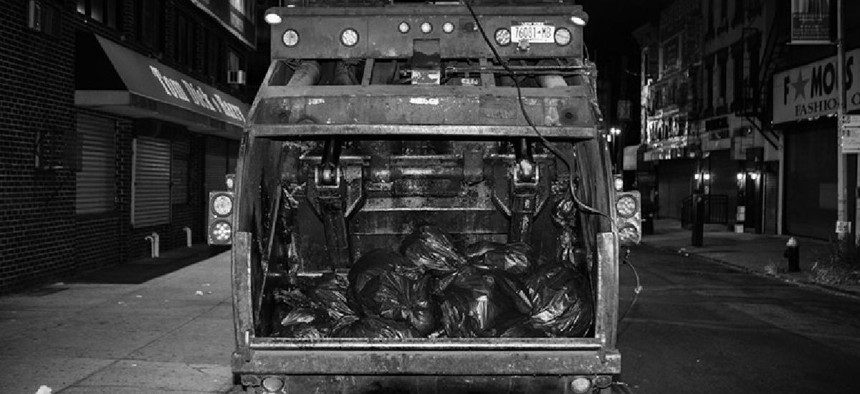 Sustainability is all about long-term planning, but sometimes things happen quickly. "There once was this thing called a newspaper, and it actually used to be a really significant portion of the waste stream," said New York City Sanitation Commissioner Kathryn Garcia. "And it is basically gone." Now corrugated card is in its place. "Like, hello, Amazon," she said, referring to the online retailer.
Garcia was speaking at City & State's On Sustainability event on Sept. 28 in Lower Manhattan. She was joined by New York City Department of Buildings Commissioner Rick Chandler and Vincent Sapienza, acting commissioner of the New York City Department of Environmental Protection.
The commissioners talked all about how New York City Mayor Bill de Blasio's administration had been planning for the changing climate in his first term as mayor. But they also shared fun facts about their often under-the-radar work. Here are some of highlights of their discussion. 
Policy storm
While recent storms like Hurricane Maria are devastating, they may ultimately have a positive effect on policy, Garcia said, because they're so visible.
"I think that when you start to see local impacts on your community," she said, "you start to have the buy-in from folks who say, 'Yes, we do need to strengthen our defenses against this, we do need to make investments in infrastructure. We all do have a role to help ensure that we don't end up with these actually getting even worse down the road.'"
But that's not as much of an issue for New York, Sapienza noted.
"Despite what we're hearing out of Washington, folks here locally understand that the climate is changing," he said.
Flush with ideas
Sapienza touted sustainability efforts achieved in the bathroom. "For DEP, one of the real success stories over the last decade or two has been water conservation," he said. "The way we accomplished a lot of that was through the toilet rebate program."
Sapienza said the department paid people to replace high-flow toilets with newer versions that used less water per flush.
"Water use in the city has dropped from what was a high of 1.5 billion gallons a day," he noted. "We're just over a billion gallons a day now."
Green everywhere
The Department of Sanitation partners with other agencies to reduce waste, Garcia said. That includes one of the biggest departments, the Department of Education, which moved from Styrofoam lunch trays to compostable trays, and even the New York City Housing Authority, which is bringing more recycling bins to housing projects. 
Coastal regulation
It's been almost five years since Superstorm Sandy hit New York City, and the city is instituting new policies to keep the coastline safe, like working on the first-ever building code for structures on the city's waterfront. "Heretofore, there's never been such a code in the city," Chandler said. New rules shift more responsibility on waterfront regulation to the Department of Buildings, so "we want to have a good, robust code in place," he said. "The awareness and the investment is going to pay off in a couple years."
Clear water
The panel spoke on the second floor of the Museum of Jewish Heritage, with views overlooking the Statue of Liberty and New York Harbor. Sapienza said the city government started testing the water quality back in 1909. "And quantitatively, the waters are cleaner that they've been in that century, and qualitatively, based upon reports, the waters surrounding New York are cleaner than they've been since the Civil War." More people wanting to live by the water causes its own challenges with the fear of rising sea levels, Sapienza said, but seeing the residential buildings pop up along the East River, "it's just incredible what's happening there."