In New York City, the new school year starts with anxiety over DACA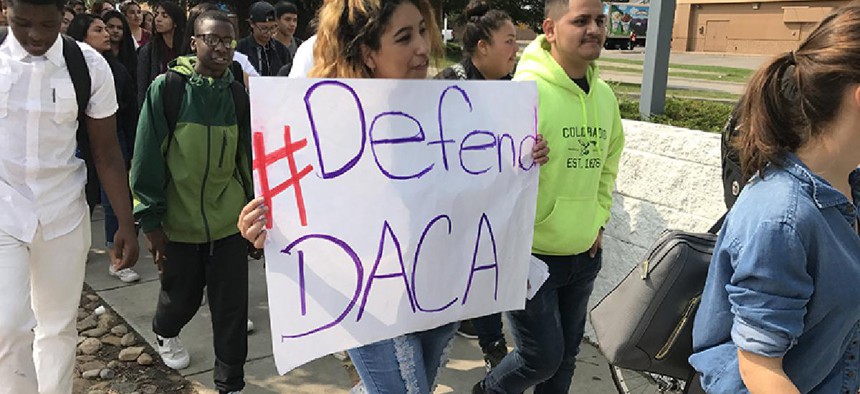 In the Bronx, one middle school teacher is preparing for frightened parents. Not far away, a school counselor worries students may feel pulled toward earning a paycheck rather than top grades. And at KIPP schools in New York City, staffers are in "triage mode."
School began Thursday for most New York City students, some of whom will face the new year with uncertainty over their legal status — or that of their family members.
Just days ago, the White House announced plans to end Deferred Action for Childhood Arrivals, or DACA, the program that provides protection from deportation for undocumented immigrants who were brought to the U.S. as children. Among those benefiting from those protections are more than 30,000 New York City residents who came to the country before age 16.
Here is how the news is playing out in schools across the city.
RELATED: How Trump fits in the classroom
Carmen Marrero unfurled a round, braided rug and tacked yellow paper to the bulletin boards, setting up her classroom the day before school began. But she knew she could only be so prepared for what the first day of classes would bring.
Marrero is a special education and bilingual teacher at Angelo Patri Middle School in the Bronx, which serves mainly Hispanic students. She doesn't know how many of them might be impacted by a DACA repeal.
"Being able to create a safe space for parents, for students, I think is the most important thing in this time," Marrero said.
Marrero said she is armed with resources she can offer families who may need legal advice or just want information about what to do next, thanks to training she has received through the advocacy group Educators for Excellence. She feels confident her school is prepared, too. As a "community school," Angelo Patri partners with local organizations to help families with issues that reach beyond the classroom.
"We open our doors to parents and we are here to serve," she said. "I don't know what it's going to look like for them. But for us, if we have a student who needs that backup, who needs that support, it's available."
RELATED: Leaving behind No Child Left Behind
At Urban Assembly Bronx Academy of Letters, students are used to talking it out. The South Bronx school practices restorative justice, an approach to discipline that favors discussion and contemplation rather than punitive measures like suspensions.
Nicholas Melendez, a counselor at the school, said he expects the recent DACA news to come up in the "circle" discussions that are a part of the practice. It will be up to him to help teachers prepare to guide those conversations.
"At our school, we tackle these issues head-on," he said.
Melendez said the recent news could put pressure on students from immigrant families, even if the students themselves aren't protected by DACA. He immediately thought of one student who trekked across the border alone, and already struggles to balance school with earning a paycheck.
"Most of them are coming here and they're looking to contribute immediately to their families here or back home," he said. "I think it's going to push a lot of students to, maybe, lean more towards getting a job, and help families as quickly as they can, before they are deported or not granted citizenship."
RELATED: Charters rekindle controversy over teacher training requirements
KIPP counselors are in a race against the clock. Their top priority: Helping alumni who are already protected by DACA meet a tight deadline for renewal applications. With a renewal in place, students should be protected for another two years.
"We've been doing triage with them — calling them, checking with them on their DACA status, checking with them on when their DACA expires," said Catherine Marciano, a director for KIPP through College, which supports alumni from the charter network persist through higher education.
The KIPP Through College team works with almost 1,200 alumni in New York City. Marciano estimates about 50 of those students currently benefit from DACA. Many others have family members in the program, she said.
As counselors reach out to their students, they are encountering a range of emotions. Some students are panicking while others are determined to advocate for a permanent solution through Congressional action, Marciano said.
"We are in a place where we have to act and be resolute about what we're doing for our students," Marciano said. "They need us now more than ever."
This story was riginally posted on Chalkbeat, a nonprofit news site covering educational change in public schools.