MaryEllen Elia
Commissioner MaryEllen Elia on new education standards and potential budget cuts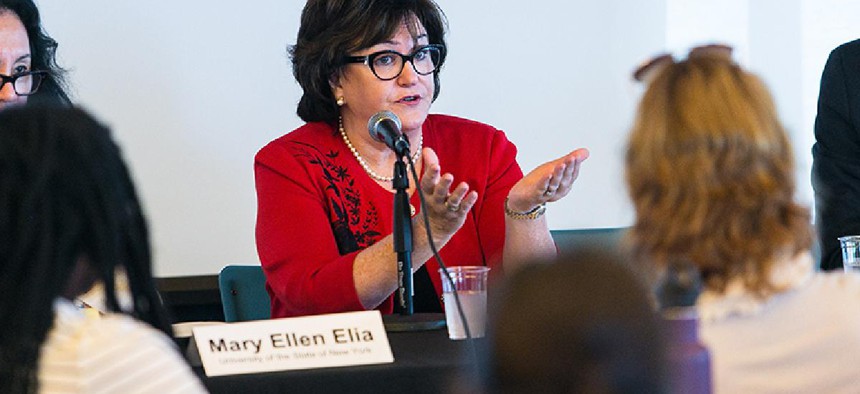 More than two years into her tenure as New York's education commissioner, MaryEllen Elia has overseen a shift away from the old Common Core standards, among other key policy changes. In an interview with City & State's Jon Lentz, Elia talked about New York's new standards, looming budget shortfalls and the state's efforts to expand access to higher education.
RELATED: Elia, Fariña and Milliken address equity and ESSA
C&S: New York has submitted its plan to comply with the federal Every Student Succeeds Act. What are the biggest changes that will come out of that plan?
ME: The plan is actually on fostering equity for all students and schools across the state. When I say that, it's important to understand that no matter where you live in New York state, you should have access to opportunities and programming that lead you to success. We have some school districts that are providing lots of opportunity, and we have others that we really need to focus their attention on the kinds of things that will bring equity across every place. That's a very important part of that plan.
Going along with that, the whole idea of expanding the measures that we provide for schools in terms of support and accountability, focusing on students and school success. For instance, we've components in the indicators, so it's not just focused on tests and assessments, but rather opportunities that schools are providing for their students. To tie it to careers, schools will have an indicator on whether or not they're providing access to college coursework that is Advanced Placement and International Baccalaureate so that students can start to work toward the next step in their life while they're in high school. It also talks about and supports the concept of improvement plans for our lowest performing schools. This parallels very well with the work that we've been doing with our existing low-performing schools in the state, focusing on indicators and tracking whether they're really improving.
There's a major emphasis in the plan on supports for English language learners and multilingual learners as well as immigrant students and homeless youth and those students who are incarcerated in facilities across the state, so they have access to a solid education that can help them move forward and overcome challenges that are pretty substantial. The plan itself gets to academics, but it also supports students and families in social and emotional ways and really wants to make sure that equity is foremost in the minds of educators across the state.
C&S: Would this require new funding to meet the equity goals?
ME: Clearly, you have to look at the use of the funds that you have, and then what are some of the additional resources that might be necessary. Let me give you an example: Right now, a school board is using their Foundation Aid to support academic programming, and students want to take a program that is going to get them access to the courses that are available in their school. If I don't have any college-level courses available in my school, I can't take them. But I could make them available with teachers identified who could teach an AP course or a class from a local college at a CUNY college – in fact, (New York City) has over 30,000 students right now that are taking college-level coursework while they're in high school. So it's a matter of looking at, school by school, does everybody have those resources to make available? It's not necessarily an additional class. It's making sure that they open up the gates to those courses for students.
RELATED: How Trump fits in the classroom
C&S: Gov. Andrew Cuomo has warned of a looming state budget shortfall next year. What are you expecting in terms of funding for the state education department?
ME: There's no question about the issues relating to constraints that we may have in New York. Some of the things are just unknown. We clearly have an agenda in Washington for tax changes that will bring up more issues for New Yorkers. We have to be able to be cognizant of the fact that in the federal system we could have changes that will greatly affect what will happen in New York. We need to be careful in what we think is an important budget position for us, but also be aware of the constraints that the state has as a state and deal with those as well. People don't often think about the fact that a federal budget related to Medicaid affects schools – and it does. Many of our students get support and have resources within the schools that are actually funded through Medicaid funds, so all of these things have to be part of the plan for how we move forward in New York to fund a quality education for our kids, and do it within the constraints that we have.
I know the governor is very focused on making sure that we support our students across the board, both in pre-K up through our K-12 system and then in our higher ed system. We have to make sure we're working together for those same goals. We know that there's state aid and the Foundation (Aid) formula, and we also obviously know there are things that need to be a focus of the ESSA plan, and those will all be part of the regents' budget agenda.
C&S: What impact will the governor's Excelsior Scholarship, which covers additional tuition costs for many CUNY and SUNY students, have on your work?
ME: It's overseen by the governor's office and the Higher Education Services Corp., and it doesn't, as a program, have any effect on our department. However, it's critical for us all to work together on this. If you're talking about opportunities that we have, the funding for students that are going to apply for the Excelsior Scholarship could be also seen as something that isn't just in higher ed, that is, those students who already have a diploma.
If you look at that in the context of, how can we use something that we say we want to make sure our kids have access to get a college degree, whether it's an associate degree and a career and technical certification, or whether it's a four-year university degree, how can we make sure that they are the most efficient with that as possible? While we're doing that, the ESSA plan is encouraging all of our schools across the state to provide students opportunities to get college credits while they're in high school. So shouldn't we be saying, all of these things should be joined and we should figure out the pulse points where we can come together to provide that kind of access.