Jumaane Williams: Too much member deference can be a bad thing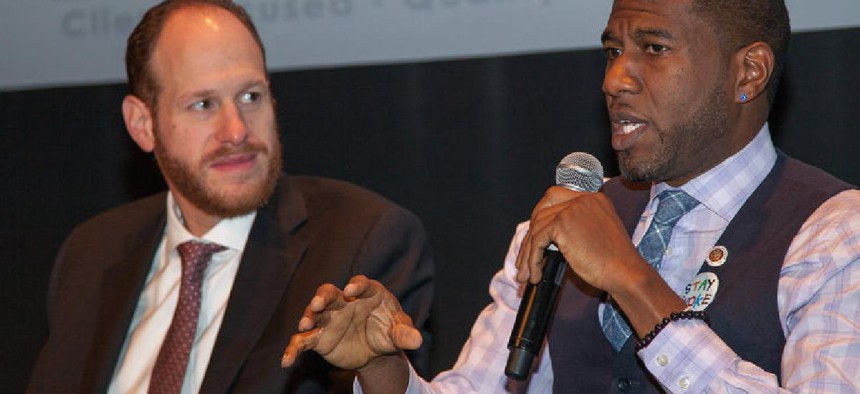 The fact that all eight candidates running for New York City Council speaker are men isn't the only thing that they all have in common. On many policy issues, from affordable housing to criminal justice reform, the members tend to have the same positions.
But when it comes to member deference, or the individual leeway that is granted in approving or blocking development projects in a lawmaker's district, New York City Councilman Jumaane Williams says his position sets him apart.
RELATED: City Council speaker candidates want fewer debates
"I'm probably the one councilperson running for speaker that's going to answer this differently than the other seven, and that's because I still believe in being honest about what we have to do," Williams said at City & State's real estate forum this week. While Williams emphasized that he does believe in the principle in most cases, "there comes a time when member deference is running afoul or running against what the body says it wants to do."
For example, Williams said that despite the council's goal of providing affordable housing to more low income New Yorkers, member difference has prevented that from happening while perpetuating segregation in the city. Williams suggested that while some members, like City Councilwoman Inez Barron of Brooklyn, would seek the maximum amount of affordable housing for the poorest residents, others, like City Councilman Joe Borelli of Staten Island, would not seek any affordable housing for the lowest-income New Yorkers.
"Overall, we don't address this member deference question as much as we should in terms of the plan that we want to see move forward," said Williams, who chairs the Housing and Buildings Committee. "I don't know that I have the answer for what that is. I do know it has to be a discussion."
But New York City Councilman David Greenfield, who declined to run for reelection this year, warned that it would be too hard to decide when an individual member's preference should be overruled by the body as a whole, and that the decisions would likely boil down to whether various members like a proposal or not.
"I certainly believe that in the council there are members who would say, well, at some point member deference goes too far," said Greenfield, who joined Williams on the panel. "OK, great, what's that point? Can you articulate that, give me three specific items, A, B and C, that member deference goes too far? And the answer is, no, nobody can tell you that. It's they know it when they see it."
Greenfield, the chairman of the Land Use Committee, said the council should continue to assess projects in terms of any legitimate land use concerns, such as density or affordability.
RELATED: The best New York City Council members
"It is dangerous, in my view, to say, oh, we're going to disagree with this member but not that member, and I like this project but I don't like that project," Greenfield added. "I think that whoever the next is speaker in the next council needs to come up with some very clear standards. Otherwise, it's going to be even more confusing."
Molly Park, the deputy commissioner for development at the city Department of Housing Preservation and Development, responded that the administration often works closely with council members. In fiscal year 2017, Park said during the panel discussion, around two thirds of the housing projects that the city did had the input of individual council members.
But as the city sees it, the main challenge when it comes to member deference is addressing homelessness.
"For us, the single biggest point of debate and discussion in terms of getting our projects through is the number of homeless units," said Park, adding that the administration was taking steps to set a baseline requirement to make the process simpler. "Basically everything we're doing in the new construction space is going to have some homeless units. We are taking away the debate of why this project and not that project."