Andrew Cuomo
These bills are back in Albany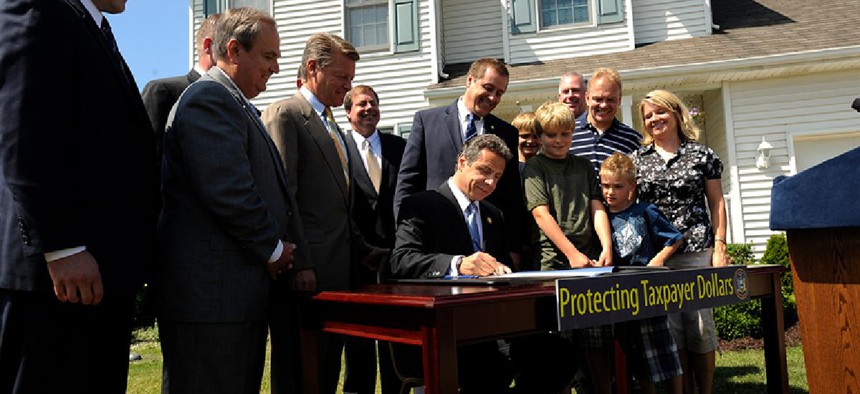 As the new year approaches, state lawmakers are preparing to return to Albany. Some of them bring along bills that – despite big pushes – couldn't make it into law last session. Here are some of the bills you'll be hearing about again.
Child Victims Act
"We'll be back next January," one advocate vowed in June, after state Senate Majority Leader John Flanagan said the Child Victims Act wouldn't be brought up for a vote in 2017. Versions of Senate Bill 809, which would extend the statute of limitations for young victims of sexual abuse, have been considered for more than a decade and even passed the Assembly this year, but opposition from the Catholic Church and Boy Scouts of America has kept it from the governor's desk. Supporters hope next year will be different thanks to the national attention on sexual misconduct, including accusations against public figures like U.S. Senate candidate Roy Moore of Alabama and actor Kevin Spacey.
Home Stability Support
Assemblyman Andrew Hevesi's bill to create a statewide rental subsidy to keep New Yorkers in their homes and out of homeless shelters made waves when he announced it in 2016. Soon after, the "bold plan" got a coveted New York Times endorsement and was backed by more than a dozen New York City Council members. But the bill never made it out of committee and a companion bill was never introduced in the state Senate. Hevesi plans to try again this year after educating state Senate Republicans on "the severity of the crisis."
Permanent Property Tax Cap
Almost since the moment Gov. Andrew Cuomo ushered in a 2011 law to temporarily limit property tax increases, state Senate Republicans have been trying to make the tax cap permanent. A bill to do so passed the Senate in January, but failed to get a vote in the Assembly. There's no real rush, since the cap doesn't expire until 2020, but expect a push from sponsor Flanagan – and backer Cuomo – who wants to say he kept New Yorkers' tax bills low.
De Blasio's Millionaires Tax to Fund Transit
New York City Mayor Bill de Blasio doesn't think congestion pricing has a chance of passing in Albany, so he has unveiled his own plan to better fund the subways: a millionaires tax. The mayor's plan would use a tax on the top less than 1 percent of city earners to fund fixes for the Metropolitan Transportation Authority, and he's expected to lobby for it next year in Albany. While the plan earned support from U.S. Sen. Bernie Sanders and the New York City Council, it's expected to be a much tougher sell to the state Legislature.