21st century journalism
Labor activists arehailing this month's successful organizing drive by the 400 staffers at Vox Media as a sign that digital journalists can unionize and attain the kind of job security that reporters took for granted a generation ago.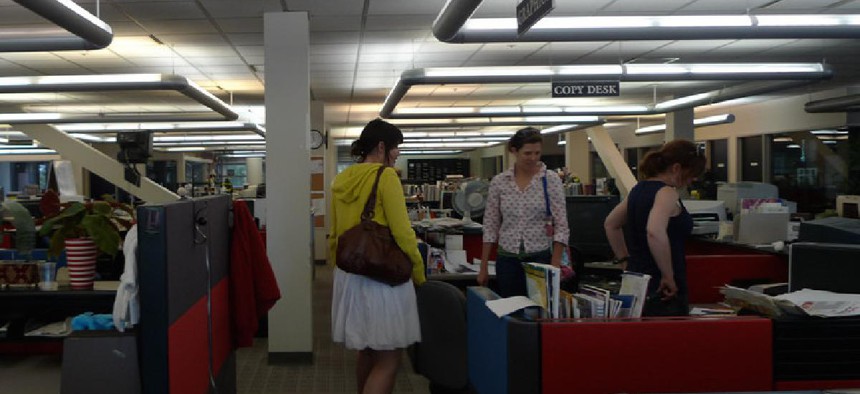 Labor activists are hailing this month's successful organizing drive by the 400 staffers at Vox Media as a sign that digital journalists can unionize and attain the kind of job security that reporters took for granted a generation ago.
The Vox staff joins employees from a growing list of media companies – including Vice Media, HuffPost, The Intercept, Gizmodo Media Group, ThinkProgress and MTV News – that have secured union representation with the Writers Guild of America East.
Of course, Vox's unionization comes just a few months after the push to organize digital media companies was hit with a high-profile setback when billionaire businessman Joe Ricketts pulled the plug on DNAinfo and Gothamist after its employees voted to unionize.
But Lowell Peterson, the executive director of the Writers Guild of America East, said that instead of demoralizing the former DNAinfo and Gothamist staffers, the mass firing inspired them to double down on their labor activism.
"The journalists at DNAinfo and Gothamist that lost their jobs are out there right now organizing with us," Peterson told City & State. "In fact, when we had the Vox Media victory party, there were a whole lot of DNAinfo/Gothamist former staffers in the audience firing people up saying congratulations."
Peterson added, "The day they all lost their jobs they got on Twitter and said, we are not afraid, don't be afraid, keep organizing. If we weren't unionized, we wouldn't have won severance pay and other protections and, in any event, you need to have a voice." The 115 employees got paid three months paid administrative leave plus four weeks of severance pay. Ricketts is also barred from restarting the news sites, according to the union.
When Ricketts shut down the news outlets, he wrote, "DNAinfo is, at the end of the day, a business, and businesses need to be economically successful if they are to endure." He closed by expressing hope "that in time, someone will crack the code on a business that can support exceptional neighborhood storytelling for I believe telling those stories remains essential."
But Peterson said he sees Ricketts' decision as an outlier in terms of how other owners and management have been responding to the guild's organizing drives in digital news. Initially, he said, the situation was "horrific" because freelance writers and independent contractors were paid little, "and that was only if the company decided to run the piece – and if they did not run the piece you had just worked for free for three weeks."
"What we have actually found is a pleasant surprise," he said. "At least in the more economically stable websites and digital media companies, there is a move away from freelance work in favor of full-time staffing. I think that the conclusion that management has drawn is that if you want to have quality journalism, you have got to pay people. You have to make it a sustainable career and a purely freelance rip-off model is just not a sustainable model, which is not to say there still isn't abuse, there certainly is."
The guild represents 1,000 people in digital media, in addition to staffers at TV networks like ABC and CBS. "This is a good era for people who craft stories for a living," Peterson said.
But the success of organizing at several digital media companies has to be seen in the broader context of the well-documented decline of local professional journalism both in New York City and across the country. As Ross Barkan wrote for Columbia Journalism Review in November, the newspaper industry is in the midst of a "frightening decline" that "has hit all cities and towns hard."
Barkan, who recently launched a run for state Senate, flagged the inability of digital advertising to "make up for what print once paid for. Google and Facebook gobble up what little ad revenue exists in the digital space." He cited federal statistics that showed "more than half the jobs in the news industry have disappeared" in the past 15 years, dropping from 411,800 to 173,709.
That's an even steeper drop-off than the 39 percent decline in newsroom staffing that the Pew Research Center found between 1994 and 2014. No doubt, what's going on is seismic.
Between 1981 and 2014, the nation went from 1,730 newspapers down to 1,331. That decline continues, not just in terms of newspapers closing all together, but in reporters having their pay cut or being furloughed so their publisher can bring down labor costs.
Yet, the nation's colleges and universities continue to churn out thousands of journalism majors. In 2015, there were more than 17,000 journalism degrees handed out, just a 1.4 percent decline from the previous year, according to Data USA.
Matt Tracy, 27, who lives in Brooklyn and graduated from Ithaca College, has known he wanted to be a journalist since he was in middle school. Tracy is part of the vast army of young people working multiple freelance gigs in New York City because full-time jobs in the industry are hard to find. Even before he graduated from high school, he was contributing to a baseball magazine. Tracy also worked on a freelance basis as a sports clerk for his hometown newspaper.
He describes a predatory power imbalance between the folks with work to assign and the young people desperate to do it. "One of the biggest problems is getting paid," Tracy said. "I have had to go to the (state) Department of Labor, and the enforcement there is not what it should be considering such a huge part of the journalism workforce consists of freelancers and part-timers who are also not getting any holidays, any vacation days and no health care from the employer."
Tracy said he was encouraged last year when the Freelance Isn't Free Act took effect in New York City, entitling freelancers to a binding contract for work worth at least $800. "I was a little disappointed that they set the minimum for the law at just $800, because getting stiffed for less than that still becomes a problem in terms of paying rent," he said.
A 2015 report by the Freelancers Union found almost three-quarters of the more than 5,000 freelancers it surveyed had trouble getting paid at some point in their careers and more than a third of those who had reported encountering payment problems cited instances where they were not paid at all. The survey participants reported losing an average of almost $6,000 in unpaid fees during 2014 alone.
In 2014, Tracy landed a full-time job at the Latin Post, an online publication where he first cultivated a relationship as a freelancer. It went out of business and he was back where he started: freelancing. He said his college did little to prepare him for the labor market he encountered.
"Absolutely, the most glaring problem is that they will prepare you for creating content and the job you might be doing, but they don't prepare you for the job market and it feels like they almost deliberately withhold that from you because as a college they want to keep the major going," he said.
Over the past few years, Tracy has seen his multiple freelance gigs pay off by expanding the range of subjects he writes about, beyond just sports and entertainment. He now covers politics for The National Memo.
He's also had some success with his startup hyperlocal news website Coney Island News. "The whole reason I wanted to start that was because hyperlocal is just dwindling, especially in the city where there is such a concentration of people and such huge areas that are not being covered at all," he said. "So that was my goal in starting that – to be able to provide the local community with a sense of what was going on. … It is something I enjoy doing whether I make money or not."
Tracy has had several stories that drew several thousand hits, including a scoop on billionaire John Catsimatidis' plans for trolley service to connect one of his developments on the western end of Coney Island to the train station. "And what was significant about that was Coney Island is known as one of those public transportation deserts without enough public transportation out there," Tracy said. "That did resonate out there with people."
Journalism's contraction is not just a challenge for recent college graduates. Lorraine Ash is an award-winning northern New Jersey news editor. The veteran journalist has been on both sides of the newspaper industry's dramatic consolidation, both as a staffer and as a manager.
"As for journalists, they are left to find other arenas in which to ply their trade," Ash said. "In my case, I'm ghostwriting books, an industry that is still robustly well and growing. Many of my colleagues across the state and the nation, however, are leaving the field entirely. I understand why but it also pains me that we can find no place for so many journalists, who are and always have been an essential part of our republic since it began."
Ash warned that the decline of authentic local news and its replacement by aggregated free social media content is already having an impact. "When coverage is like Swiss cheese – a paucity of viewpoints and lots of stories that are simply missing – a vacuum is created," she said. "That's the space in which fake news and undisciplined, unresearched writing thrives. Unfortunately, that kind of writing erodes the public knowledge base instead of adding to it."
Ash said she recently saw a fake news story posted by a Facebook user that "wildly speculated" about the political cause and motivation behind the house fire at Bill and Hillary Clinton's home in Chappaqua.
"What it asserted about the fire itself also was wholly incorrect," she said. "I posted that the story had been produced by a notorious fake news site. The user replied, 'The point is it could be true, so no harm in posting.' That's dangerous. What could be true is fiction. What is true is news. We want citizens acting – and voters voting – on the basis of what is true."