Teachers union braces for Supreme Court labor ruling
If in Janus v. AFSCME the Supreme Court rules that teachers are not required to pay for its services, the union is likely to shed members and money – a war chest that has allowed UFT to be a major player in New York politics and to secure robust benefits for its members.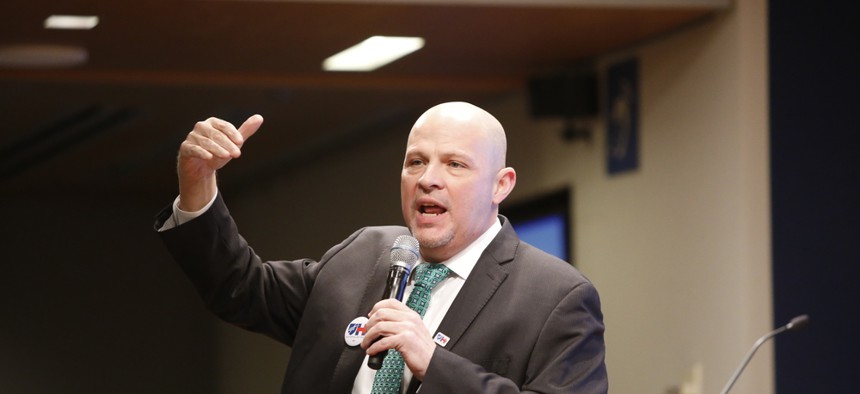 A few dozen labor leaders gathered recently at the headquarters of New York City's 187,000-member teachers union to hear a cautionary tale.
In a glass-walled conference room overlooking downtown Manhattan, United Federation of Teachers President Michael Mulgrew settled into a chair facing a colleague from Wisconsin. He asked the state teachers union president, Kim Kohlhaas, how her members have fared after an aggressive rollback of labor's bargaining power there.
She described rampant teacher turnover, fewer job protections as well as ballooning insurance and pension costs. In short, a union's worst nightmare.
For UFT, Wisconsin is a harbinger of what could result from a U.S. Supreme Court case known as Janus, which revolves around the ability of public unions to collect mandatory fees. Oral arguments began in February, and the decision, which is expected in a matter of months, could dramatically alter the landscape for unions across the country.
The impact will be felt especially by UFT, the largest local union in the country. If the court rules that teachers are not required to pay for its services, the union is likely to shed members and money – a war chest that has allowed UFT to be a major player in New York politics and to secure robust benefits for its members.
"This is dangerous stuff we're getting into now," Mulgrew said. "They're trying to take away people's ability to come together, to stand up and have a voice."
While the case deals with different issues than Wisconsin's anti-union policies did, New York City labor leaders say the limits on their membership and funding would weaken their ability to fight against further restrictions on their organizing and bargaining power.
In anticipation of the ruling, union leaders have reportedly already considered downsizing their operations. And they have undertaken a pre-emptive information and recruitment campaign to hold onto members – who, soon, may be free to choose whether to keep supporting the union financially.
"Much as I oppose Janus, it's kind of a wake-up call for entrenched union leadership," New York City teacher Arthur Goldstein blogged recently. "People need reasons to pay, and it's on leadership to provide them."
At issue is whether public unions can continue to charge "agency fees," which are payments collected from people who are not members. Sometimes called a "fair share" fee, it is meant to help unions cover the cost of bargaining contracts that cover all workers, regardless of whether they are union members. Only a fraction of New York City teachers currently opt out of the union and pay the agency fees rather than dues – but experts expect many more teachers could leave the union if the Supreme Court bans the fees.
Mark Janus, a government employee in Illinois, is challenging the fee on the grounds that it violates his right to free speech. The Supreme Court deadlocked on a similar case in 2016 after the sudden death of Justice Antonin Scalia. With Neil Gorsuch now on the bench, observers expect a conservative-leaning court will side with Janus. If that happens, workers covered by unions – including the UFT – will be able to opt out of paying the fees that help keep the unions in operation.
"What that means is there will be a lot of teachers – potentially a lot of teachers in New York – who do not invest in the union," said Evan Stone, co-founder of the teacher advocacy group Educators for Excellence. "There will be potential growth in free riders who are benefiting from the work of the union without contributing to it."
That's why UFT is kicking into action. The union has trained scores of members to knock on doors and talk to fellow teachers about the case. In about two months, the union estimates its members have knocked on 11,000 doors, sharing stories about how the union has helped them and hoping to convince teachers to keep financially supporting the work, even if the courts decide they're no longer required to.
Union leaders are also launching membership teams in every school. Tasked with "building a sense of unity," the union is asking the teams to engage in personal conversations with members, and plan shows of support for the union. Stone said his organization is organizing focus groups across the city to inform members about the case.
New York City teachers automatically become union members. They pay about $117 a month in dues, while social workers, paraprofessionals and members in other school roles pay different amounts. Members can also choose to contribute to a separate political fund, which the union uses to lobby lawmakers and support union-friendly candidates.
About 2,000 educators opt out of the union and pay agency fees instead – which are the same amount as regular dues, according to a UFT spokesman.
Ken Girardin, who has studied the potential fallout of Janus for New York's unions as an analyst for the conservative-leaning Empire Center for Public Policy, said the number of agency fee payers is low compared to other unions. But the Janus case could change that.
Girardin looked at what happened after Michigan enacted a right-to-work law, which forbids mandatory agency fees. The result: The Michigan Education Association, among the state's largest unions, saw a 20 percent drop in dues and fees. Among full-time teachers, membership declined by 18 percent.
Girardin estimates an equivalent decrease in New York would mean the state's teachers unions would take a $49 million annual hit. The UFT relies on dues and agency fees for about 85 percent of its $185 million budget, according to federal documents.
"It means they'd have to make up a course change," Girardin said, referring to the potential impact of the Janus decision. "They would have to treat their members like customers instead of people who are going to pay them regardless."
Behind the scenes, the union is reportedly making contingency plans to deal with the potential budgetary fallout. The New York Post recently cited unnamed sources who said union leadership is considering reducing the staff at some of its borough offices and cutting back on discretionary spending.
Girardin said public sector unions in New York have already begun to fight for state legislation that would make it harder for members to drop out – a potential workaround in case the court sides with Janus.
Some UFT members say the threat of Janus is already being felt. The union recently voted down a resolution to support Black Lives Matter after leadership said it was a divisive issue at a time when the union can't afford to lose members, according to NY1.
Rosie Frascella, a Brooklyn high school teacher who helped organized Black Lives Matter at School events across the city, said she was disappointed in the leadership's decision. But despite those internal disagreements, she said the threat posed by Janus should compel all teachers to speak out in support of their unions.
"You need to be in a union because it protects your right to teach," she said. "And it stands up for our students and it creates the schools our children deserve."
This story was originally published on Chalkbeat New York, a nonprofit news organization that covers educational change efforts in New York.