Donald Trump
What Trump's infrastructure plan means for New York
What does President Donald Trump's infrastructure plan mean for New York? It puts the onus on states to spend more.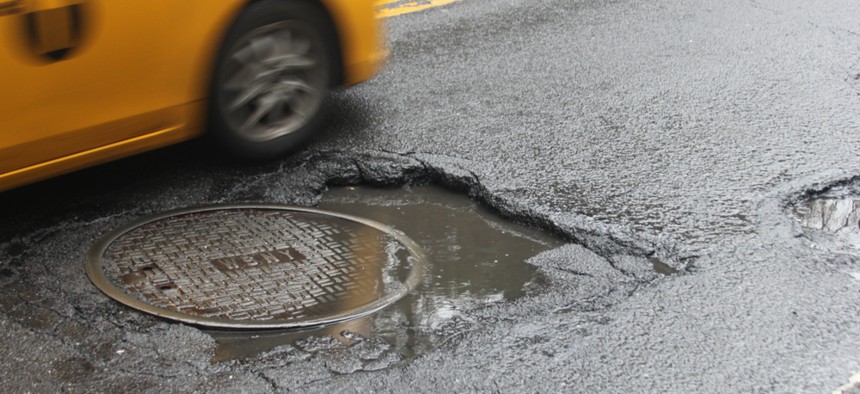 President Donald Trump revealed his infrastructure plan on Monday along with his budget, proposing $200 billion in federal funding to spur $1.5 trillion in "infrastructure investments with partners at the State, local, Tribal, and private level," expanding on his pledge in his recent State of the Union address to build "gleaming new roads, bridges, highways, railways and waterways."
But the plan's funding and feasibility and ability to pass in Congress are all in doubt. It also would not necessarily benefit Trump's home state of New York as much as one expect – despite the state's dire need of investment in repairing crumbling roads and a sclerotic subway system.
The source of the $200 billion was not specified. It would be left to a Congress that, at best, seems apathetic about the plan. Neither party seems likely to increase infrastructure spending without a revenue stream to pay for it. And while congressional Republican leaders oppose raising the gasoline tax, Democrats won't want to divert money from other social programs to pay for it either.  
The infrastructure proposal may also be opposed by Gov. Andrew Cuomo, as New York faces a budget deficit and Trump wants more infrastructure spending by state and local governments.
The proposal includes a $100 billion "incentives program" that would leverage federal dollars against additional funds from states, cities and the private sector. It also proposes $20 billion for the "transformative projects program" going to innovative infrastructure projects that may not attract private sector investment.
While New York could apply to either of these programs for the proposed Gateway rail project, the state government has reason to be cautious about any promise by the federal government to match spending on infrastructure. In December, Cuomo and then-New Jersey Gov. Chris Christie agreed to contribute $5.6 billion – half the cost – towards the Gateway project to build a rail tunnel under the Hudson River, with the expectation that federal Department of Transportation would fulfill the Obama administration's commitment to provide the other half of funding. After Trump seemed open to the project in a meeting with New York and New Jersey lawmakers in September, his administration killed the deal at the end of December, saying the states would have to pick up a bigger portion of the tab.
New York Democrats who have long called for increased federal transportation infrastructure investment oppose Trump's proposal, saying it will burden local governments and not prioritize the most important projects. U.S. Senate Minority Leader Charles Schumer said in a news conference on Sunday that he was concerned that the proposal would not help development of the Gateway project, and that the Trump administration would put the impetus on the private sector to help fund infrastructure, which might then recoup costs through tolls or fees.
On Monday, Schumer tweeted that the plan "would put unsustainable burdens on our local government & lead to #TrumpTolls all over the country."
Schumer's concerns were echoed by Rep. Jerry Nadler, a Manhattan lawmaker who is on the House Transportation and Infrastructure Committee. In statement, Nadler called it "the worst infrastructure proposal I have ever seen."
"Most of the funding for infrastructure projects will no longer come from the federal government, but instead from increases in state and local taxes – right after the Republican tax bill made it much harder to increase or even maintain state and local taxes by almost completely eliminating federal deductibility," he said. "In addition, it would greatly reduce the percentage of federal funds spent on urban and suburban infrastructure, promising devastating results for cities and states."
Trump's plan includes an additional $20 billion towards expanding the federal infrastructure financing programs, such as Railroad Rehabilitation and Improvement Financing loans, that Cuomo and Christie's plan proposed using to fund the state's share of the Gateway tunnel.
However, Trump's budget also includes a provision to cut grants to Amtrak in half, despite the several recent high-profile crashes involving Amtrak trains. The proposal could also affect New York specifically, as Amtrak is a member of the Gateway Development Corp. that oversees the Gateway project, and repairs to Amtrak's tracks in Penn Station last year resulted in the so-called "summer of hell."
Although not focusing on individual metro region projects like Gateway, Trump's plan does include a "rural infrastructure program," which would dedicate $50 billion to projects in rural areas that have been "left behind for too long."
The president's proposal also drew criticism for allowing environmental review and permitting to be delegated to the states, eliminating environmental regulations and "redundant and inefficient" provisions in environmental laws and shortening the environmental review process.
The plan suggests it is possible to streamline the review "while still protecting the environment," but, like with the funding for the project itself, how the government will accomplish that goal remains unclear.
Dani Simons, a spokeswoman for the Regional Plan Association, a research organization focused on improving transportation in the tri-state area, said that streamlining environmental reviews may be necessary, as the process has become "much too long and too opaque." She noted that the RPA recently published a report on reducing capital costs for MTA projects that suggested improving the environmental review process. But the Trump administration's proposal to shorten the review process to two years seems arbitrary, Simons said.
Stephanie Gidigbi, a policy director at the Natural Resources Defense Council, an environmental research and advocacy organization, said in a statement that these changes to the review process could also reduce transparency in infrastructure projects.
"The plan would threaten the public health, clean air and waterways of the state by cutting out local residents from being able to weigh-in on projects that will shape their communities for decades to come," she said. "New Yorkers are still living with the misguided projects of the past that were rushed through without their consent; they know the importance of making sure investments are sound, smart and safe."
Some New York transportation experts agree. "What this seems to be about, more than making the rules make sense, is just getting rid of them whenever possible," said Barry Caro, transportation analyst for ReThinkNYC, a proposal created by transportation think tank ReThink Studio to implement a unified transportation network in New York City.
Simons also raised concerns about the absence of climate change and its effect on infrastructure in the plan, an issue of particular interest in a coastal state like New York.
"The fact that you would put money into investments that are going to last 50 or 100 years without taking those things into account seems foolish," she said.