Bill de Blasio
5 things to know about Richard Carranza
Meet Richard Carranza, Mayor Bill de Blasio's new New York City schools chancellor.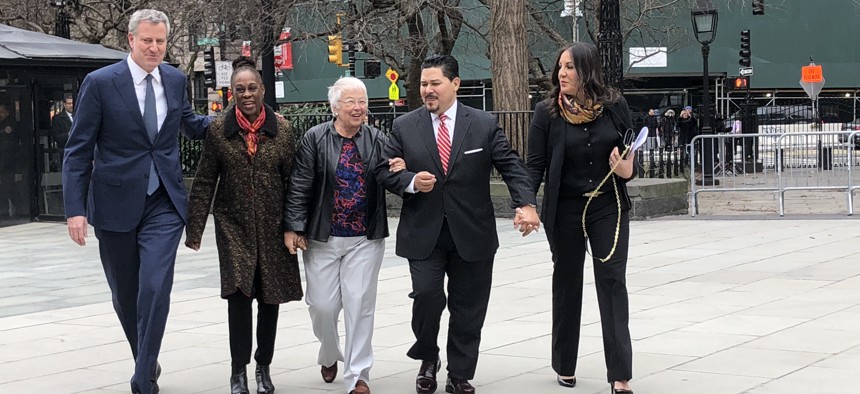 Richard A. Carranza was announced as New York City's new schools chancellor in a low-drama announcement at City Hall on Monday afternoon. Here's what you need to know about the new leader of the country's largest public school system.
He's a Spanish-speaker from a Mexican family
The majority of New York City's 1.1 million public school students are racial minorities, and 40 percent of them are Hispanic. Following in the footsteps of outgoing Schools Chancellor Carmen Fariña and the mayor's initial pick of Alberto Carvalho, de Blasio has made it quite clear that he prefers to have a Spanish-speaking superintendent. Carranza was born and raised in Tucson, Arizona, the grandson of Mexican immigrants. Carranza spoke Spanish at home with his sheet-metal worker father and his hairdresser mother. He learned to speak English in school, before going on to college at the University of Arizona.
Proven leader in Las Vegas, San Francisco, and Houston. Teacher. Son of a sheetmetal worker and hairdresser. Father of 2. Mariachi singer. https://t.co/No665liWso

— Eric Phillips (@EricFPhillips) March 5, 2018
History in Houston
Carranza's previous job was school superintendent in Houston, Texas, the eighth-largest school district in the country. He joined a year and a half ago, in August 2016, after leading San Francisco's schools for four years. Carranza faced serious challenges in Houston – chief among them, Hurricane Harvey, which damaged much of the city last summer and is expected to cause serious budget issues in coming years.
Houston ISD is dealing with a lot right now. Not only is it facing a $115 million budget shortfall, its elected Board of Trustees could be taken over by the state next year if a handful of low-performing schools don't improve their academic performances

— Shelby Webb (@shelbywebb) March 5, 2018
Carranza earned a $345,000 salary in Houston, the same that he'll make in New York, according to de Blasio. This is more than $100,000 more than Fariña's salary, though she made well above $400,000 if you factor in her pension.
He showed up in person
De Blasio's first pick for chancellor, Alberto Carvalho, never made it to New York City to announce he was taking the job and instead said on live television that he would stay in Miami. De Blasio wasn't going to let that happen again, and Carranza came in person to City Hall on Monday for the press conference after a weekend-long interview with de Blasio and First Lady Chirlane McCray, who seems to be taking an increasingly large role in staffing choices within the de Blasio administration. De Blasio said that Carranza was his second pick, and that he called Carranza the same day that Carvalho declined the job. Carranza is a bit of a surprise choice, though. He had been in Houston for less than two years, and was not seen as a leading contender for the job.
He speaks de Blasio's language
"There is no daylight between Mayor de Blasio and myself in terms of what we believe in," Carranza said at the press conference, before mentioning that he's "been an admirer of Mayor de Blasio since he was elected, and his equity agenda." But Carranza wasn't just sucking up to the mayor by using one of his favorite words. Carranza wrote in a January op-ed for the Houston Chronicle that around the Houston Independent School District, "our staff hears the word 'equity' in almost every conversation and decision-making process."
Like Fariña, Carranza also said that he plans to be a constant presence in schools, visiting classrooms and not just staying in the office. "One chancellor in the field is worth three in the seat," he said on Monday.
Carranza also seems to be aligned with the mayor when it comes to charter schools, whose leaders de Blasio has clashed with. Carranza told NPR in September that he preferred to focus on "community schools" that include social services, over charter schools.
Richard Carranza on charter "I'm pro really good schools." "I'm a vocal proud supporter of public schools."

— Ivan Pereira (@IvanPer4) March 5, 2018
However, he diverged from the mayor on at least one talking point – using the term "segregation," even though de Blasio prefers "diversity."  
Well! Richard Carranza uses the words "segregation" and "integration" without missing a beat. De Blasio and Fariña will only say "diversity"

— Eliza Shapiro (@elizashapiro) March 5, 2018
He's a mariachi
Carranza celebrated his hiring in Houston by singing and playing with a mariachi band, but it wasn't just a stunt. Carranza has been playing the Mexican style of music since he was 6 years old, and said that he paid his way through college by playing in mariachi bands. He introduced a mariachi program in the Tucson Unified School District when he worked there, and is even a member of the Mariachi Hall of Fame.
Powered By
NEXT STORY: Fighting MS-13 – and what it means for immigration