Education
Alberto Carvalho, the man who upended NYC school politics
Alberto Carvalho, the superintendent of Miami-Dade County Public Schools in Florida who was named New York City's next schools chancellor, shocked the people of Miami and New York City when he publicly declined the job during a televised school board hearing on Thursday.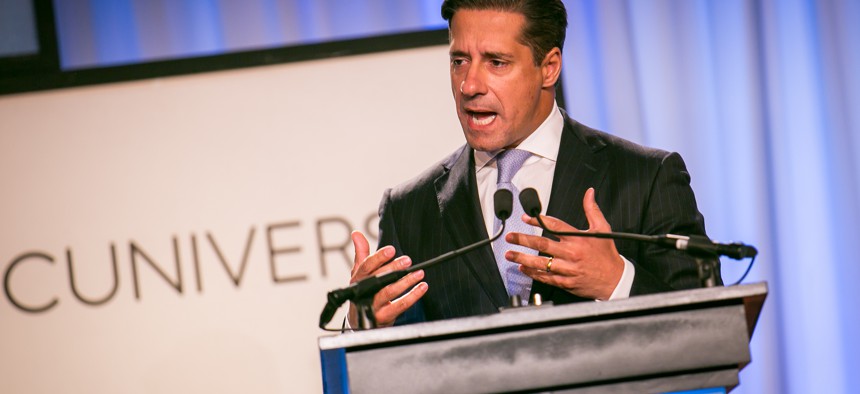 Alberto Carvalho, the superintendent of Miami-Dade County Public Schools in Florida who was named New York City's next schools chancellor, shocked the people of Miami and New York City when he publicly declined the job during a televised school board hearing on Thursday.
He said that he was "breaking a promise to an adult" – New York City Mayor Bill de Blasio, that is – to keep his promise to the children of Miami.
Carvalho had accepted the position over a week ago and made the decision to decline it suddenly, according to a tweet by de Blasio's spokesman, Eric Phillips.
He was a Yes for a week+, until he was a No 15 minutes ago. Bullet dodged.

— Eric Phillips (@EricFPhillips) March 1, 2018
Carvalho is considered a rising political star in Florida, and this change of mind comes as a shock for the people of Miami and of New York. He would have snagged a $353,000 salary, over $100,000 more than the current schools chancellor, Carmen Farina.
Carvalho, whose appointment was first reported by Politico New York, rose from undocumented immigrant to leader of the nation's fourth largest school district, and has overseen significant advancement in Miami's schools. Here is an overview of the five things to know about Carvalho – including why he may have chosen to stay where he was – now that he has upended New York City politics from 1,000 miles away.
No stranger to politics
Carvalho's success has made him popular in his school district – and in his congressional district. He publicly mulled a congressional bid for Florida's 27th District, and has been named as a contender for various political positions around the state. He is a registered voter but unaffiliated with any party. Had Hillary Clinton won the 2016 presidential election, Carvalho's name was thought to be on the short list for a U.S. Education Department appointment. Carvalho made an extremely public declaration of dedication to his district when he turned down the New York City chancellor position, and this perhaps will not be forgotten at the polls if he chooses to seek higher office in the future.
A history of success
Although New York's public school system is significantly larger than that of Miami, there are some parallels, and Carvalho might have been able to implement some of the successful practices he employed as superintendent. Miami's public school system has over 350,000 students, and as in New York, the majority of students are black or Latino and live in poverty. During his time in Miami, Carvalho has focused on eliminating the achievement gap between poorer and wealthier students, and the Education Equality Index has rated Miami schools as having some of the lowest achievement gaps in the country. Carvalho has also pushed for more advanced placement classes, teachers' professional development and parent interaction in schools, and expanded a program that encouraged parents' engagement in the classroom. He has also been critical of standardized testing and reduced testing for middle school and high school students. During his tenure, Miami's graduation rates jumped from 60 percent to 80 percent. New York's graduation rates are currently hovering above 70 percent, and the city has been criticized for its extremely segregated schools.
A charter school advocate?
Carvalho might have been able to calm the waters in the intensifying feud between de Blasio and charter school advocates. Carvalho expanded the number of magnet schools and district-run charter schools, and was listed as Success Academy CEO Eva Moskowitz as a candidate to consider for chancellor. His support of charter schools may have been difficult for the mayor to navigate. He also has a history of dealing with unions. He instituted a merit pay system in 2011, which was opposed by teachers unions, but later earned plaudits for implementing a $2 billion cut without firing any teachers.
From undocumented immigrant to national education leader
Carvalho was raised in Portugal in what he has described as "dramatic poverty," and was the first in his family to graduate from high school. He came to the United States when he was 17 and overstayed his visa, and worked as a waiter and in construction. He also spent some time homeless before a local congressman in Florida sponsored him for a student visa. He attended Broward College and Barry University, where he earned his bachelor's degree. He began his career in education as a science teacher at Miami Jackson Senior High, and then worked his way through the administrative ranks until he was named district superintendent in 2008. He is fluent in Spanish and Portuguese. Under Carvalho's leadership, the Miami-Dade school district earned the Broad Prize for Urban Education in 2012. He was named the national Superintendent of the Year in 2014, was named by then-U.S. Education Secretary Arne Duncan to the National Assessment for Education Progress governing board in 2015, and won the Harold W. McGraw Jr. prize for K-12 education in 2016.
A hint of scandal
Just after being tapped as superintendent, leaked emails revealed that the married Carvalho may have had an affair with a former education reporter for the Miami Herald, Tania deLuzuriaga. Carvalho denied the affair, and deLuzuriaga declined to comment, although she resigned from her job at the Boston Globe shortly after the affair broke.