MTA
'Doing nothing is not an option'
ABNY hosts a panel to debate the merits of congestion pricing.
More than 1.5 million people commute into Manhattan every day, so there are at least 1.5 million different takes on congestion pricing – charging drivers a fee to enter most of Manhattan and using that revenue to fund public transit. The Association for a Better New York convened a panel Monday morning to hear opinions from four major stakeholders in the process, who are all watching closely to see if Gov. Andrew Cuomo and state legislative leaders will reach an agreement before the budget is due on April 1. If not, discussions may continue until the end of the legislative session in June, or beyond. I live-tweeted the discussion, sharing a rundown of the arguments for and against congestion pricing, and what factors play into creating a plan.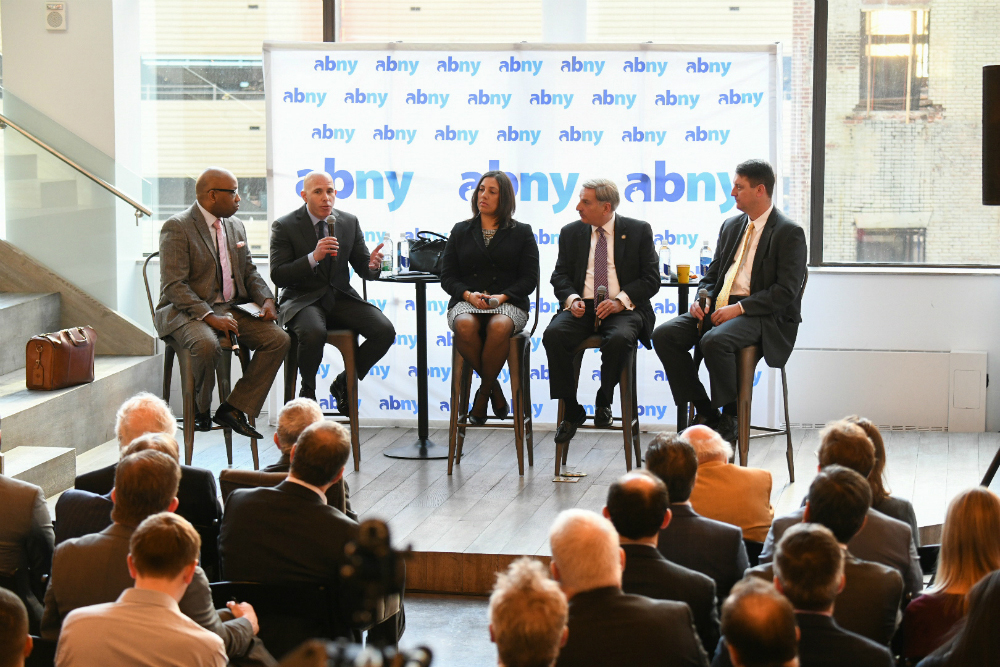 Participants included Scott Rechler, a real estate developer who is chairman of the Regional Plan Association and an MTA board member; Veronica Vanterpool, a transit consultant and MTA board member; Queens Democratic Assemblyman David Weprin and Patrick Hyland, executive director of the Metropolitan Trucking Association. NY1 political anchor Errol Louis moderated the event.
The view from the cheap seats. "This is a plan that's meant to be phased in over a couple years," Rechler notes. pic.twitter.com/UWoh8VUzWG

— Jeff Coltin (@JCColtin) March 26, 2018
The average speed pf vehicles in Manhattan has dropped 23% since a congestion pricing plan failed to pass 11 years ago, Vanterpool says.

— Jeff Coltin (@JCColtin) March 26, 2018
On issue of "regressivity" 2% of the working poor, 5,000 indiviudals, would be affected by the congestion pricing fee, according to @CSSNYorg, Vanterpool cites. "It is not defensible to continue to report that this is regressive transportation policy."

— Jeff Coltin (@JCColtin) March 26, 2018
54.5% of households in New York City do not own a car. Weprin says many households in Queens own TWO cars (He represents far eastern Queens). Majority of workers commute via transit in his borough, however.

— Jeff Coltin (@JCColtin) March 26, 2018
AM @DavidWeprin notes issue of how bad public transit is for the disabled. "I'm for reducing congestion. I'm for finding a funding stream for the MTA" but I don't think tolling the free bridges is the answer, he says.

— Jeff Coltin (@JCColtin) March 26, 2018
Driving stats for Queens, via Tri-State Transportation Campaign: https://t.co/4pCemXzPmL pic.twitter.com/dg6BvUEvjE

— Jeff Coltin (@JCColtin) March 26, 2018
"There is no reference to how out of whack our toll collection is regionally" Hyland notes. All Jersey bridges and tunnels, plus Verrazano from Staten Island are tolled. East River and Harlem River crossing are mostly free.

— Jeff Coltin (@JCColtin) March 26, 2018
"As we look at this, doing nothing is not an option... or the great success (New York City) has had is going to reverse itself." Rechler compares transit crisis now to the crime crisis of the early '90s. "If we don't do something, we're going to become that rotting apple."

— Jeff Coltin (@JCColtin) March 26, 2018
"We have an irrational freight deliver system in this city." Trucking is 8% of traffic and 18% of carbon emissions, @Veevanterpool says. Says we need to consider the social cost.

— Jeff Coltin (@JCColtin) March 26, 2018
There's a good deal of support among MTA board members for congestion pricing, Vanterpool says. But MTA is officially impartial and board never took and official vote. MTA just one of the decision-makers, among Gov., state legislature, and NYC gov't.

— Jeff Coltin (@JCColtin) March 26, 2018
"Why is that one charge, driving into the midtown core, is a dealbreaker?" @ErrolLouis asks @DavidWeprin. Well, tolls will only get higher. And some outerborough people drive into Manhattan *multiple* times a day, he says.

— Jeff Coltin (@JCColtin) March 26, 2018
Vanterpool tells Weprin, citing @Tri_State, that just 4.2 percent of daily commuters in his district would be affected be congestion pricing. 42% of commuters in his district use public transit. (Via @StreetsblogNYC) https://t.co/eanAodSe1G

— Jeff Coltin (@JCColtin) March 26, 2018
"Even the Fix NYC plan is contingent on making transit deserts accessible," Weprin says, complaining about lack of public transit options in his district. "We keep talking about this option, that option. Quite frankly we need them all," Vanterpool says.

— Jeff Coltin (@JCColtin) March 26, 2018
MTA construction is incredible inefficient, @ScottRechler admits. Says he's leading a working group on the MTA board about fixing it. "It's about throwing it out and starting over… it takes nine months to get a change order approved on a project the MTA is building."

— Jeff Coltin (@JCColtin) March 26, 2018
"I'm in favor of consumer choice. I want to keep some bridges free," Weprin says. Notes he has proposed a bill with a 1% commuter tax that would produce about $1 billion in revenue. A progressive tax, he says.

— Jeff Coltin (@JCColtin) March 26, 2018
The bill, for the real wonks, via @DavidWeprin. https://t.co/GGJTbczhWU https://t.co/TzYM7rgUqZ

— Jeff Coltin (@JCColtin) March 26, 2018
"Congestion is worse today than ever before" because of Uber, Lyft, Via, etc. "They're the increment that's put us way over the top." notes former MTA board member Lucius Riccio in a question.

— Jeff Coltin (@JCColtin) March 26, 2018
Representative from UPS asks a Q about how to improve shipping, reducing inefficient areas. Real estate developer Rechler notes that his big apartment buildings are thinking about this, including fridges for Fresh Direct deliveries, etc.

— Jeff Coltin (@JCColtin) March 26, 2018
"There's no disagreement that more has to be done to better spend the MTA's resources," @VeeVanterpool says. "Revenues have been diverted away from the transit system… because there's no sound lockbox mechanism."

— Jeff Coltin (@JCColtin) March 26, 2018
MTA board member @CarlWeisbrod has the last word. Driving commuters, delivery trucks, for-hire vehicles are *all* part of the congestion problem, he notes. Also MTA doesn't *have* the resources to address transit deserts. Says congestion pricing could fund that.

— Jeff Coltin (@JCColtin) March 26, 2018
Public transit Case Studies
Powered By
NEXT STORY: Cuomo's 'half-baked' health care revenue proposals