Budget
5 big insurance issues in New York
New York faces a number of other insurance issues – some of which were addressed as part of the budget talks, and some that weren't. Here are five key legislative and regulatory issues affecting the state's insurance industry.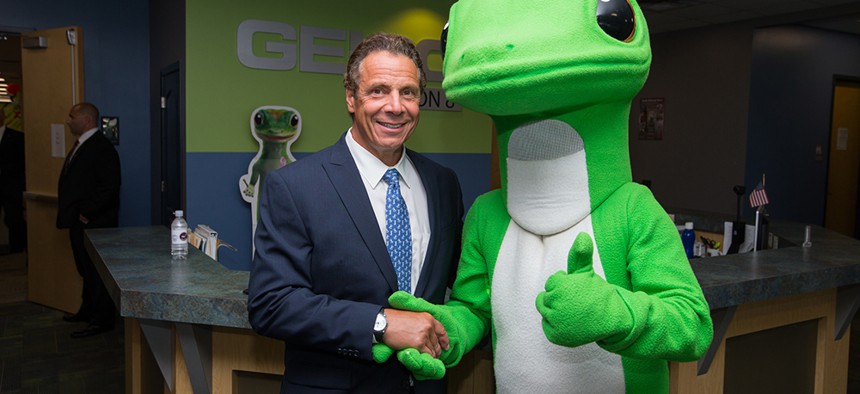 Health insurance was a major target in state budget negotiations this year, including a proposed windfall tax on health insurers and a tax on health insurance conversions. But as lawmakers debated those proposals in Albany, the state still faced a number of other insurance issues – some of which were addressed as part of the budget talks, and some that weren't. Here are five key legislative and regulatory issues affecting the state's insurance industry.
Health insurance
In his executive budget, Gov. Andrew Cuomo proposed a windfall tax on health insurers in the state who benefit from corporate tax cuts under the federal tax law, as one of his "revenue raisers" to close a $4.4 billion budget shortfall. The measure was opposed by politicians on both sides of the aisle as well as the health insurance community and budget experts. The proposal did not make it into the final budget deal, but another another one of his proposals did – the tax on the conversion of nonprofit health insurers to for-profit. The measure specifically targets the sale of Fidelis Care to Centene Corp., which was already in the works before Cuomo announced his initial proposal. The conversion is expected to generate a total of $2 billion in revenue over four years, including $1 billion in the first year.
Medical malpractice
Doctors and hospitals in the state pay out more in medical malpractice suits than anywhere else in the country, including nearly $618 million last year, according to a report from Diederich Healthcare. And the costs may increase even more due to a bill signed into law in February, critics say. Lavern's Law, which was opposed by many doctors and hospitals, makes it easier to file medical malpractice lawsuits in cancer cases that had been initially misdiagnosed. It extends the statute of limitations and starts the clock at the time the misdiagnosis was identified, rather than when the mistake was made. The bill that passed is a scaled-back version of the original. Since the governor signed the bill into law early this year, medical malpractice costs in the state are not attributable to it, and the long-term effects on payouts are unclear.
"There is absolutely no evidence that medical malpractice recoveries are disproportionate to the injuries victims receive at the hands of a very few irresponsible medical professionals," said Assemblyman Kevin Cahill, chairman of the Insurance Committee. "The real issue is how we and the medical profession can work together to make health care even safer."
But members of the business and medical community fear that in the coming years, Lavern's Law will drive up costs and liability for doctors while also having a detrimental effect on access to care due to doctors' fear of litigation.
Distracted driving
Despite new safety features and technology in cars, traffic fatalities have risen in recent years – including in New York state, where traffic deaths rose sharply in 2015, by 7.7 percent. Nationwide, 3,450 deaths were attributable to distracted driving in 2016, or roughly 9 percent of all traffic fatalities. That is why the New York Insurance Association is pushing for new legislation to decrease those numbers and make the roads safer.
The bill, known as Evan's Law, would equip police officers with "textalyzers" that tell the officers how recently a mobile device was used at the scene of an accident. It would not access any personal information, but would indicate what application was being used and when. Ellen Melchionni, president of the New York Insurance Association, said this legislation was a first step. She hoped that down the road, textalyzers would be used not just at the scenes of accidents, which Evan's Law would restrict the device to, but also at traffic stops the way breathalyzers are.
"I think society is slowly getting to the point where they don't want to tolerate it anymore, just like with drinking and driving," Melchionni said. "It took a while to change opinion about that until the numbers got to where they were and we made it very public about how many lives were lost and how dangerous it was with drinking and driving. This is very, very similar."
Title insurance
New York state last year finalized new regulations on title insurance and the state Department of Financial Services implemented them in February. But those new regulations have been sharply criticized by the title insurance industry, which filed a lawsuit soon after the rules went into effect to reverse them, claiming they would "wreak havoc." The state Senate included language in its one-house budget proposal that would have rolled back some of the new restrictions, but that did not make it into the final budget. State Sen. James Seward sponsored a bill, co-sponsored by Cahill in the Assembly, that he said would "clarify the law" and prevent "regulatory overreach" by DFS. He said the new regulations "prohibit a title agent from being able to buy a cup of coffee for a client, or host a lunch," which he said are normal business practices.
"As the sponsor of the original legislation which recognized title insurers as a regulated profession under the insurance law, I know the (state) Legislature did not intend for common marketing activities to be prohibited, and my bill will expressly clarify the legislative intent," Seward said.
Principle-based reserving for life insurance
In 2009, the National Association of Insurance Commissioners introduced a set of guidelines on how to calculate life insurance reserves, known as principle-based reserving. The NAIC officially adopted the method in 2017, giving states until 2020 to change their laws to allow principle-based reserving so those states can keep their accreditation. Mary Griffin, president and CEO of the Life Insurance Council of New York, said the method is a far more flexible and less formulaic way to calculate life insurance reserves than previous methods, which could cut costs for some consumers. She said that right now, New York is one of only two states that have not passed principle-based reserving laws. Griffin said enacting the change is not controversial, but it is complicated. She sees New York's slow pace as lawmakers doing their due diligence to read through and understand the aspects of the method before passing any legislation.
"New York tends to take a longer time (to) review anything that the NAIC comes out with, so I think it was just a question of taking a longer time to review it," Griffin said. "The Department (of Financial Services) did have a bill that they introduced into the Legislature last year and it passed in the Senate, but in the Assembly, it was such a complicated issue, they wanted to have more time. So we're hopeful that this year, the Assembly and the Senate will both take it up."