Transportation
New York City's voice on transportation
An interview with NYC DOT commissioner Polly Trottenberg.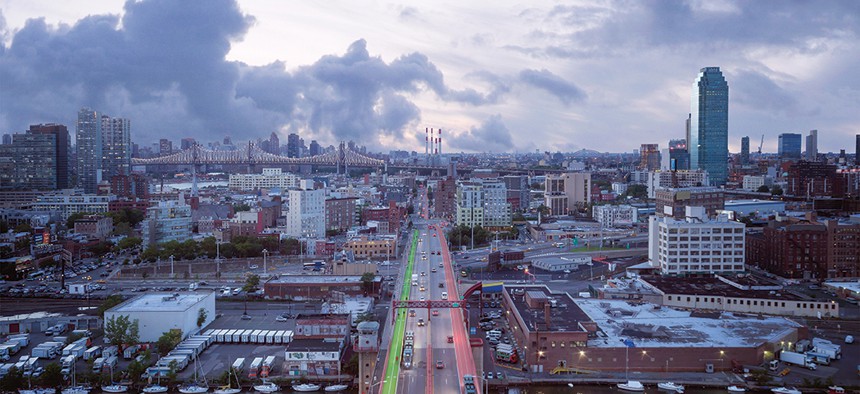 One of New York City Mayor Bill de Blasio's voices on the MTA board is also the top chief of all transportation the city actually controls, like roads, bike lanes and – maybe in some distant future – the Brooklyn-Queens Connector. New York City Department of Transportation Commissioner Polly Trottenberg talked to City & State about more expensive cab rides, bad drivers and how – like a stalled F train – she isn't going anywhere soon.
C&S: There's a new transportation surcharge in Manhattan south of 96th Street – $2.50 on taxi rides and $2.75 on ride-hailing trips using services like Uber or Lyft. Will this lessen traffic congestion? Or is it just a way better fund the MTA?
PT: I'll just say – particularly speaking on behalf of the mayor – we think this was a good first step by Albany. I think it is mainly a revenue raiser for the MTA and obviously one that is very urgently needed. (Taxi expert Bruce Schaller) has taken a good look at the data and makes a pretty compelling case that the demand for taxis and (ride-hailing vehicles) is somewhat inelastic and that a lot of the behavior that we're seeing, particularly with the increasing numbers of the app-based companies, is not them (driving) in and out of Manhattan, but cruising around in Manhattan, waiting to get that next fare. I won't say that there won't be any congestion benefits to this charge, but I definitely think it will be modest.
C&S: After the car crash in Park Slope where two children died, state Sen. Michael Gianaris introduced a bill that would strengthen penalties against drivers who hurt people while driving with a suspended license. Do you expect to see a big push before the end of session? Will you be a part of that?
PT: The answer is yes and yes. I will be up in Albany, I believe, May 9, going up with a whole bunch of safety advocates. Our first push is going to be on renewing and expanding the city's speed camera program. The city has seen fatalities on our roadways go down pretty dramatically over the last four years. And that's very much bucked the national trend, where fatalities are up. Our fatalities are down around 28 percent. Nationally, fatalities are up around 15 percent. With Vision Zero, we've done a lot of things, but I think the speed cameras, the program which we were able to expand back in 2014, have played a huge role in that. The program sunsets at the end of July. We're going to be up making sure that it gets reauthorized and pushing to see some expansions to it. Last year, the Assembly passed an expansion bill, and they put it again (this year) in their one-house budget bill. But unfortunately it didn't survive the ultimate budget process.
And on (Gianaris') bill, although the speed camera and the red light camera programs have been tremendously helpful for safety in the city, the way they're designed, the tickets go to the vehicle registration, not to the driver, on the theory that you can't necessarily know who the driver is in the vehicle, unlike a moving violation, where a police officer pulls you over and asks for your license. So that's how, obviously, you have that issue with the woman in question, Dorothy Bruns, the woman where it turned out she had multiple camera violations, but those didn't accrue.
And then the other piece that the mayor is interested in, and they do this in New Jersey and California, is to have a tighter regime about doctors reporting to a panel at the DMV on medical conditions, particularly those that cause someone, potentially, to black out suddenly. Then it would be up to a panel of experts at the state level to look into that and determine potentially whether suspending the license would be warranted. But that clearly is another gap we see in our safety regulatory system in New York state.
C&S: You got the Enhanced Station Initiative postponed in January, but it passed a month later – though it seems there could be cutbacks to the aesthetic improvements in stations. How does the city feel about that, and how do you feel about that as a board member?
PT: As I've always said – and I sometimes what we said was mischaracterized – these aren't cosmetic improvements. That's not what I and my fellow city representatives said. We had a more foundational question, which I think is still a valid one. I supported the program at first. But in the past, and frankly as the years have gone by, and it's been clear that the MTA's financial situation has grown more dire and that the backlog of maintenance that's needed in the subway system is very acute – the governor declared an emergency, we had a Subway Action Plan, he's asked for and is now getting hundreds of millions of dollars more from the city – I think at that point, it became very fair to ask the question, are all of these projects the highest and best use of the dollars? And furthermore the city was not consulted on how the stations were picked, and to this day, it remains to me rather unclear about what the methodology was. Not to say some of the stations weren't meritorious, or some of the elements weren't meritorious, but I think we felt pretty strongly we needed to take a step back and ask a more fundamental question. In a time when we need every penny, we can to make sure the system is running and serving the largest number of people. Some of these projects were in stations that were kind of out of the way, that had low ridership. We just wanted to make sure that the money was being spent on the highest priorities.
Our other big concern, which we articulated on numerous occasions, was a $1 billion program that was not investing anything in accessibility and adding elevators. We felt that was a real missed opportunity. I will give our new New York City Transit President Andy Byford credit. I think he heard a lot of the criticism, and particularly has declared station accessibility is going to be a big priority of his going forward, which I think was music to everybody's ears.
We also were distressed to learn the project appears to cost much more than was initially stated. I think as board members, we're concerned with is this program being well managed? Seeing those kind of cost escalations was certainly troubling.
C&S: When is the last time you attended a meeting about the Brooklyn-Queens Connector?
PT: We are still having internal conversations, including with the mayor. I can't remember exactly when the last one was, but it was fairly recently. Deputy Mayor (Alicia) Glen laid it out there pretty honestly, at the questions we're grappling with. What are the economics of the project in the end? How much of it, quote-unquote, can pay for itself? To the extent that we need city or federal dollars, how much is going to be available in terms of federal dollars? There's always the challenge of the street care projects of the underground utilities. And here in New York, we (have) the most complicated underground infrastructure certainly of any city in the U.S., and we're probably among the top cities in the world. You've really got to make sure, before you commit to a project like this, you have a good picture of what you're going to do under the ground. Getting a handle on that for a project this big has been something that's taken a while to analyze.
C&S: There's a new campaign about safe driving on warm days. What's that about?
PT: We've gone back and looked at the (traffic crash) data again. … In the warmer months, on the weekends – not during the week – we see a big spike in crashes and injuries and fatalities, particularly for motorists and motorcycle riders. … Unfortunately on those warm weekends, a lot of people are out, the streets get full, people are driving around having a good time, and unfortunately it's led to a lot of crashes.
To get to zero, which is the goal of Vision Zero, we've got to leave no stone unturned in our work. We've got to analyze everything we can in what we see on our roadways and do our best to try and message it, and hopefully save some lives in the process.
C&S: We're four months into the mayor's second term. Do you intend to stay all eight years?
PT: I serve at the mayor's pleasure, but hopefully he'll keep me around for a long time.
Correction: Due to a transcription error, an earlier version of this post misquoted Trottenberg's remarks about the Enhanced Station Initiative. She said she was distressed, not disgusted, to learn the project would cost much more than was initially stated.