Transportation
21st-century transportation
An interview with New York City Council Transportation Committee Chairman Ydanis Rodriguez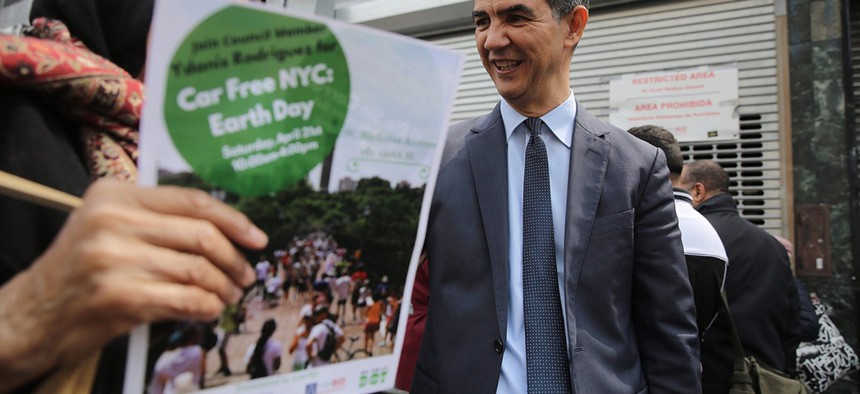 New York City Councilman Ydanis Rodriguez may be a former taxi driver, but his interests have expanded well beyond cars in his fifth year as transportation committee chairman – to the point that he blocks all vehicles from some streets in his district each year on Car Free Day. Rodriguez talked to City & State about that annual event, new cab fees, and whether the mayor ever talks to him about the BQX.
C&S: You've said you want to see Citi Bike in all five boroughs, but now other vendors are interested in bringing dockless short-term bike rental services to New York. Are you supportive?
YR: I support Citi Bike big-time because of the commitment that they have made to make modern transportation safer, affordable and efficient. When it comes to a decision that will be made to bring other players, I hope that if that decision is made, they should be expected to be as efficient and safe as Citi Bike.
C&S: When is the last time you talked to the de Blasio administration about the Brooklyn-Queens Connector?
YR: Almost a year. I have not had any new conversation. I will always be open to any proposal that addresses the issue of transportation deserts in our city. Any initiative of connecting any community with mass transportation. It's not only a new mode of transportation, with the BQX, but it's also learning what can happen there, looking at light rail as a possible project, something that can be modeled in other places in the city.
A few years ago, I wrote a letter together with my colleagues that represent the Bronx, asking the MTA to study a project to connect a shuttle train – that can also be a light rail train – going from 207th Street and Broadway, all the way to Fordham, so that you can make a connection with the Metro-North, D train, No. 4 train, and even go up to White Plains.
I hope that (the BQX) conversation will continue. I would be open, but it would have to make sense financially, and also be efficient, if that's the program that we get to fund.
C&S: There's a new transportation surcharge in Manhattan south of 96th Street on taxi rides and ride-hailing services. Are you worried about the effect of the surcharge on the yellow cab industry?
YR: I care about all industries. I think at a time when we will discuss a plan to raise revenue for the MTA, everyone should do their part. I hope that this is only the beginning of many conversations that we need to have, engaging all sectors to do their part to reduce the level of congestion in our city. It's also raising revenue so that the MTA is able to have the resources that they need, with the understanding that they also have to control the costs. They need to be more transparent to the taxpayers of our city and our state. We are overdue when it comes to taking our transportation system to the 21st century.
C&S: You just celebrated Car Free Day again on April 21 – why do you participate with your district?
YR: (Hurricane) Katrina, (Superstorm) Sandy, snowstorms, (Hurricane) Maria, earthquakes are signals that if we want to save our planet, for the present and the future generations, everyone has to do their part. Mother Earth is sending the message in many shapes and forms that we are not treating her well. … I've called before for the city to have a plan to encourage New Yorkers in a voluntary way to reduce the number of vehicles in the streets. And the data that we have so far, for the 8.5 million New Yorkers, only 1.4 million individuals own vehicles. I hope that by 2030, we should be to have the goal to reduce it to 1 million New Yorkers who own vehicles.