Andrew Cuomo
Long Island Republicans might support Cuomo's offshore drilling ban
Protecting the oceans is popular in the region that may determine the future of the state Senate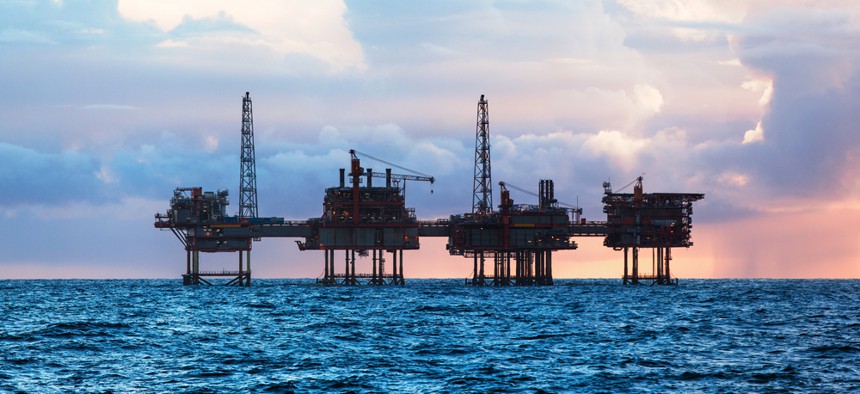 Like Winston Churchill exhorting British civilians to send a flotilla of boats to rescue soldiers at Dunkirk, a comparison he himself made, Gov. Andrew Cuomo is calling on New Yorkers to defend the coast by siccing a citizen fleet against potential future federal offshore drilling infrastructure. Cuomo announced his efforts to thwart federal offshore drilling attempts on Friday. The governor also proposed a bill that would prevent the government from building oil and gas pipelines in state waters.
At first glance, passing a progressive environmental bill – one that is a direct response to President Donald Trump's offshore drilling push, no less – would be a heavy lift in the Republican-controlled state Senate. But Long Island is a crucial battleground for control of the state Senate, and the region is surrounded by water. From the fishing industry to tourism, to residents who just want to keep their beaches pristine, protecting the ocean is a popular cause on Long Island. And with six of the 10 swing seats in the state Senate coming from Nassau and Suffolk counties, the issue could play a key role in the upcoming elections.
During his announcement, Cuomo called on the Assembly members at the event for a mock vote to see if they would support the bill, called the Save Our Waters Act. The lawmakers in the audience, all Democrats, responded with enthusiastic "ayes."
"We need the state Senate to support the bill, and we need the state Senate to take it up so that people have a right to know where they stand," Cuomo said, urging New Yorkers to "make their voices heard" in support of banning offshore drilling. The bill's provisions include banning leases from oil and gas exploration or production in state waters, prohibiting oil or gas infrastructure in state waters and banning transport through state waters of crude oil produced in federal waters off the coast of New York.
Long Island, which would be particularly affected by offshore drilling, has nine state senators, with seven Republicans – including state Senate Majority Leader John Flanagan. Lawrence Levy, executive dean of the National Center for Suburban Studies at Hofstra University, said that Long Island Republicans have a history of environmental activism.
The 1993 Long Island Pine Barrens Protection Act, for example, was sponsored by two Long Islanders – then-Assemblyman Thomas DiNapoli, a Democrat, and Republican state Sen. Kenneth LaValle – and preserved 40,000 acres of wildlife habitat on Long Island. LaValle recently supported a bill to expand protection of the Pine Barrens, collaborating with Democratic Assemblyman Steve Englebright.
"It's hard to find a serious Republican official who could be characterized as anti-environment," Levy said. This is in large part because Long Island's culture and economy is largely dependent on the water.
Long Island gets its drinking water from aquifers underneath the island. If they became polluted, the island would forced, at enormous cost, to transport water from the Catskills as New York City does. Levy also pointed out that polluting the ocean with offshore drilling equipment could affect the fishing industry. "There's a financial imperative that resonates with local officials and state officials of every party," he said.
If the oil and gas companies' past record of donations is any guide, state Senate Republicans who voted to ban offshore drilling would not likely face well-funded primary challenges from the right as a result, as the fossil fuel industry – perhaps in recognition of the political reality in a majority Democratic state – has not previously punished Republican legislators for occasional breaks with industry interests.
Of the Long Island state senators reached for comment, only Democratic state Sens. John Brooks and Todd Kaminsky provided statements. Both said that they would support the governor's initiatives to prevent offshore drilling. A spokeswoman for Republican state Sen. Carl Marcellino said he was supporting the legislation. But even if Marcellino and all the state Senate Democrats formed a majority that could theoretically pass the bill, the real question is whether the GOP leadership would bring it to a vote. Absent pressure from Long Island Republicans, that seems unlikely.
In a statement to City & State, Republican state Sen. Tom Croci did not seem to support the bill. "I am always suspect of Governor Cuomo's failures to comply with federal law. I do not however believe our residents want to look at wind turbines or oil platforms from our shores," Croci said. "I believe the residents of Long Island deserve to have more information about the potential locations of wind turbine towers and oil platforms in order to assess the potential environmental impacts on our waterways, fisheries and vistas."
All the other Long Island state senators did not respond, perhaps a sign that they are nervous about an issue that may pit their community's preferences against their party's.
The state Senate Republicans as a whole are also ducking the issue, thus far. When asked for comment, state Senate Republican spokeswoman Candice Giove did not address the bill, responding with a statement that said Republicans support clean drinking water.  
Levy also said it was a mistake to assume that Republicans would not support the legislation simply out of opposition to Cuomo. The governor is popular on Long Island, particular after his proactive response to Superstorm Sandy.
Cuomo and state Senate Republicans have often had a symbiotic relationship. The governor's critics accuse him of tacitly allowing the Republicans to maintain power in the state Senate by condoning the previous power-sharing arrangement between the GOP and the now-defunct Independent Democratic Conference. The governor could use his leverage with Long Island state senators to ensure that this legislation passes.
"The last thing that any Republican official on Long Island wants, particularly a Republican state senator, is Andrew Cuomo coming in and campaigning against them," Levy said. This scenario seems likely this year, as Cuomo has committed to supporting several Democratic state Senate candidates on Long Island.
Between the incentive for Long Island officials of both parties to support environmental issues, and the desire to not be targeted by the governor, the bill's chances in the state Senate may be less futile than appearances suggest.
"What makes Long Island, Long Island, is the access to the ocean and the tourism and the beauty and the Long Island Sound," Cuomo said in his announcement on Friday. Long Island Republicans might not disagree.
---
Environmental agenda

Plastic bag ban
In April, Gov. Andrew Cuomo introduced legislation to ban single-use plastic bags statewide. The move comes about a year after he blocked a 5-cent surcharge on plastic bags in New York City from being enacted. He instead created a task force to look at how best to address the issue of plastic bags. Cuomo's proposed ban appears to have a path forward in the Assembly, where Democrats have expressed support for a general ban over a fee. But it will likely face more of a challenge in the Republican-controlled state Senate.

Climate change
The Assembly passed the Climate and Community Protection Act in April, which now awaits action in the state Senate. The bill also passed last year, but died in the state Senate. It will likely face the same fate this year as only two Republicans have signed on as co-sponsors. If passed, the bill would, among other things, require the state Department of Environmental Conservation to set regulations on greenhouse gases and mandate that 50 percent of electrical energy generation come from renewable sources by 2030. The legislation continues to be a "high priority" in the Assembly, according to Environmental Conservation Committee Chairman Steve Englebright.

Romulus trash incinerator
State lawmakers from the Finger Lakes region introduced legislation in both chambers of the state Legislature that would block a proposal to build a trash incinerator in the town of Romulus. Neither bill has moved out of committee yet. Cuomo recently came out against the incinerator as well, saying the facility is "simply not appropriate" for the environmentally sensitive Finger Lakes region. The governor's move came shortly after his Democratic gubernatorial rival Cynthia Nixon expressed her opposition to the project in April. Lawmakers and community members have been trying for months to stop the project – and may have gotten closer by finally getting Cuomo to weigh in on the issue.