Charles Schumer
New York lawmakers react to Iran deal withdrawal along partisan lines
Even hawkish Democrats disagree with President Trump's decision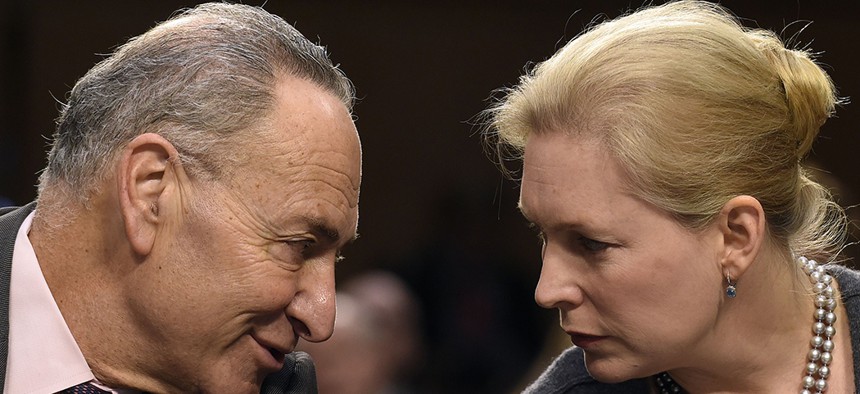 President Donald Trump stunned the world by withdrawing from the Iran nuclear deal this week, after several years of deriding it and telegraphing his desire to drop the agreement to prevent Iran from acquiring nuclear weapons. Although European leaders and his own aides had previously persuaded Trump to stay in the compact, the ascendance of more hawkish advisors like Secretary of State Mike Pompeo and national security advisor John Bolton bolstered the president's instinct to withdraw. Bolton was under secretary of state for arms control and international security and ambassador to the United Nations during President George W. Bush's presidency, and his tenure was notable for his vocal support for the war in Iraq and his intense opposition to multilateralism.
Critics worry that this decision could make upcoming negotiations between the United States and North Korea more difficult, as it suggests that the U.S. may not stick to an agreement in the future. In a positive sign, however, North Korea freed three American prisoners in anticipation of the meeting.
The reactions of New York's politicians fell neatly along partisan lines. Senate Minority Leader Charles Schumer, who voted against the deal in 2015, told reporters on Tuesday that it was unnecessary to withdraw.
Read my statement on President Trump's decision to withdraw from the Joint Comprehensive Plan of Action: https://t.co/vQqLicC5yf pic.twitter.com/FrZhBl66EM

— (((Rep. Nadler))) (@RepJerryNadler) May 8, 2018
"There are no reports that Iran has violated the agreement and to me, the greatest worries from Iran are not right now the nuclear side but rather what they're doing in Syria, what they're doing to arm Hezbollah with rockets, what they're doing with ICBMs," he said, finding a way to criticize Iran while backtracking on his previous opposition to the deal. "To me, the right thing to do would have been to try and come up with our allies with an agreement on those issues and let the nuclear part of this continue as is because it's not being violated in any way."
Sen. Kirsten Gillibrand, who voted for the deal, was more sharp in her criticism of the Trump administration's decision.
Leaving the Iran Deal costs our country the ability to maintain a coalition to hold Iran accountable; and it severely undermines our country's credibility. It's especially troubling as the Trump Administration prepares to negotiate with North Korea.

— Kirsten Gillibrand (@SenGillibrand) May 8, 2018
Rep. Jerry Nadler also supported the deal, and, as ranking member of the House Judiciary Committee, could potentially lead impeachment proceedings against the president should the Democrats retake the House. He expressed strong opposition to Trump's decision to withdraw, as did Rep. Joe Crowley, who is the fourth-ranking Democrat in the House.
Like Schumer, Democratic Rep. Eliot Engel opposed the deal in 2015. The ranking member of the House Foreign Affairs Committee reiterated his skepticism of the deal, but told reporters that he did not believe leaving the pact was the right move.
"There's lots of flaws in the deal and one of the flaws that Trump points out, I agree, is the fact that it sunsets and doesn't prevent Iran from having a nuclear weapon in perpetuity," he told Roll Call. "The question is how do you address it, how do you handle it. And I think by walking away from it, it's the exact opposite of the way you should handle it because it puts the focus of the United States as the one breaking things up rather than Iran, where it should be. We are isolating ourselves from our own allies."
The President's decision to walk away from #IranDeal makes it easier for Iran to get a bomb & undermines American credibility on the world stage. #Trump created this crisis.

— Eliot Engel (@RepEliotEngel) May 8, 2018
Scrapping the #IranDeal undermines the leverage we have to address Iran's ballistic missiles, support for terrorism, and human-rights abuses. President Trump just set us back on those critical goals.

— Eliot Engel (@RepEliotEngel) May 8, 2018
Long Island Democratic Rep. Tom Suozzi, who had campaigned in 2016 against the deal, said it was a mistake to withdraw. However, Long Island Republican Rep. Lee Zeldin, a staunch Trump supporter, predictably expressed support for the president's decision.
Issued statement in strong support of @realDonaldTrump decision to withdraw from Iran Deal. It propped up the wrong regime, providing the world's largest state sponsor of terror a jackpot of up to $150 billion in sanctions relief w/o even asking for a sig https://t.co/wpeL7YQaDJ

— Lee Zeldin (@RepLeeZeldin) May 8, 2018