New York City
The sharing economy is New York's hottest political war right now
New York City and state officials are duking it out over Uber and Airbnb.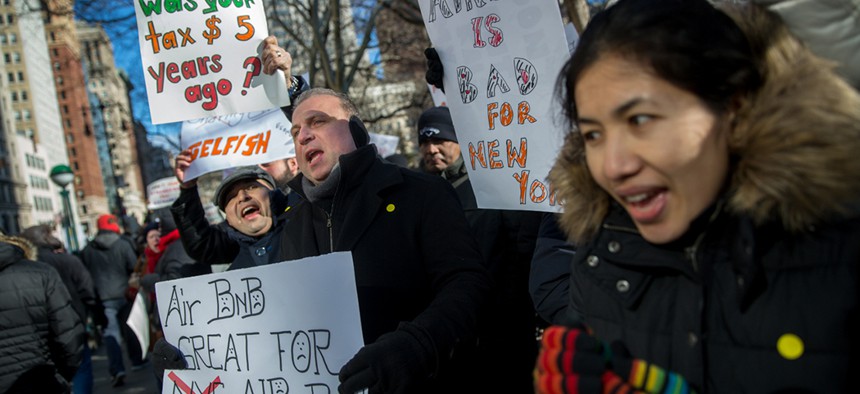 New York City Comptroller Scott Stringer expected to receive pushback for reporting his finding earlier this month that Airbnb was a major driver of housing costs last year, but the intensity of the short-term rental company's seven-figure campaign startled him. Airbnb cut a television ad accusing Stringer of "putting out a false report misleading New Yorkers" in a menacing message that would not be out of place in a competitive election year.
"It's really not okay for a huge company with a humongous budget to be coming after an elected official with an independent analysis," said Stringer spokeswoman Lena Bell, who added that her office stood by the study that linked rental increases to Airbnb's popularity in city neighborhoods.
Don't feel too bad for Stringer. His friends at the Hotel Trades Council, which represents the city's hotel workers, and ShareBetter, the coalition group they fund, spent six figures on commercials and mailers to defend the report. "Think the rent is too damn high? Don't look now but it is getting even higher thanks to Airbnb," begins the commercial that will air in two dozen networks and on social media.
This is just the latest skirmish in the rapidly expanding political and legal war over the technology-based sharing economy in New York, especially New York City. To the traditional clashes between interest groups in the state Capitol and City Hall – renters versus landlords, teachers unions versus charter schools – one can now add the tech companies and their customers against the existing industries they are ravaging. New York City subway riders have grown accustomed to the suddenly-widespread advertisements defending Airbnb, showing a diverse group of happy hosts. In response, ShareBetter, a group backed by the hotel industry union, blasts out press releases weekly cataloguing the ways that Airbnb may be harming the city, especially lower-income residents and communities of color, by exacerbating housing costs, spurring more rapid gentrification and putting a disproportionate share of income in the hands of new white residents of changing neighborhoods.
The stakes are high, the spending even higher, and some of New York's most prominent lobbying and public relations firms are getting in on the action.
New York's economy, like much of the rest of the country's, is increasingly shifting away from owning resources to sharing services, upending long-standing economic arrangements in housing, travel, transportation and recreation. Digital companies that connect customers to these services are taking business away from politically-entrenched interests that enjoyed near-monopolies on the market for hotel rooms and taxis. The political reaction from those lobbies – unions, industry groups, and professional organizations – has been fierce. And while the tech companies have tried to portray themselves as the friends of average New Yorkers who rely on their services to get by and get around in an expensive city with transit woes, they also have triggered backlash.
Every disruption has its winners and losers. The only alternative a decade ago to hailing a cab was calling a livery car from a nearby base. And the only affordable way to stay in another city or foreign country without using a hotel was to book a dormitory-style hostel or a bed-and-breakfast that may have been hardly cheaper than a hotel room.
The website couchsurfing.com first opened up the possibility of staying in a stranger's home. Now, Airbnb has made it an affordable, easy and widespread alternative. As landlords and tenants, especially in centrally-located Manhattan and Brooklyn neighborhoods, see an opportunity to make more cash renting a room or apartment on Airbnb than to another renter year-round, it reduces the housing stock of available units. In 2017, more than 53,000 New York residents listed their homes on Airbnb's website, hosting 2.6 million visitors to the city.
Uber's fleet of 60,000 vehicles has become similarly prevalent on city streets. On an average day in July last year, Uber recorded 289,000 rides compared with 277,000 taxi hails, surpassing yellow cabs for the first time. By February of this year, Uber eclipsed 410,000 trips per day while Lyft accepted another 112,000 rides per day and Via made about 33,000, the city's taxi commission said.
But that brings changes besides traffic slowing to a crawl: The rise of Uber and Lyft has led to a decrease in demand for taxi rides and, with the yellow cab industry losing its dominant market share, the value of taxicab medallions has plummeted from its peak of $1.05 million in June 2013 to $200,000 by January. While many of the medallion owners are rich businessmen like Donald Trump's lawyer Michael Cohen, the cab drivers who own their own medallions have seen their retirement nest eggs evaporate. Four drivers have committed suicide since December, including one man who shot himself in front of City Hall in February and whose suicide note blamed the mayor and governor for allowing thousands of additional liveries and black cars onto city streets.
Taxi drivers laid four caskets, representing recent suicides of drivers, at a March demonstration outside City Hall to pressure Mayor Bill de Blasio to curb Uber's growth.
Uber reps point out that their expansion occurred largely in outer boroughs where taxis don't pick up riders and mass transit options are more limited.
The hotel industry hasn't suffered a similar decline as taxis. The number of rooms is up 50 percent, from 76,4000 rooms in 2008 to 115,000 today. New York City will add another 18,960 rooms in the next three years.
But you wouldn't know that from the panicked, outraged reaction of the hotel industry to short-term listings, which has been better organized than the cabbies.
Stringer's May 3 report charged that Airbnb contributed 9.2 percent of the citywide increase in rental prices since 2009, using records scraped from unaffiliated data provider AirDNA. In some neighborhoods where residents use the service heavily, the site was responsible for 20 percent of the increase rise.
With the aggression typical of the tech industry's response to criticism from elected officials, Airbnb head of global policy Chris Lehane blasted Stringer's report as "wrong on the facts, wrong on the analysis, and wrong on the methodology," and compared the comptroller's findings to musician Kanye West's loony Twitter rants. Company reps pointed to other studies showing that Airbnb had an infinitesimal effect on New York rents. Then AirDNA chided the comptroller's office for drawing "flawed conclusions" and sent a cease and desist letter to Stringer's office for using their data without permission.
Members of the New York City Council are writing a bill that would require Airbnb to provide the names and addresses of hosts and other information to the mayor's office, with penalties for listings that do not comply. State legislators are mulling two competing proposals that would further corral Airbnb's operation in the state two years after imposing heavy fines on hosts who list illegal short-term rentals.
One bill sponsored by Assemblywoman Linda Rosenthal and state Sen. Andrew Lanza, backed by the Hotel Trades Council, would require the short-term rental company's hosts to disclose location details to New York City's Office of Special Enforcement, which cracks down on illegal listings. City Council members are also crafting a measure that mirrors the Rosenthal-Lanza bill and will introduce it next month.
The other bill, sponsored by Assemblyman Joe Lentol and state Sen. John Bonacic, would allow apartment tenants to rent their units for less than 30 days and register users, while barring short-term hosts from having more than one listing or those with repeated violations.
Airbnb says it has removed 5,000 "bad actors" since late 2016 and banned users from posting more than one listing in the city. "We recognize we have bad actors who would not be allowed to be on our platform," said company spokeswoman Liz DeBold Fusco. "There are people who want to take advantage of our system but the vast majority of our hosts are responsible hosts who want to make ends meet."
Lobbying for the bills has pitted entrenched heavyweights against each other.
Airbnb is launching a seven-figure ad campaign in New York City and the Capitol region to promote the brand over the next six weeks, a spokeswoman said. The company has retained a murderers row of lobbying firms including Capalino and Associates, Bolton-St. Johns, Brown & Weinraub, Patricia Lynch, Dentons, and LaVera Strategies, and paid them $710,000 last year, according to state ethics filings. That's in addition to dumping $11 million into a super PAC "Stronger Neighborhoods" for the 2016 state elections.
On the other side, the Hotel Trades Council funded its own $10 million campaign "Share Better" to combat Airbnb while also lobbying state and local lawmakers with help from one of the state's top political minds, Metropolitan Strategies founder Neal Kwatra.
Uber has also paid handsomely on lobbying and advertising expenses across the state to the point where it was the second largest spender in the state at $2.2 million last year and the fourth largest in 2016 at $2.3 million, state ethics filings show. The company boasts the talents of Suri Kasirer, Patrick Jenkins Associates, Dentons, and Cordo & Company as well as handling much of the communications strategy in house after hiring former Cuomo staffer Matt Wing and former de Blasio campaign consultant Josh Gold.
Whether any of this spending will result in new laws before the end of the summer is unclear.
The shocking resignation of the state attorney general Eric Schneiderman and the state Legislature's politically fraught responsibility to pick his successor is a distraction that could force the Legislature to postpone discussions on home share regulation to next year's budget, Albany sources say.
Elected officials have struggled to limit the growth of sharing apps in the past. In 2015, there was a dramatic battle that foreshadowed the current fracas: de Blasio tried to pass a temporary cap on new ride-hail vehicles so the city could study its effect on traffic congestion. But his efforts hit a roadblock when Uber launched a TV campaign to thwart the effort while its lobbyists flooded City Hall to flip council members against the bill.
The battle that followed set the template New York's sharing economy wars have followed since, in which the threatened tech giant brings overwhelming force down on its opponent. These companies employ the hard-nosed approach typical of New York politics – funneling tens of thousands of dollars into influential politicians' campaign accounts while organizing rallies, placing editorials and meeting with government regulators – on steroids.
Also typical of New York politics is the way that elected officials line up for stakeholders based on political alliances and rivalries rather than ideology. De Blasio went to bat for the taxi lobby which dumped $550,000 into his first mayoral campaign. His enemies and potential mayoral aspirants, also liberals, sought to distinguish themselves from de Blasio and appeal to riders – who far outnumber cab drivers or medallion owners.
Uber even installed a fake "de Blasio" feature on its app to show millions of customers who rely on the service how long they would have to wait for a car if the mayor got his way.
City Council Speaker Melissa Mark-Viverito rejected the mayor's idea while other pols – including de Blasio's past, current and potential future competitors Stringer, Rep. Hakeem Jeffries, Bronx Borough President Ruben Diaz, Jr. and Gov. Andrew Cuomo – praised Uber as an innovative company.
This spring, New York City Council members are also considering a package of bills requiring a new license category for ride-hailing apps, which the Taxi and Limousine Commission would regulate, with a cap of 1,000 licensed for-hire vehicles for each base, while also forcing drivers to choose one ride-sharing company instead of toggling among competitors, and ensuring for-hire drivers make at least minimum wage.
Taxi advocates are confident the council will take additional action to regulate the companies."These are measures designed to protect the workforce, protect drivers, who are cobbling together a living," said Michael Woloz, a de Blasio bundler and spokesperson for the Metropolitan Taxicab Board of Trade, a yellow taxicab advocacy organization. "They really needed to get passed yesterday."
Bronx Councilman Ruben Diaz, Sr., who leads the City Council For-Hire Vehicle Committee, promised in late April to remove a provision requiring drivers to pay a $2,000 annual fee. "The City Council should ensure that any bill does not harm the millions of New Yorkers outside of Manhattan who have grown to rely on apps like Uber because they have been ignored by yellow taxi and underserved by mass transit," said Uber spokeswoman Alix Anfang.
The council may not tackle rideshare bills until the city budget passes and an agreement with the mayor's office can be reached.
But the door to regulation has been opened: State lawmakers passed legislation last April allowing ride-sharing companies to operate upstate and they slipped a $2.75 surcharge on trips for Uber and Lyft into this year's budget.
Lawmakers will undoubtedly wrestle more with the policy issues raised by the sharing economy in the future.
Correction: This article originally stated that Councilman Diaz, Sr. had already removed the annual fee provision from the for-hire vehicles bill. Although he said that he will, he has not yet done so.