Donald Trump
How Trump's trade dispute could wallop the upstate economy
Ironically, those likeliest to be hurt by a trade dispute with Canada are in areas that voted overwhelmingly for Trump.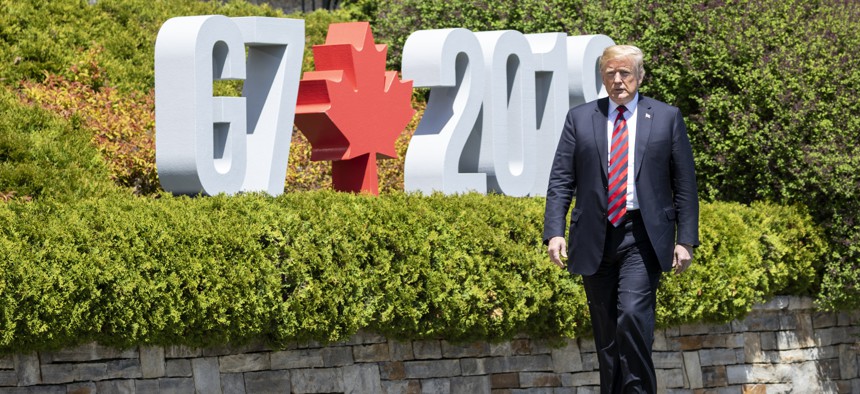 New York's farmers and business owners are anxiously watching President Donald Trump's trade disputes, fearing that aggressively confronting key allies could have repercussions for the upstate economy.
Last month, Trump announced tariffs against Canada, the European Union and Mexico on aluminum and steel products, after initially creating exemptions for these countries. In retaliation, Canada, the EU and Mexico imposed tariffs on a variety of American products, affecting areas that voted overwhelmingly for Trump.
Over the weekend, Trump heightened tensions at the meeting of the G-7, which includes Canada, France, Germany, Italy, the United Kingdom, Japan and the United States, by declining to sign a joint statement with other members. The president declared that the trade practices of these countries were unfair to the United States, with Trump calling Canadian Prime Minister Justin Trudeau "dishonest & weak." Peter Navarro, a trade adviser to the president, said there was a "special place in hell" for Trudeau.
Ironically, those likeliest to be hurt by a trade dispute are in areas that voted overwhelmingly for Trump. Republican-leaning rural areas in New York backed Trump enthusiastically, but his trade policies are opposed by the region's agricultural and business associations.
The tariffs set to be implemented on the U.S. are primarily on aluminum and steel products. Given the size of trade with Canada – the country is the largest importer of U.S. agricultural products – an escalating trade dispute could harm the fragile upstate economy. Several Canadian companies have locations in upstate New York.
According to analysis by Business Insider based on census data, New York would be the third-biggest loser among the states, from a trade dispute between Canada and the United States, behind Ohio and Michigan, with $1.17 billion worth of goods in 2017 that could now be subject to tariffs.
Many Republican officials across the country are staying mum on the tariffs and Trump's accusations about Trudeau. However, even though their districts went for Trump by wide margins, Republicans from the affected regions, including Republican Reps. Elise Stefanik, who represents the North Country, and John Faso, who is in the Hudson Valley, have spoken out against the imposition of tariffs.
"As a Northern Border district, I am concerned that these tariffs could incentivize Canadian firms in our district to leave, or possibly incentivize Canada to impose harmful tariffs on our own products," Stefanik said in a statement. Faso said in a statement that the tariffs would "hurt small manufacturers."
The impact could go beyond the manufacturing sector, and affect farms as well. "Our (agriculture) economy has already been facing a lot of problems," said Steve Ammerman, a spokesman for the New York Farm Bureau. "So this is a time when we really need to be expanding market opportunities and not closing them off."
The Trump administration believes that Canada treated the U.S. unfairly, especially in regard to tariffs on dairy, and hard-line tactics might pressure other countries to engage in what Trump calls reciprocal trade. As the president noted, Canada imposes a 270 percent tariff on U.S. dairy imports.
Ammerman said that high dairy tariffs had been a point of contention for New York's dairy farmers, particularly since Canada implemented a policy that makes it more difficult to sell ultra-filtered milk there, which negatively affected the industry in New York.
If Trump's trade measures encouraged Canada to drop its trade barriers on dairy, it could help upstate's faltering dairy industry. However, Canada is hardly alone in selective tariffs to protect domestic industries. The U.S. has a 350 percent tariff on tobacco imports.
If Trump's strategy backfires, and Canada, the EU and Mexico continue to escalate trade restrictions on agricultural imports and exports, that could hit New York's economy hard.
"Dairy is about 50 percent of all farm revenue in New York," said Jenny Ifft, associate professor at Cornell University and an expert in agribusiness. New York's dairy industry is already struggling. Between 2006 and 2016, the number of dairy farms in the state dropped by more than 1,000. Farms earned around one-third of what they made in 2013. This is largely due to lower prices and decreased demand, along with an oversupply of milk produced in the state.
But Canadian tariffs haven't caused any contraction in the industry as a whole: U.S. dairy exports have boomed in recent years, increasing by 54 percent between 2012 and 2015.
Additional tariffs on U.S. exports, however, could affect the state's yogurt production. In 2013, New York became the largest producer of yogurt in the country, due in part to production by Chobani in Central New York. While Gov. Andrew Cuomo cut regulations to support the industry, its growth has faltered due to lower milk prices. Canada's tariffs on the U.S. will include yogurt.
Ammerman said that the U.S.-imposed tariffs on aluminum and steel could have an indirect effect on some sectors of the agricultural industry. "Our maple producers are concerned about the aluminum tariffs because that could increase the price for the equipment that they purchase," he said. Canada will also implement maple syrup and maple sugar tariffs in retaliation to Trump's imposition of tariffs.
Ifft noted that New York's apple farming industry could be affected by tariffs. In 2016, New York produced the second-highest number of apples in the country, behind Washington. According to Ifft, 25 percent of apple exports from the U.S. go to Mexico, which is retaliating with tariffs on American products including apples, potatoes and bourbon. To some degree, when large parts of the agricultural economy are affected, it spreads," Ifft said.
Ammerman said that while he gave Trump credit for bringing attention to the plight of struggling dairy farmers, escalating the dispute could have more negative repercussions than positive. "We are trying to urge not only the president, but also the leaders on the other side of the border as well, to not let this get out of hand and to really sit down and think through the policy and, more importantly, the consequences that this could have not only on our farmers, but on the world economy," Ammerman said.