Transportation
Better ways to get to LaGuardia Airport
Who needs Andrew Cuomo's AirTrain with alternatives like these?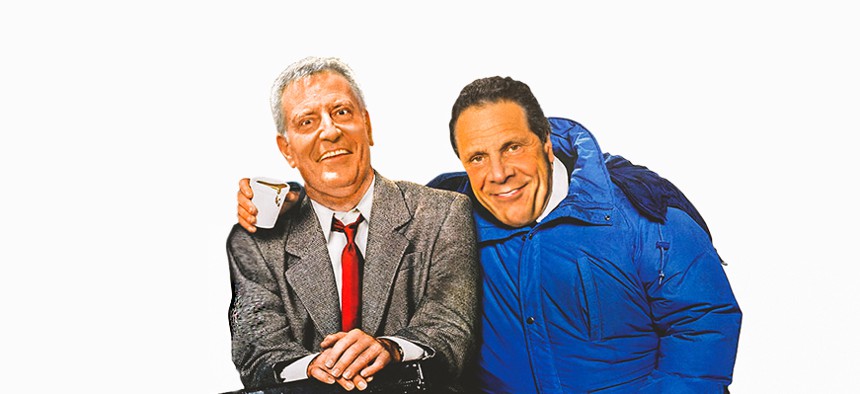 Gov. Andrew Cuomo's plan for an AirTrain to LaGuardia Airport has been loudly and mercilessly mocked by New Yorkers for its indirect route. Train travelers from midtown Manhattan would essentially blow two miles past the airport before backtracking to the terminals. The $1.5 billion project is moving forward, but we gathered some more carefully considered alternatives for Cuomo to review.
 
Gondola lift
Why stop at Roosevelt Island? Extend the tram and get that luxurious, ski slope feel before you jet off on your Colorado vacation. No need to demolish homes on the route – just float above them.
 
Subway Series
The planned AirTrain would leave from outside Citi Field, but why should Mets fans be the only ones with an easy ride to the airport? Build an AirTrain from Yankee Stadium and get to LGA via the South Bronx.
 
NYC Ferry
New York City Mayor Bill de Blasio loves his little boats. Cuomo can start mending their relationship by offering to add a route to the system, helping aquatically inclined New Yorkers ride the waves to the airport.
 
Pave in the East River
Sure, it won't help you much once you get across the former river, as LaGuardia is still a ways away. But think how fast you could drive on that wide-open pavement!
Choppers
Arnold Schwarzenegger once said, "Get to the chopper!" Of course, he was trying to escape aliens when he said that, but it can be used for the trip to the airport. Now you, too, should get to the chopper, if you want to make your flight at the airport.
 
Plane to LGA
Trains are fast. Planes are faster. Build a runway in Central Park, and get from midtown to LaGuardia in minutes.
 
Moving sidewalks
They're already all over the airport. So why not extend them to midtown? It's a two-hour and 39-minute walk from Times Square to LaGuardia. Imagine how much quicker it would be with a moving sidewalk going just barely above walking speed, and sometimes slower!
 
Hitch a Rikers ride
First, you need to be accused of a crime (and poor) to get to Rikers Island, the jail complex mere yards away from LaGuardia's runways. Once you're inside, you must break out and swim ashore. As a New York City Department of Correction bus takes you back, hop out the window and run to the airport.