Andrew Cuomo
Ignore that Buffalo Billion conviction. We're legalizing pot!
The New York state Health Department officially recommended legalizing marijuana the day after Alain Kaloyeros, a former top economic development official, was convicted of corruption.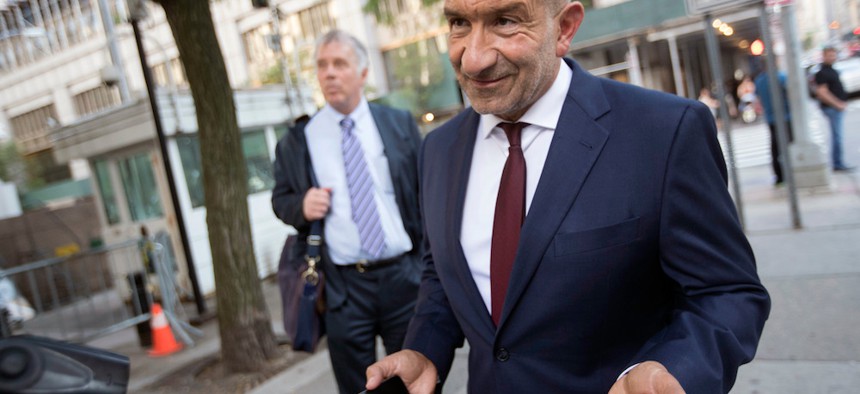 Will the corruption conviction of a top Cuomo aide get lost in a haze of marijuana smoke?
Legal recreational marijuana may be coming to New York in the near future, as a report by the state Department of Health submitted to Cuomo on Friday concluded that "the positive effects of regulating an adult (21 and over) marijuana market in NYS outweigh the potential negative impacts." Cuomo had commissioned a study of legalizing and regulating marijuana in his fiscal year 2019 budget, and Health Commissioner Howard Zucker announced last month that the "pros outweighed the cons." The state Legislature would have to approve any legislation to legalize marijuana.
A day earlier, on Thursday, one of Cuomo's former top economic development officials, Alain Kaloyeros, was found guilty on counts of wire fraud and conspiracy. Kaloyeros, the former president of the SUNY Polytechnic Institute, had been placed in charge of Cuomo's Buffalo Billion project, which was meant to revitalize the Western New York economy.
As City & State reported in June, Kaloyeros and three upstate developers had been charged with "rigged the open-bidding process to ensure that certain companies favorable to Cuomo received the extremely profitable contracts."
Kaloyeros' conviction makes this the second time this year that a former Cuomo official has been found guilty on corruption charges – Joseph Percoco was convicted in March – which is not a great look for a governor who is seeking a third term while his primary and general election opponents accuse him of enabling corruption in Albany.
Given Kaloyeros' conviction on Thursday, some observers questioned the timing of the report on marijuana.
Here's the long-awaited, and interestingly timed, @HealthNYGov report on legal #marijuana in #NYS. https://t.co/Y2dfTVXF1j

— Jesse McKinley (@jessemckinley) July 13, 2018
What an incredible coincidence that this long-awaited report came out the day after the Kaloyeros verdict. https://t.co/MgrBHZpBIq

— Jon Campbell (@JonCampbellGAN) July 13, 2018
As NY1's Nick Reisman noted, announcements about the report have coincided with the Kaloyeros trial. The trial began on the same day that Zucker offered a preview of the report's recommendation for legalization and regulation of marijuana. Now, the report was officially released on the day after a conviction.
Keep in mind the Buffalo Billion trial was virtually bookended by the marijuana report. The trial started with the DOH announcing the findings. The day after the trial ends, the full report is released.

— Nick Reisman (@NickReisman) July 13, 2018
The governor, who as recently as last year referred to marijuana as a "gateway drug" and has gone through a public journey over his opinions about the substance, has showed more support for legalization over the past few months. In May, Cuomo said the study would be finalized "within days," although that timeline was clearly not adhered. At the Democratic convention later that month, the state Democratic Party – over which Cuomo holds considerable influence – endorsed legalization. (Cuomo officials argue that his position on marijuana has been consistent, as he has previously said that the topic needs to be studied.)
His seeming vacillation on the subject has opened him up to attacks from his primary opponent, Cynthia Nixon, who declared in April that she supported legalizing recreational marijuana. Meanwhile, Cuomo's Republican opponent, Dutchess County Executive Marc Molinaro, has accused the governor of moving further left in response to Nixon's progressive challenge. Both candidates also sent press releases on Thursday night tying Cuomo to the results of the corruption trial.
The report's conclusions are likely to be considered too much by Republicans and not enough by progressives, and either way, may not distract from Kaloyeros' conviction and his former ties to the Cuomo administration.
Economic development Case Studies
Powered By
NEXT STORY: What happens in New York if the Supreme Court overturns Roe v. Wade?