New York City
NYC exploring how to better serve veteran business owners
The New York City Mayor's Office of Veterans Affairs is exploring how to better serve veteran business owners.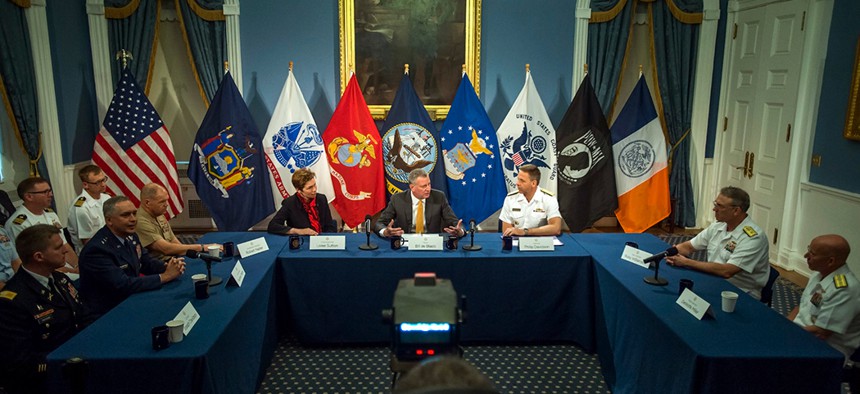 For years, various New York City agencies, veterans advocates and City Council members have disagreed on how best to support veteran-owned small businesses. The issue came to a head in 2013, when the City Council commissioned a report to investigate the potential of a small business program for veterans like the one the city funds for minority- and women-owned businesses, or MWBEs. Though the report did not lead to the creation of a program then, the Department of Veterans' Services, formed in 2016, is looking into creating such a program.
The report, "A Roadmap for Supporting Veteran Owned Businesses," recommended against a city contract procurement goals program, estimating that only 6,200 veterans would be able to contract with the city, out of a total city veteran population of about 235,000. Instead, the city recommended funneling entrepreneurial veterans through existing program like the MWBE program or the Emerging Business Enterprise Certification Program.
That was before Mayor Bill de Blasio replaced the Mayor's Office of Veterans Affairs with the new department. The department has begun researching how to establish a leadership association like the one that was halted in 2014, according to Jamal Othman, its assistant commissioner for education, employment and entrepreneurship.
The department has created a steering committee to explore the issue and is using a report by Syracuse University's Institute for Veterans and Military Families on the challenges that face veteran entrepreneurs. "One of the other challenges we hear from the employment side from veterans is, 'Hey, I go to college, I get my MBA, but I don't have the same access that a traditional student has to internship opportunities because I'm older,'" said Othman. The program would seek to address the challenge of getting access to capital, networking with businesses and mentoring.
The program is still in its development phases. Othman said it was too early to know when the project would be ready for a pilot.
Powered By
NEXT STORY: The uncertain future of the Brooklyn VA hospital