Labor
NYC's commercial waste industry is trash. How should we fix it?
New York City's commercial waste industry is a broken system. How should we fix it?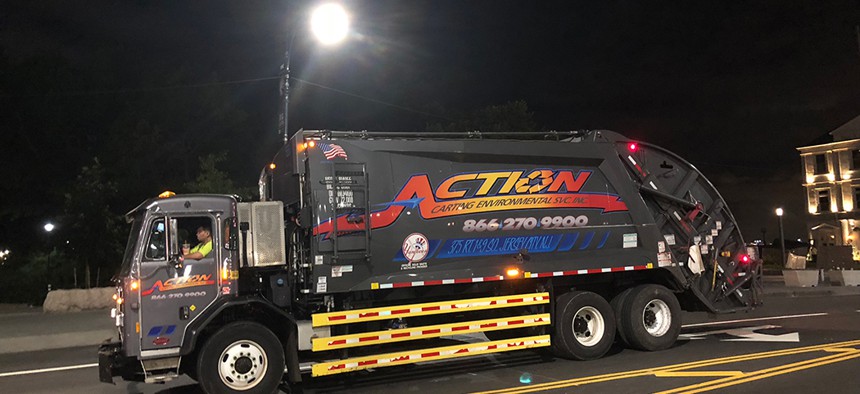 A tire flew off of a private sanitation truck driving down the Gowanus Expressway in Brooklyn and into the windshield of a passing car on Wednesday morning, killing the 64 year old Robert Martinez. It was a particularly violent incident in an industry with a long history of safety issues and worker abuses. There's public pressure for change, but disagreement over how do it – and dueling bills in the New York City Council. In reporting a piece on the political trash talk, City & State talked to some of the major players in that debate: two City Council members with differing views of change and the city's Sanitation Commissioner.
---
The city's take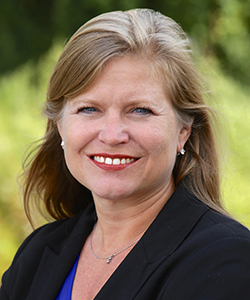 Kathryn Garcia
Commissioner, New York City Department of Sanitation
When do you expect the city's report on waste zones to be released publicly?
We are aiming to have it completed in the next month to month and a half (as of July 30). I really want this out before the end of the summer, which is what we committed to. But I know we haven't gotten a tremendous amount of feedback yet from the advisory committee. I'm hoping they don't hand it to me at the last minute. (Laughs.)
Was the passage of the Waste Equity bill a good sign for the passage of a waste zoning system?
Yes and no. I don't think they're going to be exactly the same stakeholders in those particular debates. Because the Waste Equity bill, clearly the biggest champions were those who had transfer stations located in their council district. So I would say I would be cautiously optimistic that we have a little bit of a better sense of the landscape, but I think many things could change between now and when any legislation is before the council.
Did Kiera Feldman's articles (here, here and here) help the conversation around waste zones?
I think the articles that have come out kept the pressure on in terms of, you need to have a sense of urgency about making changes. So that's balanced around (how) we don't want to do something that makes it so waste doesn't get collected in the city of New York. But we need to make sure we're continuing to move expeditiously to get the change that I think we all think we need.
New York City Councilman Antonio Reynoso is planning to come out with a bill once the waste zone plan is made public. Do you plan to actively lobby for that bill, or will you just leave it up to the City Council?
I think that we will be working in partnership with the council, through the legislative process, based on the implementation plan that comes up. I plan to talk to all the members – I don't know if that counts as lobbying. (Laughs.) And I'm certain that there will be hearings and I'm certain that I will testify. I think that the administration, if he comes up with legislation that is around zoning and how we make this industry more efficient and safer and with more integrity, then we would be supportive.
Reynoso has been pretty critical of the city Business Integrity Commission. Does the BIC do enough?
Considering what they are legally allowed to do from an enforcement standpoint, yes. They are very aggressive. But there are lots of things in which they are constrained, in terms of they're pre-empted by federal law, they're pre-empted by state law. They can't just go out without legislation that gives them the authority and do what Reynoso would have liked to see them do.
If you talk to a private carter, they live in fear of the Business Integrity Commission. I think that they are quite effective where they have the legislative authority to be effective.
And I think that one of the things that I like to say is what's happening in the commercial area is not as much about just enforcement. It really is a function of a failure of design. We have designed a system where you have a real race to the bottom. The way it is designed almost inherently means that you're going to have extraordinarily long routes. And so bringing it back into the zone system, and constraining and putting geofences around where trucks will operate is going to mean inherent safety, just because you're not going to go 250 miles a night; you're going to go just within your zone. I view it as being an inherent issue with the way it is designed as a system, which creates all these bad challenges. Reining that in, in a way that meets the needs of businesses in the city of New York and meets the needs of the employees – we need significant change in this industry to make it work for the city of New York.
The Department of Sanitation put a hold on expanding curbside organics collection in May. Is that still on hold? When would you bring it back?
We are currently collecting organics in the districts where we have rolled out. We are currently serving 3.5 million New Yorkers, which is bigger than any other program in the United States. But there are some things that we've had to go back and make changes on. For example, in some districts we were using split-body trucks, which was very efficient for the organics program, but was challenging when you ended up having to pick up a sofa, because it didn't fit in the truck. So we are rebalancing some of those routes and we are changing some of the operational methods so that's its not two split-bodies, it's one full-size, one split-body, so we can still get bulk material. And we continue to refine all the routes. So we look forward to announcing when we will start expansion again, but we are currently actively collecting, today, organics across the city of New York.
---
Defending sanitation workers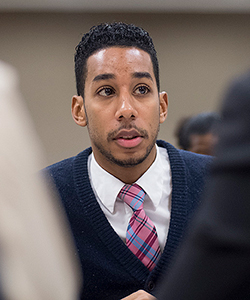 Antonio Reynoso
Chairman, New York City Council Committee on Sanitation and Solid Waste Management
You've made enemies among the commercial waste haulers with your Waste Equity bill. Will this affect your future work as the Sanitation Committee chairman, as you try to implement commercial waste zones?
I don't think so. I've been working on this for over eight years. … And the industry has been completely incapable of being supportive of any type of reform. If the threat of legislation can't get them to get their act right, then actually passing it is what we're going to have to do. But I'm not concerned about the industry. My goal is to make it better. I hope they believe that I'm actually looking out for the best interests of (my) constituents and the industry alike. But for those folks that want to just be obstructionists, then I have no problem doing my job and forcing them to change for the better.
One time, opponents of the waste franchising bill FOILed me to see who I was meeting with and how many times I was meeting with them because they wanted to show I was working for the advocates. What they ended up finding was that I was actually meeting with the industry more than I was meeting with the advocates. I'm an open-door member. I'm going to listen to everyone. But I'm going to listen to you if you're looking to make a change for the good, not if you're going to sit there and tell me why my bill is bad.
I'm the chair of sanitation for the next three and a half years, the foreseeable future, so everything has to go through me. So I suggest they pick up the phone, sit with me, and work towards building the best franchise system instead of trying to stop it.
Do you think instituting waste zones would be able to fix all of the environmental and worker safety issues associated with the sanitation industry?
Through (the current) permitting process we're very limited as to what we can ask of the waste transfer stations and the carters. But through a (request for proposals), we can ask for a lot. You get extra points if your business has a negligible amount of lawsuits related to worker safety. If your trucks haven't killed anyone recently, if your trucks are from the 1970s, that's not going to work well for you in an RFP system. So what ends up happening is the organizations that end up getting these RFPs are going to be folks that are doing the right thing. A lot of the workers are really excited about it. The Teamsters are excited because the people they have union contracts with are the people they believe are good players. And they believe a franchising system is going to give them the opportunity to do more work in this city.
New York City Councilman Robert Cornegy Jr. introduced legislation to block a commercial waste zone program. Did it surprise you? Most negotiating in the council happens behind closed doors.
I wasn't surprised that a bill like this was on its way. I knew that the industry was going to figure out a way to try to push what I consider a half-ass legislation. My thing was, who are they going to find to do it? Given what happened to Mouctar Diallo (a sanitation worker who was killed on the job in 2017), given the information that we have from the ProPublica article about special interests and lobbying and political ties and the Genovese crime family – so much information was out there, there's no way that somebody doesn't think we need to start pushing for reform in this industry. Then they ended up finding Mark Gjonaj and Robert Cornegy. Mark Gjonaj is Mark Gjonaj. I don't want to say much about a colleague, but the ProPublica article speaks of who he is to the industry. And then Robert Cornegy in the past has been a council member that has looked out for the interests of business and industry over workers. They found the two council members that would push this for them. So it's a fight, and I'm ready for it. I'm excited about it.
You've criticized the city Business Integrity Commission, saying it hasn't done enough to regulate the industry. Have you seen any changes? Or will the City Council have to cover this on its own?
I do believe that, maybe, the City Council would have to cover this on its own because BIC is not doing their job. In the charter, it states that the Business Integrity Commission has the right to revoke or suspend any license if a licensee lacks good character, honesty or integrity. If Sanitation Salvage is not one of those three, lacking integrity, good character or honesty, then I don't know who is. So if they have the authority to revoke a license under those very vague and broad terms, why have we not shut down Sanitation Salvage yet? That is part of why I have a big problem with BIC. BIC doesn't seem to know where its authority is. BIC doesn't seem to know how to hold people accountable. It's an agency that has fallen short on being able to do its job – in the past and now. I'm not very confident of BIC's ability to regulate this industry outside of corruption.
---
Protecting small businesses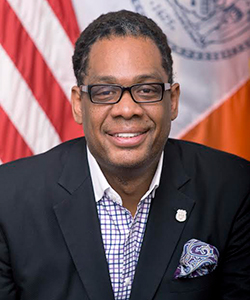 Robert Cornegy Jr.
Chairman, New York City Council Housing and Buildings Committee
You're the lead sponsor of Intro. 996, which is about safety regulations for the commercial waste industry. Was it meant to pre-empt any commercial waste zone plan from the Sanitation Department?
No, this bill was created to enact the safety and environmental measures that we need with a sense of urgency. We believe that this thing can happen right now, and we can make an impact on this industry right now. … Quite frankly, we realize that creating zones is not going to solve the problems that are pervasive in the industry. But it will undermine small businesses' ability to operate and cost jobs. It's not pre-empting; it's actually doing what we as a government should do, which is act with some sense of urgency and expediency around the issues that we know are disproportionately affecting particular segments of our society – and sanitation is one of them. But we have a responsibility as a government to act quickly when we can, especially around safety and environmental issues.
You say you want to act quickly, but it doesn't seem like the City Council would move on this bill until the Department of Sanitation's waste zone plan has been introduced – people are tying those together.
Oh, we don't believe that they're tied together. We can act on this very quickly. It's a separate piece of legislation. We have the political will and the partners necessary to begin.
We have supporters, everything from unions to, quite frankly, the NAACP, who sees the potential negative impact on communities of color as it relates to hiring and as it relates to strengthening the industry and jobs. The Bodega Association, the Building Owners and Managers Association, the Supermarket Association, all five chambers of commerce agree with this legislation. So generally when that happens, we have to take a very close look at the legislation. This is clearly not just me. And there's no reason we have to wait.
That's a lot of outside support. Are you expecting more support from within the council, beyond the other two co-sponsors of the bill?
Absolutely. I think people understand more than anything else that small businesses in the city of New York are under fire. Every one of my colleagues has admitted that and has absolutely shown proof in their districts how businesses are being shuttered based on a lot of different things. And I believe that once I'm able to demonstrate to them the disproportionate impact a zoned system would have on small businesses, I'll get many more of my colleagues to sign on.
Would a zoned system just affect the smaller private waste carters? Or do you think this would affect other small businesses?
It's going to disproportionately affect all small businesses. Because the inability for small businesses to negotiate contracts on their own behalf is a (benefit) to the (carting) industry. We've seen literally, in LA for example, how the cost of pickup was doubled and tripled in a zoned system where the industry shrunk. And we don't want to see that happening in New York City. Small businesses are in so much of a crunch as it stands, to add that to it, I don't think that any of my colleagues would agree that's a great idea.
And loosely, I've had these preliminary conversations with my colleagues, and when they understand the potential impact of a zoned system on cost for small businesses, they're all in agreement that we've got to do something else. And my bill does something else.
Los Angeles recently instituted a waste franchise system. Have you met with leaders from Los Angeles, or talked to people there?
We've watched and have studied the impact, and have heard from some of the – for example the City Council (president) for LA admitted that instituting the zone system was a mistake! It was already too expensive for small businesses owners to operate, in their city and in this city. And there were then thousands in additional costs as a result of the zone-based system.
They tell me insanity is doing the same thing and expecting a different result. That sounds like the epitome of insanity to see a comparable city implement this program and then admit publicly that this was a mistake because of the unintended consequences that ultimately befell some of the small businesses, and then reimplement it? That would be insanity.
Your bill has been attacked as the waste industry's bill. Was this written in concert with the carters?
We did this with all people in mind. One of the big complaints about City Hall is that we create bills without taking into account or inviting the people who will be most impacted by the bill at the table. We attempted not to do that. So we didn't just invite waste haulers to this conversation. We invited small businesses, small business associations, so that we could get the best product.
Powered By
NEXT STORY: Trash talk